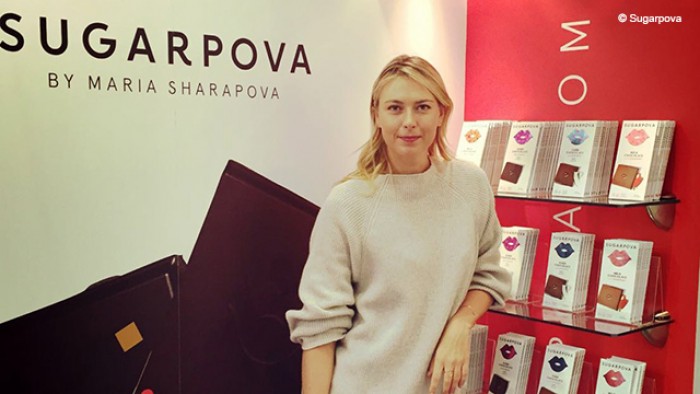 Sugarpova has partnered with Polish chocolatier Baron Chocolatier, to make Sugarpova Premium Chocolates. Sugarpova, a candy company started in 2012 by five time Grand Slam champion Maria Sharapova, will begin selling the chocolate before the French Open in May, where Sharapova is a two-time champion. Sugarpova Premium Chocolates will feature chocolate bars in milk chocolate, dark chocolate, dark chocolate with toasted coconut, and milk chocolate with strawberry. Sugarpova has grown to being sold in 30 different countries and sold five million bags last year.
Sharapova Talks Sugarpova Chocolates
"I traveled extensively around the world, in search for the right chocolatier," said Sharapova. "Baron is the perfect fit, given their deep-rooted history in creating premium chocolate products coupled with their significant strides in craftsmanship."
"I wanted to create an 'experience' with this product — a moment of indulgence, where time can stop and one can enjoy life's little pleasures such as a bite of sensually rich chocolate," she said. "This product wraps up many of my favorites in life: food, a smile and a slight moment of indulgence."
"With Sugarpova Chocolate, you can take a break from the hustle and bustle of life to catch your breath and give yourself a selfish moment to enjoy such a simple pleasure as a bite of delicious and tasty chocolate."
Sharapova's Agent Discusses Sugarpova
"At Sugarpova, we continue to elevate and evolve our business through innovative partnerships and trailblazing engagements," says Max Eisenbud, agent of Maria Sharapova and CEO of Sugarpova. "Baron Chocolatier was the right fit for our category expansion due to their commitment to producing quality chocolate products that taste great, as well as their vast distribution network."
Sharapova Promotes Sugarpova at ISM Exposition
Sharapova promoted the luxury candy line at the largest candy exposition in the world, the ISM Expostion held in Cologne, Germany. Sharapova gave fans an exclusive taste of the premium chocolates at the expostion in Germany.
Sugarpova Announces Plans For More Than Just Sweets
Sugarpova CEO, Max Eisenbud, discussed the candy company's plans for the future in a recent interview with Forbes magazine. "We're building for when her career is over," said Eisenbud. "The plan is to turn Sugarpova into a lifestyle brand, which may also sell home goods, sleep and loungewear. It was fun taste testing everything."