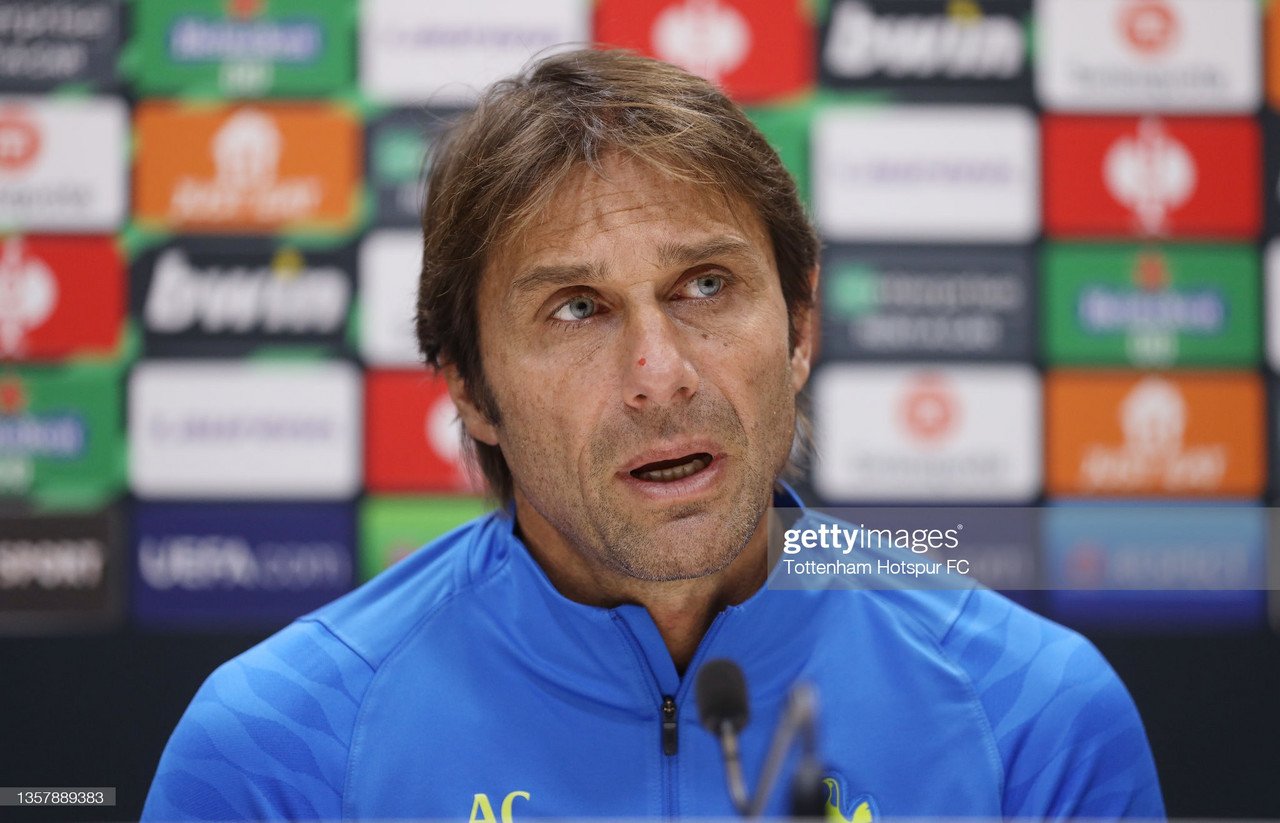 Tottenham Hotspur host Arsenal on Sunday in what promises to be a North London derby to remember.
The Gunners are two points ahead of Antonio Conte's side but Spurs have two games in hand, so a win for either side would be more than just bragging rights.
It has been heavily reported that the Arsenal squad is very light having been hit with suspensions, some Covid-19 cases, international duty, and injuries but the game is going ahead as it stands.
Conte faced the media to answer questions about the game and much more. Here are his key quotes:
While Mikel Arteta's side is down to bare bones, Spurs' squad isn't exactly in top condition. Son Heung-Min is out for a few weeks and Cristian Romero still hasn't returned.
Another defender in Eric Dier hasn't played since the Watford fixture on New Years Day. Conte spoke on his fitness:
"With Eric Dier, he is suffering a little muscular problem and he's not fit for the game against Arsenal. It's a pity we have to play these three games before the international break and then recover these important players.
"It's important to recover these important players, it's life for us these players."
Also, Conte confirmed that Spurs are checking a positive case within the squad:
"Yeah, we are checking one situation."
On his time at Spurs so far​​
Conte has been with Spurs for two months and despite still being unbeaten in the Premier League, he has had a tough few games in the FA Cup and the Carabao Cup.
When asked if the job was tougher than he thought it would be, he replied:
"I decided to accept this job because to work in this environment, to work in a modern club is good for every coach.
"Then, as you know every well, I said this in the last press conference, when you're outside you can imagine the situation.
"Then, when you're inside the situation, you understand every aspect very well. Now, I repeat, it's time to work. I made my evaluations about the situation. But now I think no words but facts. We have only to work to improve the situation that I've found here."
After getting booed off the pitch against Morecambe, Ndombele's future in North London was put into major doubt.
There has been reported interest from sides in Europe. Conte gave a short comment about the midfielder's situation:
"In this moment, Tanguy is a Tottenham player. For this reason, you have to consider him a Tottenham player."
Conte is renowned for having plenty of energy and charisma on the touchline. This was on full blast in his opening games as a Tottenham manager.
However, in recent weeks, it has been noted that the Italian has come across as slightly subdued. When asked about the mood shift, Conte chuckled to himself and said:
"I don't think so. You have to ask the referee or fourth official if I was calm against Chelsea! He would be surprised by this question. For sure, also during my management I have to try and also to see (what happens) when I stay calm. I think this is also a strategy.
"I can drive the car but sometimes the driver can stay seated and calm. It's part of process, no, to give more responsibility to my players.
"If I want to force myself to live the game in another way, it'll be very difficult. But sometimes I have to stay seated and leave my players to make the best decision and face the game during the difficulties. It's part of the process to improve their responsibility during the game. For sure, I'm very strong and I'll be very strong towards the end of the season."