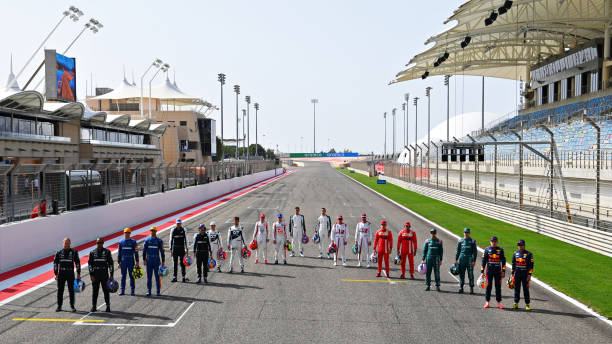 As testing for the 2021 season concludes, lights-out in Bahrain draws ever closer. 20 drivers from 10 teams will line up on the grid in Bahrain, but what should we expect from them? and what should we look out for in the 2021 F1 season.
Williams duo George Russell and Nicholas Latifi.
A big season lies ahead for the Williams team.
The Grove-based side will be looking to jump up from the last place in the constructor's standings, where they have finished in the past two seasons.
Thankfully for the team, testing indications look as though they may be able to do so.
The FW43B looks to be a step up from its predecessor, yet still stuck in 'class C' with Haas and Alfa Romeo.
The target for drivers George Russell and Nicholas Latifi this season will be pointed.
Williams had no points to show for its 2020 season and will look to change this in 2021. Latifi will be looking for his first F1 points, whilst Russell will be looking to score his first for Williams, adding to his three scored with Mercedes at last season's Sakhir Grand Prix.
Haas' all new line-up, Mick Schumacher and Nikita Mazepin.
A new driver line-up, a new Russian-inspired livery, and a new title sponsor for Haas in 2021.
Discussions surrounding the American F1 team during the off-season have been dominated by rookie Nikita Mazepin's off-track indiscretions, which has damaged the image of the team.
Additionally, alongside the difficulties off-track, the performance on-track from Haas leaves a lot to be desired.
It has been confirmed by team principal Guenther Steiner that Haas will not develop this year's car, instead of focusing on 2022's car and the upcoming regulation changes.
Steiner said: "It is no secret that the VF-21 will not be developed as we focus our energies now on the 2022 car, and what we hope will be a more level playing field."
However, in some positive news, 2020 F2 champion Mick Schumacher, son of seven-time World champion Michael Schumacher, will make the step into F1 as a part of the Haas driver lineup. This means after nine years, we will once again see the Schumacher name on the F1 grid.
Alfa Romeo pairing Kimi Raikkonen and Antonio Giovinazzi.
In 2020 Alfa Romeo finished atop of F1's 'class C', beating Haas and Williams to eighth place in the standings. This year more of the same is expected.
Last campaign the team struggled with an underperforming Ferrari engine, as did Ferrari and fellow customer side Haas. However, the hope is that for 2021, the engine is more competitive - thus hopefully allowing Alfa to fight for points more regularly
The driver line-up of Kimi Raikkonen and Antonio Giovinazzi enters its third year for the side in what could be a very tight battle.
Giovinazzi found himself under-pressure to retain his seat at times last year and will need to continue his year-on-year improvement to prove he is the right man to lead the team forward.
It is key that the Italian gets the better of the vastly experienced Raikkonen, who has started 332 Grand Prix - an F1 record, something which he did in the head-to-head qualifying battle last year.
F1 race winner Pierre Gasly with rookie Yuki Tsunoda.
The indication from testing is that AlphaTauri is set for a strong year.
The Faenza-based squad shocked us all last year as Pierre Gasly took an unlikely victory in the Italian GP at Monza, on their way to their best F1 season, at least in terms of points, as they secured seventh in the championship.
This season the team has opted to replace Daniil Kyvat with, F2 race winner, Yuki Tsunoda. With the Honda-backed Japanese superstar joining a team that is renowned for developing young talent.
As mentioned before, testing was strong for AlphaTauri, whose high-rake philosophy in car design looks to be paying off with the aerodynamic changes made to this year's regulations.
If AlphaTauri is able to score consistent points on both cars throughout the year, there is a strong possibility that they will be able to improve on seventh in the championship.
Carlos Sainz partners Charles LeClerc at Ferrari.
There are no two ways about it, Ferrari must improve in 2021.
For the Scuderia, 2020 was nothing short of a disaster. A poorly designed, draggy car combined with an underperforming engine led to a sixth-place constructors championship finish, their worst since 1980.
However, there is optimism for 2021.
The signs following testing suggest that Ferrari has improved. Their engine seems to have taken a large step forward and improvements made to the rear-end of the car look to have benefited as well.
The times Ferrari posted in testing, whilst not setting the World alight, were certainly a step forward, with team principal Mattia Binotto commenting that straight-line speed, which hindered Ferrari in 2020, isn't so much of a 'disadvantage' going into 2021.
Additionally, Carlos Sainz joins the team from McLaren, partner Charles LeClerc as he enters his third year with the team, in what promises to be one of the most exciting pairings on the grid for 2021.
Alpine
Alpine's first driver line-up Fernando Alonso and Esteban Ocon.
Two-time World champion Fernando Alonso returns from his two-year F1 Hiatus to partner Esteban Ocon as the team formerly known as Renault rebrands to Alpine.
In their last year as Renault, the team finished fifth, securing three podiums, and will look to improve on that number this season.
The team's car for this year has performed well in testing, completing a fourth-best 396 laps, meaning reliability which hampered them last season may not be so much of an issue this year.
However, a lot of variables remain.
Cyril Abiteboul has left his position in the team, to be replaced by executive director Marcin Budkowski, and new racing director Davide Brivio. As a result, questions remain as to how the team will adapt to this new management setup.
Additionally, the team will have to allow time for Fernando Alonso to return to full form as he readapts to life as a Formula One driver. Whilst Esteban Ocon must improve on the form he showed in the first two-thirds of last season if Alpine as to challenge at the top of the midfield.
Aston Martin
Four-time World champion Sebastian Vettel moves to Aston Martin to partner Lance Stroll.
The second rebranded team on the 2021 grid is Aston Martin, who returns to F1 after 60 years out of the sport, as they transform from the Racing Point side who took fourth in the 2020 championship.
F1's newest race winner Sergio Perez departs the team, making way for four-time World champion Sebastian Vettel, who partners Lance stroll in the AMR21.
Whilst the car livery has caught the eyes of F1 fans around the world, the team's weekend of testing failed to do so.
The side ranked ninth in total laps completed with 314 laps, with Sebastian Vettel finishing 20th with on 117 laps, with Vettel claiming he 'finished 100 laps short of what he wanted from testing.
However, testing isn't always the most reliable for data and with a fast RP20 car last year, the team will certainly be looking to go one better than fourth and will aim to beat McLaren to third in the table.
McLaren
Daniel Ricciardo and Lando Norris line up for McLaren in 2021.
After catching eyes in testing, McLaren could be set for a strong season.
Daniel Ricciardo moves across from Renault to replace the Ferrari-bound Carlos Sainz, partnering Lando Norris.
Consistency was key last year as McLaren secured third in the championship at last year's season finale in Abu Dhabi, through strong performances on both cars.
In theory, things should only get better this year.
McLaren has returned to Mercedes power for 2021 after three years with Renault following its disastrous spell with Honda.
Whilst this has meant limited development elsewhere on the car as they used their development tokens to accommodate the new engine, the signs are that McLaren has a quick and reliable car to aid them in the fight to retain their third spot in the championship.
Furthermore, the partnership of Ricciardo and Norris is set to be one -of the grids best. Seven-time race winner Ricciardo providing Norris with one of F1's best to compare himself against in what will be a huge year for the Brit.
Can Max Verstappen and Sergio Perez take the fight to Mercedes for Red Bull?
It's hard to picture how Red Bull's testing could've gone better.
Red Bull emerged from the Bahrain test as the quick team in both long and short runs with its RB16B.
It seems with this car the issues seen last year at the rear of the car have been cured, giving the drivers a much more predictable car than 2020's model.
Sergio Perez has been handed an F1 lifeline by the team on the back of his best season in the sport in 2020, which saw him storm to fourth in the championship. He replaces Alex Albon who drops down to test and reserve driver for the team.
In the number 33 car is Max Verstappen, the clear lead driver at Red Bull and the man who many expect to challenge both Mercedes hard for the drivers crown in 2021 after his 'best pre-season ever' with Red Bull
The Dutchman is desperate for a car that can give him a serious chance at winning the title after two years of finishing third in the championship.
Whilst Red Bull seems the quickest in testing this doesn't necessarily make them the favorites, due to the strength of Mercedes since 2014. However, 2021 seems to be Red Bull's best chance of a title fight since it last won the title in 2013.
Mercedes
Lewis Hamilton and Vatteri Bottas will lead Mercedes charge for title number eight.
Mercedes will seemingly start the 2021 season on the back-foot.
The team, who will be hunting for their eighth consecutive constructors and drivers championship double, have struggled in pre-season testing.
Reliability issues plagued Valtteri Bottas on Friday morning, contributing to Mercedes finishing tenth on the table for laps completed.
Additionally, Lewis Hamilton spent the weekend struggling to get to grips with the car, with spins throughout the weekend, even bringing out a red flag on Saturday as he beached the car in the gravel.
Despite this doom-and-gloom, Mercedes should still be considered for the 2021 title.
They have been utterly dominant since 2014 and continued this trend last year, cruising to a seventh constructors crown, whilst Lewis Hamilton secured his seventh driver's title, putting him level with record-holder Michael Schumacher.
Hamilton, despite the testing struggles, will be the favorite to take his eighth crown this season and if testing is anything to go by, a season-long battle with Max Verstappen and fellow Mercedes driver Valtteri Bottas is expected.
Additionally, 2021 is a big season for Bottas, who will find his seat under threat from Mercedes junior George Russell come to the end of the season.
Will Mercedes be able to secure title number eight in 2021?