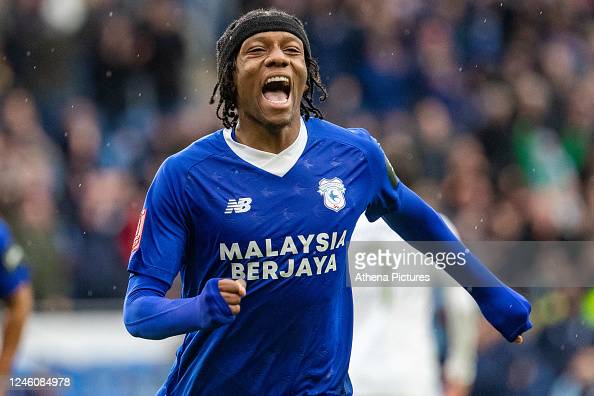 So much hope appeared on the horizon, yet so much disappointment has arrived. What exactly happened, and how can the loanee save them from the drop?
The past and the present
Supporters entered the current campaign riding the crest of a wave; after a perpetual summer shopping spree accumulated in the arrival of 17 fresh faces, all sculpted to complement the vastly-welcomed progressive style of then-manager Steve Morison, the overarching feeling was that, at last, Cardiff City were inheriting the identity and sustainability to formulate strategic success.
Then, it would have appeared completely inconceivable to envisage that, come April, this aesthetically-pleasing assembly of players would be entrenched in a relegation battle.
Football, though, not least the Championship, is a bouquet of curveballs. Life supporting Cardiff seldom tends to differ from this, either.
Internally, doubts were raised towards Morison, who, despite proving popular with the majority of supporters and receiving public hierarchal supporting of his own modus operandi over the summer, had developed a notoriety of cynicism within press conferences.
The strengthening, and fairly plausible rumblings of his conduct behind closed doors were never far away from the centre-stage, either, and crucially, his team struggled to score goals.
Quickening qualms came to a head when Morison was relieved of his duties back in September, a day after the Bluebirds succumbed to a tame 1-0 defeat up at Huddersfield Town- their fifth loss in the opening 10 matches.
Silence can be deafening, and the conspicuously concise announcement from the club facilitated the formulation of various theories regarding Morison's departure.
Some speculations petered upon realism, or, at least, moderate likelihood, whereas others greatly deviated from it. There is always the possibility that the call was inspired by the simple school of thoughts, or maybe not. Who knows?
But, what is known is that Cardiff did not exactly plan for life without Morison. The on-field ethos, encompassing both personnel and playing style, had been dictated by a manager who was no longer at the helm, and with members of the squad allured to the Welsh capital chiefly due to Morison's philosophy, it instantly seemed inevitable that his replacement was to find the going tough.
And that is exactly what happened.
Mark Hudson's appointment was acutely symbolic of the detrimental hallmarks that have accompanied the side this term; lacking in ideas and innovation, all too passive and, in some regards, not experienced enough for the job at hand.
Given the circumstances, and Hudson's lack of learning curve in the tumultuous world of football management, it was no surprise that he lasted a mere seventeen matches at the helm, winning just four of those as Cardiff routinely slumped to pedestrian defeats that, while fine in margin, were strikingly alarming in the nature of performance and tactical adaptation.
Hudson and Morison were both internal appointments. They were both managers with no priors in full-time management and, for potentially differing reasons, their presences scarcely felt capable of galvanising a mix-and-match squad which needed just that.
With this consideration in mind, Sabri Lamouchi was elected as the next manager with the burdening responsibility of keeping Cardiff in the division.
It must be said, Lamouchi is the first manager that they have had in a while, perhaps not since the era of Neil Warnock, that actually feels like a manager.
Having formerly held high-profile positions with Ivory Coast, Stade Rennais and, most notably, Nottingham Forest, the Frenchman rather unsurprisingly radiates an aura of authenticity, authority and discipline. Whether it is on the touchline or stationed within a weekly press conference, he always appears domineering and in command, characteristics which have no doubt proved paramount in the manner in which he has swiftly won over fans.
Of course, those treasured fist pumps have truly endeared his presence to supporters, for they truly distinguish him as someone who 'gets it'. Of course, they come in the aftermath of valiant victories, which have been claimed over Birmingham, Reading, Bristol City and Blackpool. But reality has not been plain-sailing.
Defeats to Luton, Hull and Middlesbrough in Lamouchi's opening three matches were eased by a brief upturn in form, although now, Cardiff have been sucker-punched with a damning descent back down to reality that Lamouchi will need to relentlessly rectify in the coming weeks. Despite all the variables, he will ultimately be judged in Lancashire on May 8 when City's campaign will conclude at Vincent Kompany's champions-elect Burnley, where they will likely know what division they will be playing in next year.
For the meantime, a 99th minute winner from Cardiff native Ben Cabango shattered hearts in the recent edition of the South Wales Derby after the hosts had clawed back through adversity to level the scoring at 2-2, and that may prove costly.
What may also prove costly is Monday's dismal home loss to Sunderland. With the sprinkling of individual stardust from the likes of Jack Clarke, Patrick Roberts and Championship Young Player of the Year nominee Amad Diallo, Tony Mowbray's men were always going to provide a stern test, and in isolation, being put to the sword by them usually carries no shame.
It is not the 1-0 scoreline that has amplified alarm bells into the stratosphere, though, rather the distinct shortage of quality, intensity and strategy that the Bluebirds sheepishly deployed.
They did not fall to defeat. Instead, they limped to it. On certain occasions, Cardiff threatened. But, on far too many, they either looked lost at sea or painstakingly comfortable, playing with a passiveness that would be far more synonymous with a mid-table side counting down the days until the end of the season, than one frantically fighting for their lives at the bottom end of the league.
It now leaves them just one place, and one point above the relegation zone, and had 22nd-placed Reading not already faced a six-point deduction, they would be there already. Below the Royals are Blackpool and Wigan, both with seemingly-sealed fates by now.
The likelihood is that Cardiff are also grappling with QPR, Huddersfield and Rotherham- both of whom they still have face- to avoid that final spot come May, and it truly is open season. Any of those sides could quite easily descend into the doom of the drop zone.
The squad
The polarising, yet interesting component with Cardiff is that they are not a bad team. Some areas of the squad will beg to differ, as will fans and, most prominently, the raw honesty of the league table, but on paper, and at its best, this squad should quite simply not be where they are.
Defensively, where, in fairness, the problems do not tend to manifest, Cedric Kipre and Perry Ng have been consistent all season long, while Mark McGuinness has faced no problems in reacclimatising to the rigours of Championship football since his recall from Sheffield Wednesday in January. Also, Callum O'Dowda, an early front-runner for the club's Player of the Season award as per recent online verdicts, had proved crucial on the wing before being shunted to left-back owing to an injury crisis, where he has excelled in equal measure.
Further forward, they have Andy Rinomhota, Joe Ralls, Ryan Wintle and Romaine Sawyers as the primary midfield options. Admittedly, there is an overwhelming sense of similarity- Rinomhota and Ralls are both robust in nature and dutifully commit to the legwork, while Wintle and Sawyers are both more technically capable and willing to dictate their side's tempo- yet, given the quality there, it is a midfield that has underachieved, and with a source of creativity and guile, the profiles would have complemented each other better.
On the pitch at least, offensive deficiencies have been the catalyst for Cardiff's shortcomings. No team in the league has scored less goals than their 33, and with 22 big chances created, 3.2 shots on target per match and an xG that is only better placed than five other divisional rivals, you cannot even argue that they have been squandering chances, which had been the reality at the start of the season. They have simply not been creating any opportunities to begin with.
The season-ending injury to talismanic forward Callum Robinson has hardly helped, neither have the performances of fellow summer signings Sheyi Ojo and Kion Etete, both of whom were expected to pick up as the season developed.
January acquisition Sory Kaba has emerged as something of a revelation, all the while inheriting 'cult hero' status owing to his encapsulation of the principles that shaped former favourites of the terrace. Uneasy on the eye, Kaba is a penalty box striker by nature, and nothing more. He is not fast enough to open up defences with darting runs in behind, nor does he possess the technical expertise to get on the ball and help with attacking patterns and combinations, but he does score goals- five of them thus far, in fact. For all his shortcomings, he is gifted with a natural eye for goal and clever positioning that allows him to occupy the right positions at the right time, when the service is present.
The difference maker
Ahead of Cardiff's most significant run-in in years, no player holds more importance to the team than Jaden Philogene.
Ironically, at the start of the season when optimism was elevated, no one could have visioned such an ascension for Philogene, in the same manner that no one could have visioned what direction the club would take. Under Morison's tuition, he had displayed glimpses of his abundant, yet raw ability with an outrageously-skilful display on his home debut against Portsmouth in the EFL Cup before notching the only goal in an encouraging victory over Birmingham, again at home. His promise soon waned, though, as did his position in the squad, more so after Morison departed, and barring a handful of exciting cameos during the short-lived Hudson reign, he was largely peripheral.
Lamouchi's arrival would change everything, though.
Instantly impressed with the wide-man in training, he saw Philogene not as an out-and-out winger, where he had always played, but instead as an all-action wing-back. As par of the course, there are defensive responsibilities, although, in possession, Philogene was granted free roam from the offset, and was evidently instructed to maraud forward and show for the ball in space as often as possible, with Lamouchi clearly identifying the youngster as not only a talented player, but one who could make a considerable difference to his side.
It is fair to say that now, after 12 outings, Lamouchi's trust has been vindicated to great effect.
When Cardiff are defending, Philogene does his bit. His defensive style is terrier-like; he relentlessly hunts down opponents and will doggedly snap at the heels, almost always regaining possession. This proactive approach is just why he has the most successful tackles per 90 across the Cardiff squad with a figure of 1.7.
When Cardiff are attacking, Philogene orchestrates proceedings. He is an endangered species of verve, flamboyance and fearless self-expression. He is an entertainer, a premium in a modern footballing context underlined by unity, organisation and, in turn, a diminishment of individuality. He is a maverick, too, gifted and confident enough to execute pieces of skill that are rarely seen at this level entirely, let alone at a club that has ricocheted from crisis to crisis ever since relegation from the Premier League in 2019.
Once a divisive figure at best among fans, they are now all singing from the same hymn sheet when it comes to Philogene's arsenal of talents. When successful, loan players always attract extra appreciation owing to the mantra of "enjoying it while it lasts", but in this case, it is a little bit different. They know that in recent history, they are accustomed to seeing quality of this magnitude at the Cardiff City Stadium, only for the visiting side, with such occurrences coming in the top flight where it seems destined that Philogene's future belongs. Equally, they know that it will be a while, if they are lucky, before they are fortunate enough to see an individual of similar natural ability donning the crest.
The simple joy of the eye test provides validation. Crucially, though, the numbers do too. At the time of writing, Philogene ranks sixth across all Championship players for successful dribbles per 90 minutes- a metric that places him top by some margin at Cardiff (as per FotMob)- while he measures above 91% of all divisional players in his position within the same time frame for attempted take-ons (5.39), above 93% for successful take ons (2.57) and above 83% for ball carries into the penalty area (as per FBref), proving that he is not only entertaining, but also efficient and productive in his dribbling.
His profile as a footballer is unique, so too is the outlet that he offers Cardiff on a routine basis. In terms of what he can do in possession, he is firmly in a league of his own compared to teammates, with unrivalled amounts of skill, invention, one-v-one ability and directness.
He can carve open tight defences, he can cope with being doubled up on- a regular tactic deployed by opposition teams to nullify his talent- and when he has the ball, he can move them upfield quickly, which is a vital quality in a side that sees minimal possession and centres around swift attacking transitions.
But, while Philogene's array of trickery was evident right away, his end product and decisiveness in the final third had long left plenty to be desired. Now, with the onus of supporting the team in both areas of the pitch, the responsibility of regularly contributing goals and assists is not as weighted- a welcomed unburdening, one would think- yet, he has still managed to chip in at vital times.
Finding the back of the net in both derby showdowns is no mean feat, but Philogene was able to do so with ease. He doubled Cardiff's advantage during their 2-0 win over Bristol with a sweet, lowly struck effort from range after advancing into space with possession, before initiating their brief comeback against Swansea with a blistering strike through the hands of Andrew Fisher, having gracefully slalomed his way between opposing defensive traffic.
He was also on the scoresheet in the postponed fixture at Rotherham United, firing the visitors into the lead after only a few minutes with a cooly-taken finish inside the area, only for the match to be called off following the interval due to "adverse weather conditions".
All of the aforementioned qualities contribute to the bemusement surrounding Lamouchi's decision to substitute Philogene during the first half of the Sunderland defeat. The principle was that it had clearly been done to shore Cardiff up defensively after being subjected to an interminable flurry of attacks from the Mackems, but it proved costly.
Bringing on a more defensive-minded operator in Rinomhota did nothing to counter the complexion of the game, and it also sacrificed the one dimension that they had of hurting their opponents. There has been dialogue that he was suffering from a knock, but if that was the case, it would suspected that someone of such importance would not have been handed a starting berth in the first place.
Needless to say, though, he still remains at the forefront of Lamouchi's plans ahead of the final six matches. To save Cardiff from relegation, he may yet need to chip in with more goals, too, although, given the context, a return yielding *technically* seven goals across all competitions is far from an abject tally.
But, what a script it would be if Philogene continues his saga of redefinition and scores the goals to fire his side to safety, before inevitably ascending onto bigger and better things? His future has certainly been a hotly-discussed topic in recent weeks. There is always the prospect of returning to Aston Villa, where supporters are angling for his involvement next term amid a potential European campaign, although Unai Emery may perceive another temporary move away from the West Midlands as the best action for his development, either to the Championship again or to a lower-placed top-flight outfit.
Interestingly, rumoured suitors also beckon overseas. Coupled with the presence of various scouts from English clubs, Lens, Union Berlin and Anderlecht- all progressive-minded sides with merit for nurturing young talent- have been said to be keeping tabs as his stock continues to rise.
At this moment in time, Philogene's next destination is anyone's guess. It will not be Cardiff once more, we know that much. His focus will be heeding towards continuing the rich vein of form that has provided a solitary beacon of light in a damaging second half of the season and, hopefully, securing City's status as a Championship side.
Beyond that, Cardiff's future is uncertain, and it leans upon factors that are deeply-rooted. His, on the other hand, is beginning to carry a notion of certainty. He appears destined for the top. He may not even be able to save them on his own, but he presents their best chance and those talents should be optimised at all times. Indeed, Cardiff should feel lucky to have him, and that feeling will likely be even stronger in a couple of years' time.
For now at least, supporters will be making the most of every last opportunity they have to watch this maestro in action. It is a luxury that they will remain fortunate towards for a long time, especially if he fires them to safety.