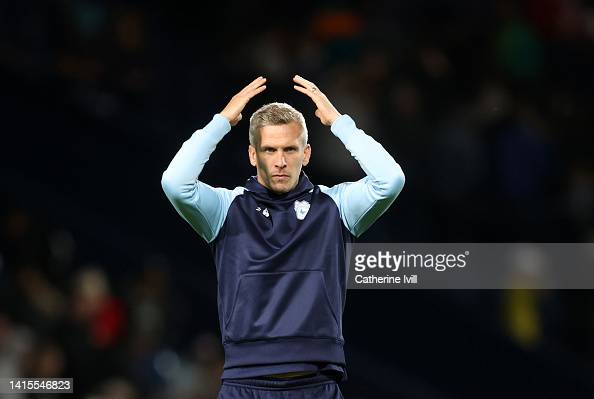 Patience is a premium in modern day football.
Owners and boardroom staff are more vulturous than ever before; unwilling to afford the luxury of time, they appear eager to pull the plug on a managerial tenure as quick as they can.
Steve Morison has succumbed to that very fate.
On Sunday afternoon, social media erupted. Emotion was rife, frustration was omnipresent and, for once, the Cardiff City fanbase were all but united in their views.
The club had announced their decision to sack Morison after just ten matches of the new season.
Licensed with little time to cultivate his evolution of the playing squad into genuine success, Morison leaves the Welsh capital with an unfinished project, one that gave fans so much to be excited about and presented the Bluebirds with a more sustainable future.
And while reports suggest that the higher-ups at the Cardiff City Stadium will be looking to hire a manager of a similar stylistic ilk, it will not be easy for Morison's replacement to win hearts in the way that he had.
Perhaps the greatest facet of the former-Millwall forward's reign, a progressive footballing philosophy was swiftly established.
Cardiff have long been associated with a direct and visually unappealing tactical formula, however, Morison was insistent on playing out from the back and maintaining possession.
It is something that supporters have bought into, having clamoured for a change of tactics for many years.
Even more impressive is that Morison managed to guide the team to survival last term with eventual ease, despite inheriting a squad that, by and large, simply was not suited to this style of play.
With Cardiff left in disarray following Mick McCarthy's unsuccessful time at the helm- which featured a run of eight consecutive defeats and numerous heavy losses- the target was merely for Morison to help stave off relegation to League One.
The summer window, though, posed an opportunity for Morison to reshape the squad and recruit players who could competently produce his ideologies on the pitch.
And so 17 fresh faces arrived, each one with varying short-term and long-term responsibilities, but all of whom were envisaged as being able to meet the new requirements.
There is no coincidence that, since the abundance of acquisitions, Cardiff's possession metrics have vastly improved.
At the time of writing, they rank sixth in the league for average possession, with a healthy percentage of 54.2%. For context, they were 19th in the same rankings at the end of the previous campaign; and the one before that, they found themselves 22nd.
It is also worth noting that the Bluebirds boast the ninth highest accurate passes per match with 320.4, a statistic that further illustrates Morison's contemporary vision.
Victories over promotion hopefuls in Norwich City and Middlesbrough encompassed the new-look way of playing, endearing supporters and optimising the abilities of Cardiff's latest batch of highly-technical and coachable footballers, and although it has been a turbulent start to the season, there have been times where it has all come together.
Morison's successes would not have been attainable without a steady eye for talent either, and he displayed his ability to identify players that would improve the side across two separate transfer windows, all the while operating on a shoestring budget.
Back in January, with the club languishing towards the bottom of the table and in dire need of some reinforcements, he sought to seek relations with Premier League clubs by utilising the loan market.
So in came Tommy Doyle and Cody Drameh from Manchester City and Leeds United respectively.
Doyle, an energetic and technical central midfielder with vast credentials at youth level, provided a source of creativity to the side and routinely picked apart defences with his inventive range of passing.
Drameh, meanwhile, wowed onlookers with his speed, attacking runs and defensive solidity, winning the club's player of the year award despite only spending half of the season there.
The rocket-heeled right-back is now starting to enforce himself into Jesse Marsch's starting line-up up at Elland Road, a development which will surprise no-one who witnessed his stellar stint in south Wales.
But with increased scope to recruit over the summer, Morison pulled no punches when it came to revolutionising the squad.
Their flaws at the back had been no secret, and this was an issue that was quickly amended with the additions of 'keeper Ryan Allsop, Cedric Kipre, Jamilu Collins, Jack Simpson, Mahlon Romeo and Niels Nkounkou.
Many will be quick to point out Cardiff's paltry return infront of goal, though their defensive numbers rank them up there with the very best.
They have kept four clean sheets, which places them fourth in the rankings for this numeric, coupled with having the eighth-highest goals conceded per match record with 1.1.
Moving forward, progressing play had also blighted the Bluebirds- the old guard of Marlon Pack, Leandro Bacuna and Will Vaulks had all endured criticism for their performances in midfield, with the trio eventually leaving the club as part of a mass exodus.
They have been swiftly replaced with two completely different footballing profiles in Romaine Sawyers and Andy Rinomhota, who have bolstered the team with opposing strengths.
Aesthetically pleasing, technically gifted and capable of controlling a game by himself at the peak of his powers, Sawyers has divided opinion but there is no denying his talent when he gets it right.
Meanwhile, Rinomhota is more robust and dynamic than his compatriot, though he does not offer the goal threat or sheer ease in possession that Sawyers does.
And in the final third, Cardiff have made a whole host of impressive additions.
Formerly-outcasted Bristol City winger Callum O'Dowda has been the star of the season thus far, weighing in with four goal involvements in eight matches despite spending a bulk of his time stationed at left-back.
Deadline day facilitated the transfer of highly-regarded hitman Callum Robinson, too, a name that requires minimal introduction to fans at this level.
Despite possessing Premier League and International experience married with an output of 68 goal involvements in the second-tier, Cardiff were able to acquire his services for a fee of just under £2M.
So far, it appears as though Cardiff's gamble is on the pathway to vindication; the versatile 28-year-old notched two assists in the 3-2 win at Middlesbrough and looks capable of adding a new dimension to his side's frontline.
Kion Etete and Ollie Tanner, two attackers who had flourished in the lower echelons of the footballing ladder have also made their way to Cardiff, and even though they are projects who need to be nurtured with time and patience, they are both very exciting and boast high potential alongside high resale value.
Above all, Morison carried a significant vision of where he wanted to take the club.
He had a strategy in place, which encircled the previous two points and ultimately had the end goal of making Cardiff successful and sustainable.
Each and every signing had cited the influence of Morison when proclaiming their inaugural interviews. He evidently has a substantial transfer pull, backed up by the fact he was frequently able to recruit high-quality individuals in spite of Cardiff's lowly league positions.
They have all spoke out about the project that he was incorporating, and that his long-term vision was the chief factor that made them choose City over other suitors.
Take Tanner for example.
The young winger gained national attention upon the turn of the year following his dazzling displays for non-league outfit Lewes FC.
Such was the exposure, even Antonio Conte's Tottenham Hotspur made an approach for his signature, though Tanner opted against a switch to north London due to disillusionment over the long term strategy for him to progress to first team football there.
Swansea City and Brighton and Hove Albion also made approaches, but the Bluebirds won the race for the ex-Arsenal academy player owing to Morison's ability to convince targets to come on board.
Speaking to WalesOnline following the move, Tanner explained: "There were a lot of young boys last season who got a good chance here, and it appealed to me massively.
"The manager really sold it to me and I thought it would be perfect. It's good as a young player because you're always looking for a chance."
Unfortunately, though, reactionary decisions have been made and it is now down to a new manager to maintain and progress the foundations that have been established.
Supporters have questioned the logic from the board, and it is easy to reason with that- after all, in what world is it rational to let a manager dictate a new playing style, sign 17 players and spend the club's first sizeable transfer fee, only to part ways with him a couple of weeks later?
There is also an element of contradiction present, as the boardroom staff and owner Vincent Tan had all publicly stated their admiration towards Morison's transformational exploits and had explained they were willing to give him time.
Time is exactly what was needed, given the mammoth task of disassociating Cardiff from what they have stood for and attempting to launch a passing, possession-emphasised style of football
Ultimately this was a season of transition.
So many players have come and gone, so much change has occurred on and off the pitch that it was unrealistic to expect it all to gel in an instant, when appointing a manager with a long-term innovation you need to treat it as a gradual process, where patience and perseverance is a necessity.
And there is no doubt among many that it would have eventually clicked under Morison.
There had been times this term where it had really assembled, and amid the precarious league position and the inconsistent results, there was plenty to suggest his reign was going to end up a successful one.
What the critics will say
Although the overwhelming majority of supporters have expressed their dismay at the decision, there are some who maintain the belief that it was the right call.
Morison's managerial methods are very much a double-edged-sword and he, like every other coach, had his flaws.
Notwithstanding the encouragement fuelled by the signings, the style, the emergence of young, homegrown academy products and everything else that garnered praise, football is a results-driven business and Cardiff were not winning enough matches under his tuition.
When they would go ahead in fixtures, you could often breathe a sigh of relief- Morison did an excellent job at getting his players to see out results.
But, when they would fall behind, which has proved to be the case on a fair few occasions, there was little hope that they would come back.
This has been attributed to both a lack of confidence in the playing squad and questionable substitutions.
Another critique that some supporters will find in Morison is his management of mercurial prospect Rubin Colwill, who many regard as the club's most naturally talented footballer by a fair push.
Colwill started just 15 times in the league last season and still finished as his side's joint-top goalscorer, but he has found consistent opportunities hard to come by yet again.
When quizzed on his reluctance to frequently field the youngster, Morison has cited factors such as a lack of fitness and defensive nous, however, Colwill is simply a game-changer.
Dynamic, daring and deft with a wealth of skill and invention, he enhances Cardiff's attacking tempo every single time he touches the ball.
The Welsh International will constantly try moves that other players either lack the confidence or innate talent to execute, he looks to take risks and is always driven to make something happen.
And even though it does not pay off every time, seeing a player that will consistently try to progress play through his dribbling and creative passing is positive, particularly when Cardiff are chasing a game.
There had been calls for quite some time for Morison to build the team around Colwill, and while such a demand may be counterproductive for a 20-year-old still learning his trade, there is no contesting that he deserves more minutes, for the benefit of both the team and his own development.
Unsurprisingly, it is hoped that the new manager, whoever that will be, will show more trust in the midfielder's ability and promise.
That will be one avenue that the club can be expected to consider, but above everything else, it is imperative they recruit a coach capable of continuing the philosophy that has been structured.