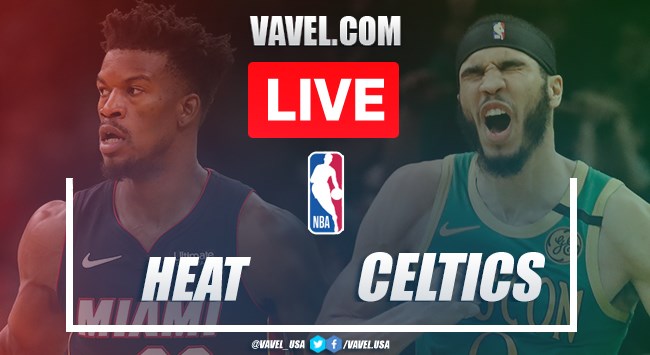 Highlights
2-0 lead for Miami
Q4 Ends
Q4 - 0:49
Q4 - 0:57
Q4 - 1:17
Q4 - 1:26
Q4 - 1:42
Q4 - 3:03
Q4 - 3:40
Q4 - 4:03
Q4 - 4:25
Q4 - 4:57
Q4 - 5:37
Q4 - 7:19
Q4 - 7:46
Q4 - 8:04
Q4 - 10:43
Q4 - 12:00
Q3 Ends
Q3 - 0:04
Q3 - 0:26
Q3 - 1:08
Q3 - 1:50
Q3 - 3:09
Q3 - 3:24
Q3 - 4:17
Q3 - 4:50
Q3 - 5:12
Q3 - 5:43
Q3 - 6:47
Q3 - 7:51
Q3 - 8:50
Q3 - 9:43
Q3 - 10:00
Q3 - 10:42
Q3 - 11:17
Q3 - 11:36
Q3 - 12:00
Q2 Ends
Q2 - 0:09
Q2 - 1:02
Q2 - 2:31
Q2 - 3:03
Q2 - 3:19
Q2 - 4:12
Q2 - 4:44
Q2 - 5:07
Q2 - 5:31
Q2 - 5:55
Q2 - 6:11
Q2 - 6:39
Q2 - 7:07
Q2 - 8:00
Q2 - 8:26
Q2 - 8:37
Q2 - 9:04
Q2 - 10:09
Q2 - 10:23
Q2 - 10:59
Q2 - 11:40
Q2 - 12:00
Q1 Ends
Q1 - 0:08
Q1 - 0:30
Q1 - 1:13
Q1 - 1:44
Q1 - 2:46
Q1 - 3:08
Q1 - 3:38
Q1 - 3:47
Q1 - 4:02
Q1 - 4:20
Q1 - 6:32
Q1 - 7:00
Q1 - 7:14
Q1 - 8:11
Q1 - 8:33
Q1 - 9:04
Q1 - 9:33
Q1 - 9:50
Q1 - 10:28
Q1 - 10:53
Deuce Tatum supporting his daddy
Q1 - 11:44
Q1 - 12:00
Celtics Injury Report
UD40 Reppin' Inter Miami
Heat 5
Celtics 5
Our live coverage begins!
Stay tuned!
9-1 record in the 2020 NBA Playoffs
Bam Adebayo delivered on Game 1
No Hayward for Boston
Jimmy Butler on Tyler Herro
Kemba Walker needed 19 shots to get to 19 points on Game 1, his third straight game failing to reach 20
Miami 1-0 lead
How to watch Miami Heat vs Boston Celtics Live TV and Stream
Welcome!