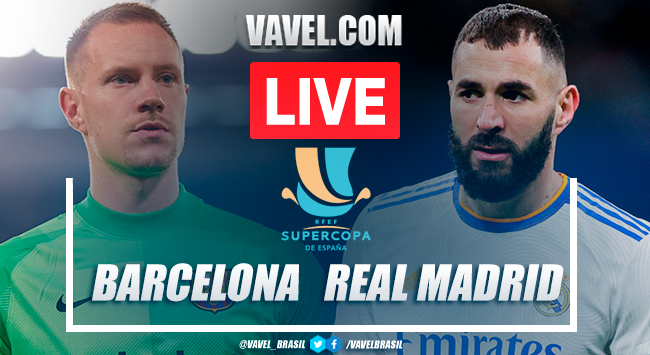 Thank you all!
END OF THE MATCH: REAL MADRID QUALIFIES FOR THE FINAL
2' Minutes more
116' Araujo protects well
Vinicius, the scorer of the first goal of the match, leaves the field
110' Abde leaves
108' Abde had it
The first part of extra time is over.
2-3
100' Saves Courtois
97' GOOOOAALLLL
92' Abde had it
Change in the extension
END OF THE MATCH: EXTRA TIME
2 minutes of pronunciation
86' Nacho appeared
83' GOOOOOAALLLL
82' Ancelotti's second change
78' Xavi makes the changes
1-2
75' Yellow card for Casemiro
71' GOOOOAALLL
69' Benzema at the post
67' Madrid substitution
65' Ansu Fati returns to the field of play
53' Now it's Dembélé
50' Pedri's chance
Two changes at FC Barcelona
46' Second half begins
Luuk de Jong
END OF THE FIRST PART
42' GOOOOOAALLL
39' Dembélé cross
38' Madrid long possession
0-1
29' Luuk de Jong's header
Images of Real Madrid's goal
25' GOOOOOAALL
22' Yellow card for Ferrán Torres
19' Madrid forfeits
17' Militao misses the pass
11' Vinicius had it
9' Shot by Luuk de Jong
7' Now it's for Asensio
3' The first for Benzema
THE MATCH BEGAN
All set
First official match outside Spain
Finally at Real Madrid, David Alaba has been left out of the call-up list due to discomfort.
Ferrán Torres, the main novelty in Xavi Hernández's starting line-up
Ferrán Torres makes his debut in the FC Barcelona jersey
Barcelona has conceded a lot of goals in the Spanish Supercup
1 hour
How to watch Barcelona vs Real Madrid live?
What time is Barcelona vs Real Madrid in the Supercopa de España?
Gales and Mariano are Carlo Ancelotti's only two absentees for the Spanish Super Cup
Pique warns Real Madrid
This was the arrival of the Real Madrid players in Saudi Arabia
This is the Barcelona call-up list, which will also be joined by Pedri and Ferrán Tores, who have tested negative in the last tests. A list which highlights the return of Ansu Fati.
How does Real Madrid arrive ?
How does Barcelona arrive ?
Background
The match will be played at the King Fahd International Stadium, located in Riyadh. The stadium was built in 2014 and has a capacity of 62,000 spectators.
Preview of the match
Welcome to VAVEL.COM's LIVE coverage of Barcelona vs Real Madrid in the Spanish Super Cup.