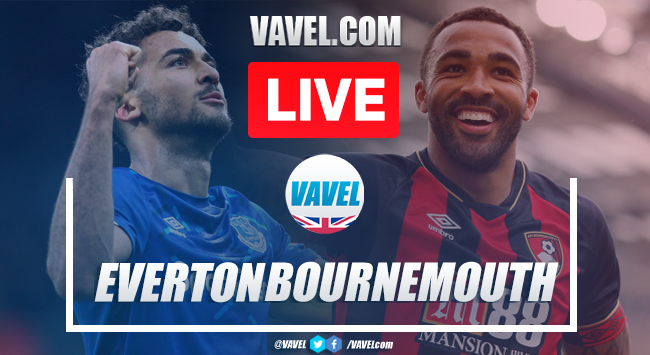 Bournemouth Relegated
Man of the match
Full-time
Chance - Everton
Chance - Bournemouth
Four minutes added on
Bournemouth sub
Elsewhere
Elsewhere
As it stands
Stanislas again
Goal - Stanislas
Free-kick - Bournemouth
Chance - Bournemouth
15 minutes to go
Everton subs
Chance - Bournemouth
Bournemouth subs
Chance - Everton
Everton subs
Chance - Bournemouth
Chance missed
Chance - Everton
No changes for either side at the break
Second-half underway
Teams are back out
Half-time scores in the prem
Half-time
Goal Confusion
Goal - Bournemouth
3 minutes added time
Elsewhere
Chance - Everton
As it stands
Goal - Everton
Everton sloppy here
Chance - Everton
Elsewhere
Chance - Everton
Elsewhere
Drinks Break
Chance - Bournemouth
Chance - Everton
Chance - Everton
VAR check complete
Another penalty shout
Corner - Bournemouth
Corner - Bournemouth
As things stand
GOAL - Bournemouth
Penalty Bournemouth!
Free-kick
Chance - Bournemouth
Chance Bournemouth
Elsewhere
Chance - Bournemouth
Bournemouth pushing on
Chance misses
Corner - Bournemouth
And we're off
A reminder of the teams
The teams are out
Ten minutes to go
Moise Kean starts for Everton
A word from Eddie Howe
The form table
The home side are here
Half an hour to go
The visitors are here
Elsewhere today
What Bournemouth need?
How to watch
Bournemouth starting Xl
Everton starting Xl
The home side are here
Thanks for joining us!
Join us
Howe to take inspiration from the Championship
Ancelotti reflects
The last meeting
Head to Head
Bournemouth Team News
Everton Team News
Everton looking to finish strongly
Is Bournemouth's Premier League stay coming to an end?
Survival Sunday
Kick-off Time