22:05. That's all we've got time for. Thanks for joining me tonight, we hope you enjoyed our live match commentary. To recap, Liverpool see themselves into the quarter-finals of the UEFA Europa League - drawing 1-1 in the second-leg of their last-16 tie with arch-rivals Manchester United after a 2-0 first-leg win. Anthony Martial's penalty on the hour mark threatened to put a spanner in the works, but Philippe Coutinho's stunning solo goal puts his team into the next round. Plenty of missed chances on both sides, with David de Gea once again producing a number of strong stops, but it doesn't matter for the visitors because they're marching into the next round. Thanks for joining us once again and good night.
22:03. Liverpool, meanwhile, enter the final eight of the competition for the first time since 2009-10. There, they'll join favourites Borussia Dortmund, Sparta Prague, Villarreal, Athletic Bilbao, Shakhtar Donetsk, Sevilla and Braga.
22:00. Well, then, there we have it. Jürgen Klopp comes on to the pitch to celebrate with his players and he looks delighted. A more stern Louis Van Gaal isn't quite as pleased as he retreats down the tunnel. The final nail in the Dutchman's coffin at Old Trafford? They need a monumental swing in the league to reach the top-four this season.
FT: Manchester United 1-1 Liverpool. (1-3 on aggregate) Liverpool advance to the quarter-finals of the Europa League at the expense of their bitter rivals.
90' Another good save from De Gea, preventing Origi from making that away end even happier. Two minutes to be added on here.
89' Empty seats all around Old Trafford now. It seems the home fans have lost hope in their side. A story of 'what could have been' for them, having performed much better this evening in comparison to the first-leg. However, their lacklustre finishing has cost them.
88' But it leads to nothing. Normal service resumed then.
87' Just minutes remaining and the outcome looks all but certain. Liverpool, meanwhile, win a corner from Valencia's tackle.
85' Pinball inside the box after a United corner eventually leads to Lingard firing wide of the target.
84' Third and final sub from the visitors, as Firmino is replaced by Christian Benteke. Klopp wants the winner.
83' Schweinsteiger's free-kick is headed clear by Sakho, before Blind's shot flies well wide. Cut to Rooney, up in the stands, looking pretty displeased. Former manager Alex Ferguson, too.
82' Rashford has certainly been one of United's brightest performers tonight, but Sakho - one of Liverpool's best players - is there to stand in his way inside the area. Home fans starting to out of the exits now.
81' After a few minutes wait, Coutinho takes it but his right-footed shot is over the bar.
80' Yellow card for Schweinsteiger for a very nasty looking tackle through the back of Lallana on the edge of the box. Could easily have been more than that.
79' De Gea with another strong reflex save, but Firmino is offside regardless. Liverpool looking the more likely of adding to the scoreline here.
78' De Gea with yet another good save to prevent Coutinho scoring a second, palming his powerful strike over the bar for a corner.
77' United still having spells on the ball, and having a few half-chances, but they've not made anything of them. Liverpool, meanwhile, look hungry for a second to win this one. Origi is doing plenty of running up front, chasing down defenders at will. He does exactly that to win a throw in front of the jubilant away fans.
75' Quarter of an hour remaining and on the basis of their finishing all evening, if not this second-half, United don't look particularly likely of coming back. Up the other end, Can's backheel finds Coutinho in space in the box but he fires his shot straight at De Gea. Could have put it well and truly beyond the hosts.
73' Interesting that Henderson heads down the touchline and then down the tunnel with a member of Klopp's backroom staff. His heel injury the reason behind his substitution? Seems so.
72' Another good chance for United AGAIN goes to waste. Rashford and Valencia link up, with the former driving to the byline, but Fellaini leans back and fires his shot over the bar from the pull-back.
71' Change for Liverpool too. Joe Allen replaces Henderson, who hands the armband to Milner.
70' United's fans' hope starting to fade, at least judging by those shown on the BT Sport cameras panning the ground. Van Gaal meanwhile makes his third and final change, bringing Schweinsteiger on for Carrick.
67' First substitution for Liverpool: Sturridge replaced by Origi up top. The replaced striker looks far from happy on his way off the field, but he can't have many complaints, he's been below par this evening.
63' Another good chance for United as Lingard cushions a backheel into the path of Martial, but his shot rises over the bar from 10 yards.
62' Awful effort from Sturridge, who gets in at the near post and swips his shot wide. That was a great chance for Liverpool, after Can dispossessed Fellaini, fed Coutinho - who beat two or three men - before finding Sturridge to the right. The rest, as they say, is history. But not in a good way. Meanwhile, Darmian comes on for Rojo.
60' Chance for United as Fellaini wins a header, but it's straight at his compatriot Mignolet in the Liverpool goal and he gathers comfortably.
59' Second change incoming from Van Gaal, with Darmian prepared to replace Rojo at full-back.
57' Rashford controls a pass from Mata with his chest, but his first-time shot is wide of the mark. United probably need to be scoring those kind of chances in order to progress, though they're once again the team on top as we approach the hour mark.
56' Sakho certainly in contention for one of the best players on the pitch so far, as he blocks Rashford with an excellently-timed sliding tackle inside his own box. If he gets that wrong, it's a penalty or a goal.
54' Sturridge gets a sniff, but Blind manages to nip in a foot and take it away from him inside the area. Another who has been disappointing for the visitors, tonight.
52' Milner on hand to clear the free-kick off the line. United aren't out of this just yet . Another goal and who knows what could happen?
51' Clyne into the book now, as he brings down Rashford just outside the area. Poor challenge and deserved booking, really. The Englishman has been poor for his standards.
50' Fellaini goes into the book for striking Lovren with his elbow in an aerial duel. Both as bad as each other there, in terms of shirt pulling, but he certainly catches the Croatian centre-back. He'll miss United's next game in this competition, if they progress.
49' Fellaini wins a corner from Sakho, but the Frenchman is there to head clear Mata's delivery. The Reds, for all their susceptibility from set-pieces, have defended them well until now. That could easily change, though.
47' United attacking from the off since the interval, can they retrieve the deficit? They can't afford to concede another goal, meaning if they push too hard for the three goals they require, they could leave themselves open on the break. Tricky test for Van Gaal and co.
46' We're back in action for the second-half as Liverpool get the game restarted. Valencia on for Varela, who was done all too easily for that Coutinho goal, for United at the break. First appearance since October 25th for the winger turned full-back.
21:07. Those half-time team talks certainly will have been interesting. Despite that late goal, you sense Jürgen Klopp won't be particularly pleaed with his side's performance, whilst Louis van Gaal has plenty of positives to take from his side's first 45 minutes - but they now need three more goals. What does this second-half have in store?
21:05. Let's not forget the games elsewhere, either. Borussia Dortmund look certain to go through, leading 1-0 (4-0 on agg) against Spurs down in London. Sevilla lead Basel 3-0 at half-time after a 0-0 draw in the first-leg, putting them in the driving seat, whilst Braga and Fenerbahce are drawing 1-1 (1-2 on agg). Anderlecht and Shakhtar is goalless, with the away side leading 3-1 from the first tie.
21:03. Incredibly open first 45 minutes and who knows what's to come from this second-half? Both sides have had their chances and United may even feel they should have gone level, with Rojo in particular wasting a great chance. But it's 1-1 and they have it all to do. If they maintain that first-half level of performance, anything can happen, but it's quite a task.
20:58. What a first-half of football. Absolutely breathtaking. United set the pace from the off and their goal on the half-hour was far from surprising, Clyne bringing Martial down in the box and he stepped up to finish emphatically. But Liverpool have changed the mood completely around Old Trafford courtesy of Coutinho's stunning solo goal. United can still progress, but they need to score three more without reply.
HT: Manchester United 1-1 Liverpool.
45' Stunning technique from Coutinho as he runs in towards the near post, looks certain to cross before lifting a lob over De Gea from close-range. United need three goals now.
44' GOAL! Work to do for United, because Liverpool have equalised on the night and lead 3-1 on aggregate. Coutinho runs into space down the left, cuts to the byline and chips it over De Gea from an acute angle. Stunning goal, and just the magic they've been waiting for.
43' MASSIVE CHANCE! Mata's inswinging cross is easily cleared by Milner at the near post but Smalling hits it high into the box and an unmarked Fellaini puts it into the middle of the box, where Rojo waits. He volleys, but just wide of the post. Major let-off for Liverpool, who are woefully under-par at the minute.
41' Booking for Liverpool as Coutinho is given a yellow card for pulling down Lingard. Another well-placed free-kick for United to whip into the box.
40' HUGE MISS! Liverpool captain Jordan Henderson will want to bury his head in the sand after that one. He plays a one-two with Coutinho as he runs into the box but puts his shot over the bar. What a chance to get what would be a vital away goal.
39' Better from the away side but yet again their final ball lets them down on two occasions, Can and Milner's crosses both coming to nothing. Incredibly wasteful and Klopp is seething on the touchline.
37' United desperately pushing for the goal which would even it up on aggregate as Sakho clears from Rashford's cros at the near post. The hosts are piling plenty of pressure on their fierce rivals and it's very nearly paying off.
36' Free-kick for United in a promising position after Clyne fouls Lingard. Mata takes it, chipping it into the centre of the box but Sakho's header steers it clear before Lallana dispossesses Rojo.
35' WOODWORK! The free-kick is at an awkward angle but Sturridge opts to shoot, and his shot comes back off the crossbar. Nearly a quickfire equaliser for Liverpool.
33' First booking of the night as Sturridge goes down after being caught by Blind outside the United box. Chance for the away side here.
32' GOAL! Manchester United lead 1-0 and trail 2-1 on aggregate. Martial steps up to the spot kick and sends Mignolet the wrong way. Here we go...
32' Clyne brings down Martial in the box and the referee has no hesitation in pointing to the spot. The man who won the penalty for Liverpool in the first-leg gives one away here. Poor tackle.
31' Penalty to Manchester United!
30' Liverpool enjoying what's probably best described as a mini spell going forward. Firmino tries his luck from range, but it's a simple save for a goalkeeper of De Gea's quality.
28' WHAT A SAVE! Firmino leaves a loose ball for Coutinho on the edge of the box and the Brazilian fires a low shot towards the bottom corner, but De Gea produces a great stop to deny him, before springing to his feet to gather the rebound with Firmino ready to pounce.
27' This game really starting to open up, although a throw-in allows the visitors to gather breath briefly.
26' Liverpool's time to attack as Lovren surges forward on the counter and finds Coutinho in the middle, but his first touch carries the ball away from him and he can't get a shot away. The Reds manage to get it back, but then Milner is caught offside.
25' Incredibly frenetic from both sides, as United appeal for a penalty when Rashford goes down in the box. Nothing given, and probably rightly so, but this game is all over the place.
24' Half chance for Liverpool after Sturridge runs on to a loose ball, but Blind does excellently to block his cross before United scamper clear.
23' How different this tie could be if United played like this in the first-leg. Liverpool's advantage certainly might not be two goals, that's for sure. They're arguably lucky still to have that advantage as we approach 120 minutes played over the two legs.
22' CHANCE! Another half-decent look at goal for United after Rashford finds Martial out wide, he dinks it over Clyne, beats Lallana in cutting inside and curls his shot high and wide. Nervy stuff for the away side.
21' United with all the momentum at the minute and their supporters are certainly enjoying it. They need to score whilst they're on top, but they're playing the better football of the two sides currently.
19' United have two corners in quick succession and the second very, very nearly leads to something. After some head tennis, Smalling's header falls to an onside Mata but he drags his volley wide of the far post from eight yards. He should've scored.
18' GREAT SAVE! Lack of composure on show from both teams, but United enjoy a good spell of one-touch passing that sees them push forward. Rojo's cross finds Lingard at the back post, but his header is pushed wide by Mignolet.
16' Not a great start for either team, although United are probably the team with the more momentum. Fellaini finds Rashford out on the left, but Sturridge - yes, Sturridge - is there to win the ball back. On the counter, the striker slips a through ball towards Lallana but he's caught a yard or two offside.
14' Good defending by Clyne, who recovers to clear after Lovren's attempt to turn 30-yards away from his own goal sees him lose possession. It almost sneaks through to Rashford, but the full-back's on hand to mop up and Liverpool retrieve possession from the following throw.
13' Great touch by rashford takes him away from Sakho, but the defender does well to recover possession and he wins a throw after his pass deflects off Mata and trickles out of play.
12' The referee calling plenty of fouls early on as Henderson goes down after being clipped by Mata. United players not happy with his decisions.
9' Fellaini called for two fouls in quick succession, the first appearing to be a dive. The second, he catches Firmino with his elbow in an aerial duel. No booking, however.
8' Neither side giving the other any time on the ball as yet, leading to plenty of misplaced passes and turnovers of possession. As to be expected in a game as fierce and intense as this, you'd say.
7' Promising move forward for United, but Mata's ball out wide for Martial wide left is poor and it goes out for a throw-in.
5' Good spell of possession for the away side, who work the ball forward and find Lallana in a central position. He does excellently to dodge a few challenges and keep the ball, but he can't find an opening.
3' United looking hungry and purposeful in these early stages as they look to peg their opponents back into their own half. They give it away to Coutinho courtesy of a misplaced pass but soon work to win it back.
2' Milner at left-back for Liverpool, rather than the right with Clyne on the opposite side. Interesting choice from Klopp, but how much bearing will it have on this evening's game?
1' Here we go then! We've heard the Europa League anthem. The one that's not a patch on the Champions League anthem, but the one they insist on playing before every game anyway. It's drowned out by the two sets of supporters, who can be heard singing in the background as the camera watches the face of each player in both line-ups. With that over with, referee Milorad Mazic, famous for dishing out cards, blows his whistle and Liverpool get us started. They're shooting from right to left in this first-half. United the opposite.
20:02. Here they come. Manchester United clad in red and Liverpool sporting their black third kit. Live commentary from this mouthwatering second-leg clash coming your way in just a couple of minutes. Tonight's visitors have won just once away at United in seven visits in cup competitions. That came way back in January 1921, 95 years ago. How they'd love to write their own piece of history tonight.
19:58. The atmosphere is building at Old Trafford. The players will be on their way out of the tunnel momentarily, to what should be an electric atmosphere. What a game we have in prospect this evening. This will be 196th meeting between the teams with Liverpool having won 65 and United 79, with a further 51 drawn.
19:55. The final whistles have been blown and Athletic Bilbao, Sparta Prague and Villarreal have all booked their place in the next round. Joining them could be Shakhtar Donetsk, Borussia Dortmund, Fenerbahce and one of either Sevilla (the competition's reigning champions) or Basel (whose ground hosts the final). Then all that is left are Manchester United and Liverpool. But which of the two will come victorious this evening? Kick-off in 10 minutes.
19:52. Less than 15 minutes to go as Old Trafford begins to fill up. Elsewhere, Spurs need to win 3-0 to even take Borussia Dortmund to extra-time after a heavy first-leg defeat in Germany. The other fixtures are as follows... Anderlecht - Shakhtar Donetsk (1-3 agg), Sevilla - Basel (0-0 agg), Braga - Fenerbahce (0-1 agg).
19:48. Klopp, speaking to BT Sport cameras before the game, confirms that Moreno is suffering from "a little issue" and says he's "about 90%" but that they "cannot see what's wrong" with the defender and they "don't want to risk" it. Milner at full-back instead for the Reds. A weak spot for United to target? He adds: "We could've brought in Brad Smith but, first time vs. Manchester, we thought better to bring in Milly."
19:45. Wow. Having talked about Gary Neville's Valencia needing not to concede to progress earlier, they're now 2-1 down and Bilbao are in pole position to go through. Neville has even been sent off for dissenting at the ref. Full-time only minutes away.
19:43. Despite their awful reputation for drawing games at home this season, with that startling stat of how many games they've been drawing 0-0 in at half-time at Old Trafford still occasionally doing the rounds, Manchester United have lost just three times at Old Trafford this season in 23 games - one of those defeats came to Middlesbrough in the League Cup. In the league they have been beaten by Southampton (0-1) and Norwich (1-2). In fact, in those 23 games they have conceded just 11 goals - four of which came against Arsenal and Norwich, who both scored twice. Who'd have thought it?
19:39. Disciplinary tightropes to be walked for some of these players tonight. Lovren will receive a one-match ban if he's booked and Liverpool progress, whilst Smalling, Rashford and Fellaini were all booked in the first-leg of this game and face bans if they are cautioned and Manchester United go through. Lingard missed the first game having been sent off for two yellows in the previous round.
19:35. A clean sheet this evening would see Liverpool match Napoli's Europa League record of five successive games without conceding. They've kept clean sheets in their last four games in Europe for the first time since August 2012. The last time they recorded five successive shutouts in continental competition was in the Champions League in 2005-06, when they were reigning champions. How time flies.
19:32. Manchester United have never won this competition and retain hopes of becoming the fifth club to win all three major European trophies (European Cup, European Cup Winners' Cup, Fairs Cup/UEFA Cup/Europa League) with the others being Ajax, Bayern Munich, Juventus and Chelsea. Liverpool last won this competition in 2001 - under its former guise, the UEFA Cup - and this remains their only opportunity to win a trophy this season.
19:28. Man Utd goalkeeper David de Gea, who was excellent in the first-leg, has written the following in the club's programme tonight: "We need to score the first goal and if we score first, we have a big chance to score more. The Europa League is a good trophy to win and we'll give everything to try and have the chance to do that. We have the chance to make it a fantastic night for Manchester United and our fans. We know that." [Quote: BBC Sport]
19:24. A number of tonight's players were given good news earlier today, particularly the English contingent. Five of the Reds' starting XI (Milner, Sturridge, Henderson, Clyne, Lallana) and one of United's (Smalling) were called up for England's friendlies against Germany in Berlin on Saturday, 26 March and Netherlands at Wembley on Tuesday, 29 March. Wayne Rooney misses out through injury and you'd expect him to be in one of the executive boxes this afternoon, having grown up as an Evertonian.
19:22. The third 6pm kick-off, Bayer Leverkusen - Villarreal, remains 0-0 - with the Spanish side leading 2-0 on aggregate. 20 minutes left to go in that one.
19:20. Several other big games tonight, including two 6pm kick-offs that are well underway. In Rome, Sparta Prague are currently 3-0 up (4-1 on agg) against Lazio and are surely favourites to go through, with the Italian side needing a four-goal swing to progress. Meanwhile, Gary Neville's Valencia lead La Liga rivals Athletic Bilbao 2-0 at home, having lost the first-leg 1-0. As long as they avoid conceding an away goal, they'll be in tomorrow's draw for the last eight. Could Neville even be pitted against his former club, United? We'll soon find out.
19:17. Man United have scored 3 times in each of their last 2 homes game with Liverpool and in 4 of the last 11 clashes at Old Trafford. But, if the Reds score, the hosts need four and they've only done that once in 62 years here - a 4-0 rout in April 2003 after the Reds were reduced to 10 men inside three minutes.
19:13. This is Van Gaal's 150th UEFA club competition game as a coach, but could it be his last as a United manager? If he fails to qualify for next season's Champions League, his time in Salford is almost certainly over. He's already second-favourite next to be sacked, behind troubled Aston Villa boss Remi Garde.
19:10. Plenty of discontent, from United fans at least, about the inclusion of Fellaini in central midfield for the hosts. He wasn't at his best in the first-leg, and was perhaps lucky to escape a ban for what seemed to be an elbow into the face of Emre Can late on into the game. He makes up a midfield pivot alongside Carrick, whose error led to Firmino's goal in the first-leg. Improvement needed all round from United tonight, but particularly from those two in the centre of the park.
19:07. Just the one change for Liverpool from the team that won the first-leg, with Alberto Moreno indeed injured and making way for the returning James Milner, who comes in at right-back. As opposed to Brad Smith starting on the left, Nathaniel Clyne switches sides - just as he did in the Reds' 3-0 win over United's intercity rivals Man City earlier in the month.
19:03. Daley Blind, despite not being seen at the hotel with the rest of his teammates earlier today, starts in central defence for Manchester United. Van Gaal has made just the two changes from the first-leg, with Memphis Depay and Morgan Schneiderlin dropped in favour of Michael Carrick and Jesse Lingard. Carrick for Ander Herrera, who is injured, is the only change from the team which drew 1-1 with West Ham on Sunday.
19:00. Liverpool Bench: Ward, Toure, Smith, Allen, Ibe, Origi, Benteke.
18:59. Manchester United Bench: Romero, Darmian, Valencia, Williams, Schneiderlin, Schweinsteiger, Memphis.
18:58. Liverpool starting XI: Mignolet; Clyne, Lovren, Sakho, Milner; Can, Henderson, Lallana; Coutinho, Firmino, Sturridge.
18:57. Manchester United starting XI: De Gea; Varela, Smalling, Blind, Rojo; Carrick, Fellaini; Lingard, Mata, Martial; Rashford.
18:55. The team news is in!
Reports suggesting that Alberto Moreno could actually be given the green light to start tonight. He was pictured boarding Liverpool's team bus earlier today, having also been spotted strolling around Manchester and soaking up some rare English sunshine with his teammates before tonight's game. For the hosts, Daley Blind and Ander Herrera - both of whom were alongside Van Gaal in Wednesday's pre-match press conference - weren't at The Lowry Hotel on Thursday morning and therefore look set to miss out. Antonio Valencia and Cameron Borthwick-Jackson are both in the Red Devils' matchday 18, as is 17-year-old RoShaun Williams who was also promoted to the first-team at the weekend. More on the teams later. We'll have the official starting XIs around about 7pm.
Interestingly, United have never been eliminated from European competition by a team from their own country. There's a first for everything, but an early goal for them tonight could change the picture of this tie completely. The fact they've scored in 14 of the last 17 meetings with Liverpool in league and in the cup might give them confidence, but they'll also be desperate to avoid conceding tonight. In the 46 games they've played in all competitions this season, they've only scored more than three goals on two occasions (4-0 home win - Club Brugge, 5-1 home win - FC Midtjylland). They'd need to win by three goals to progress, should that be a 4-1 win, a 5-2 win, a 6-3 win... You get the picture.
Did you know? Manchester United are unbeaten in their last 10 European home games (8W, 2D), and have recovered from a two-goal away defeat to win a European tie four times previously. They did it against Athletic Bilbao in the 1956-57 European Cup and also against Tottenham in the Cup Winners Cup in 1963-64. Having lost 2-0 in the first-leg, they beat Barcelona 3-0 at Old Trafford in the 1983-84 European Cup Winners' Cup to progress past the quarter-finals and they also did it against Olympiakos in the Champions League in 2013-14. Impressive.
So then, what are your predictions for tonight's game? A 2-0 win for Manchester United would take it to extra time, whilst a Liverpool goal would require them to score four goals to progress. The first goal tonight could shape everything, but who will get it? If anyone? Let us know. Tweet your predictions to @VAVEL.
Liverpool have a decent recent record in Europe, winning four and drawing five of their last nine. They're unbeaten since February 2015, though they've not travelled to anywhere as hostile as this since then. Having come out on top in the first game, can they do so again tonight at the home of their greatest rivals? Jürgen Klopp will certainly be hoping so, as a top-four finish seems unlikely in the league.
Manchester United have won four of their last five encounters with Liverpool since Van Gaal took charge in the summer of 2014, including 3-0 and 3-1 wins on home turf. The Reds haven't won on M16, in all competitions, since March 2014 when David Moyes was United manager, with tonight's hosts having won eight of the last nine meetings between the two teams at the Theatre of Dreams.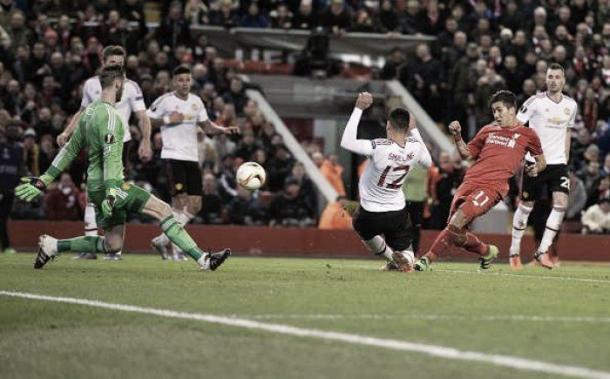 Van Gaal's men drew 1-1 with West Ham United in the FA Cup sixth round on Sunday after Anthony Martial's equaliser forced a replay and ended a run of back-to-back defeats in all competitions. Liverpool, meanwhile, enjoyed a weekend off having been knocked out by the Hammers earlier in the competition. Will that make any difference tonight? Last week, the Reds certainly looked more energetic than their fierce rivals - although United might be keen to rectify that here. The visitors also come into this game full of confidence, having won three consecutive league games for the first time this season recently.
Underfire United boss Louis van Gaal, meanwhile, has full confidence in his squad to overturn the deficit they face this evening. "The challenge is to beat Liverpool and the challenge is that we are two goals down. That is a big challenge," said the Dutchman. "We have to believe in it and it starts with the players of course. They have a lot of impact on the pitch and I have spoken with the players only about the victory and we have to believe in it. The pressure is that we lost 2-0 to Liverpool. Manchester United and the players and myself want to survive and go to the next round, that's the pressure and the challenge also. It's a big challenge for the players. We only have to think we have to beat Liverpool – and beat them 2-0 not 3-0 because we can do it in extra time. We can do it 2-0 in normal time and then we have a chance to reach the next round in extra time. That is our aim. When we can do that with two goals difference without conceding then fantastic. We have scored goals this season so it is possible. We are not thinking about conceding a goal we are just thinking about scoring goals. We have done that against Midtjylland 5-1 in the last round."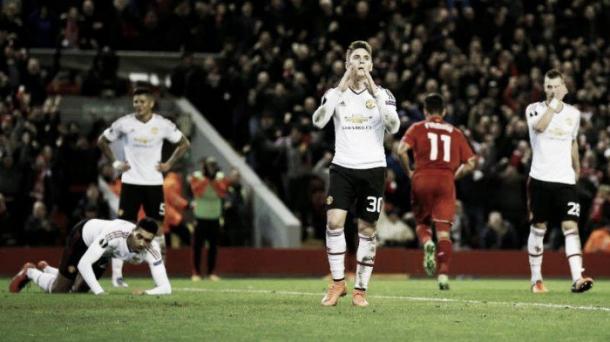 Jürgen Klopp, speaking to the media in his pre-match press conference on Wednesday evening, has insisted his team will approach tonight's game just as intensively as they did the first. "I really don't care about records. It's not important for me," he said, when asked about whether he is concerned that a Liverpool manager hasn't won on their first trip to Old Trafford in 80 years. "We just want to go through to the next round. I only think about the game. Maybe Man United will take maximum risk from the first second but Louis van Gaal is a very experienced manager. He will have a plan. A good start in the game is important. We will try to play similar or even more intensive to how we played at Anfield."
Team News: Alberto Moreno could be absent for Liverpool after he appeared to pick up a hamstring injury in his side's training session at Old Trafford on Wednesday, meaning back-up left-back Brad Smith could be required to take his place. Smith has only made seven first-team appearances since his debut in December 2013, could he be one United look to target?
Team News: James Milner returns to the Liverpool squad after returning from a virus that kept him out of the first-leg, although centre-back Martin Skrtel isn't yet fit enough for first-team selection. The Slovakian international instead featured for the full 90 minutes as the Reds U21s took on West Ham in the U21 Premier League Cup last night, before being sent off in extra-time. Jon Flanagan, who is ineligible for this competition having been excluded from the revised 23-man squad, also featured for 45 minutes in the capital. Lucas Leiva is also still out with a quad injury.
Team News: Ashley Young and full-back Cameron Borthwick-Jackson will not be risked by Manchester United and midfielder Bastian Schweinsteiger is not ready to start. Marouane Fellaini is in line to feature with UEFA having decided against banning the Belgian for what seemed like an elbow on Emre Can late on into the first-leg.
Surprisingly, last week's first-leg was the first ever European meeting between these two teams despite the two boasting a total of 17 continental trophies. Eight European Cups (five for Liverpool, three for Manchester United) make up just below half of those - so you could say this kind of clash is out-of-place in Europe's second-tier competition, but it also adds extra glitz and glamour to the Europa League - which for a long time has been considered a competition it's better not to be in, at least from an English perspective. With the incentive of Champions League football for the winner, however, these two teams will be taking this one as seriously as possible this evening. Particularly given another of the last-16 ties sees two of the favourites to win it, Borussia Dortmund and Tottenham Hotspur, go head-to-head. The Germans lead 3-0 from the first-leg.
Tonight's hosts have it all to do if they are to reach the next stage of the competition and keep their hopes of reaching next season's Champions League by their own admission alive (they can still mathemetically do so via a top-four finish in the league but require teams above them to slip up). Last week's first-leg saw Liverpool romp to a convincing 2-0 victory thanks to Daniel Sturridge's first-half penalty and Roberto Firmino's late strike at Anfield. United were indebted to goalkeeper David de Gea for even keeping them in the tie, making a string of excellent saves to keep it down to just two goals.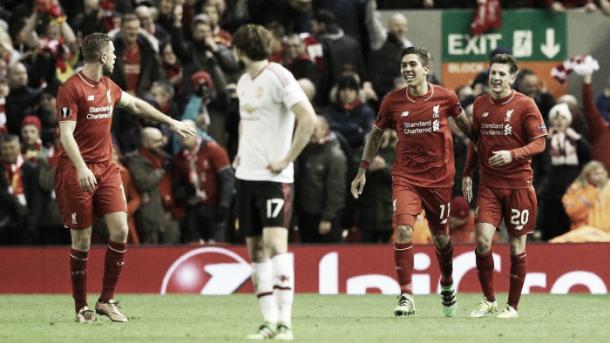 Hello everyone and welcome to VAVEL UK's live coverage of tonight's UEFA Europa League last-16 second leg clash between England's two most successful clubs, and bitter rivals, Manchester United and Liverpool. This evening's game kicks off at 20:05 GMT, but until then - we'll have plenty of pre-match build-up and analysis. Make sure you stay following.