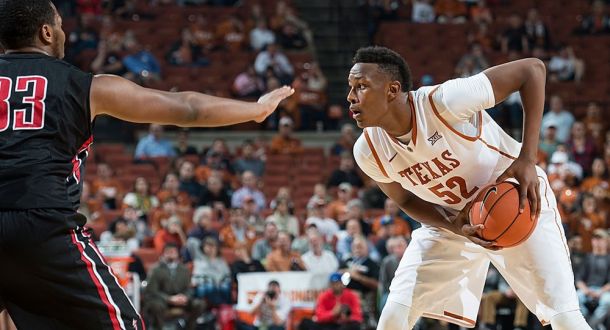 The 7th ranked Texas Longhorns made easy work of Saint Francis 78-46 to improve to 5-0 on the year.
Texas came into tonight's game without starting point guard Isaiah Taylor who was out with a wrist injury. He was replaced by backup guard Demarcus Holland. Texas took advantage of the size mismatch inside early as Cameron Ridley scored the first 4 point for Texas on 2-2 shooting. Myles Turner also had a lot to do with the 36-23 halftime lead as he and Ridley combined for 24 of those 36 first half points.
The second half would prove to be no different as Turner would go on to not only set a new career high, but also log his first double-double as a college player. Turner would end the game with 25 points, 10 rebounds, and 3 blocks. Ridley did not play much in the 2nd half as he finished the game with 16 points, 5 rebounds, and 3 blocks.
The biggest positive for the Longhorns in this game was the play of Turner. He not only finished with a double-double off the bench, but did it with what seemed like ease. The freshman went 11-12 from the field (tying a school record), including going 3-3 from behind the arc. He scored in many different ways including faceup jumpers, post hooks, as well as the above mentioned 3 long range bombs.
"I love the turnaround jump shot," Texas coach Rick Barnes said when asked about Turner's offensive night. "Whether it is over either shoulder, or whether he turns and faces. He gets it up so quick and so high, and he's got great touch."
The one thing the Longhorns will look to cleanup heading into their next game against UConn will be ball control. The Longhorns turned the ball over 14 times agianst the Red Flash. If they want to be succsesful, Texas will not be able to be that loose with the ball and expect a team like UConn to not take advantage.
Even though Texas was a bit careless with the ball, they turned out okay as their young superstar churned out double-double and they cruised to their 5th win in the season and their 3rd win at home.