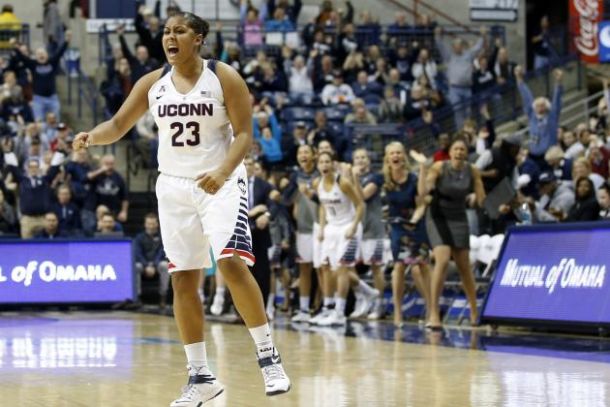 One of the biggest college basketball season took place this evening. It was South Carolina who was off to a perfect 22-0 start which was the schools best start since 2002, taking on Connecticut who were ranked second with one loss. South Carolina took over the top spot after Connecticut's loss to Stanford back on November 17th. South Carolina was looking to remain perfect atop the standings. Connecticut wanted to prove that they are still deserving of that top slot in their hunt to repeat as national champions.
Tonight, the dynamic duo of Breanna Stewart and Kaleena Mosqueda-Lewis proved to be too tough for South Carolina and for their duo of Aleighsa Welch and Tiffany Mitchell.
Geno Auriemma was honored prior to the opening tip off due to achieving his 900th career win against Cincinnati last week. From the start of this game it appeared that the game would go back and forth the entire night, as both teams were shooting accurately. With around seven minutes remaining in the first half, UConn started to dominate. South Carolina simply looked flat and lifeless. A'ja Wilson tried to help her Gamecocks out by ending their scoring drought with 4:42 left in the half, but UConn was consistently getting open kickouts to Mosqueda-Lewis for threes.. At the half, UConn led by an impressive 16.
In the second half, Connecticut dismantled the Gamecocks. Breanna Stewart's 22 points and Kaleena Mosqueda-Lewis's 23 points both had an impact as they led the Huskies to the big win in front of a raucous home crowd. Moriah Jefferson also had 16 on the night. South Carolina hadn't given up 63 all season on defense but tonight they gave up 87 in there worst performance by far on the year. USC's Aleighsa Welch and Tiffany Mitchell each scored 17 to lead the Gamecocks.
UConn head coach Geno Auriemma, following the victory: "We played unbelievably well, played great on defense. I think this was one night, one game in February. They are going to be playing deep into the NCAA tournament. I told Dawn, I hope we play them in Tampa. That would be pretty special."
Finally Breanna Stewart made this comment following the win: "I think it speaks for itself."
If Connecticut can win against Tulane on Saturday, it will be atop the standings once again. South Carolina takes on LSU on Thursday at home.