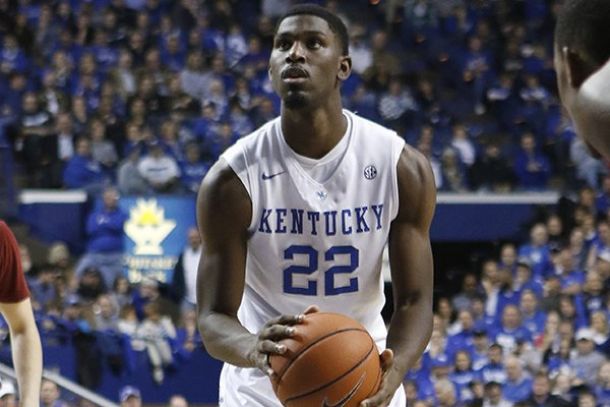 When a team is beat by more points than they scored, that proves how outmatched they were. The Wildcats made this exhibition look like a playground match from the start.
Ottawa got into a hole quickly with Kentucky starting three guards to get out to a quick start. John Calipari's teams usually aren't guard-oriented, but he's finding new ways to throw all these guards into lineups.
The 'Cats got out to 13-0 lead, later extending to 21-7 with Kentucky hitting on all cylinders. The Wildcats used the newly shortened shot clock to better press the ball and it added to the pace of John Calipari's newest team.
This game got a glimpse at the new additions to the team with freshmen scoring 65 points combined. It looks like Kentucky will once again rely on their new talent throughout the year.
One of those freshmen who put on a show is Canada native Jamal Murray. Murray flirted with a triple-double with 22 points, 12 rebounds and 9 assists. For an 18-year-old who played point guard in high school, that's not too bad.
A standing ovation came early in the game to Kentucky's senior forward Alex Poythress. Poythress went down in December of last year when he tore his ACL in practice. This was his first game back since the injury and the crowd was buzzing when the beloved senior checked in.
Kentucky had six players score in double-digits, including two with double-doubles. Ottawa had two players score in double figures.
A new factor reared its ugly head with the Wildcats in this exhibition; exhaustion. Kentucky used to run 10 guys and would never be tired, this year players have to get used to going hard 30-35 minutes a game.
Kentucky did use new rule changes to their advantage, no longer being a team who gets set on defense and locks down for the entire shot clock. This group makes opponents scramble and waste clock so they have little time to set a play once up the court.
Despite not playing a team in their division, Kentucky looks to be playing a style of basketball that can benefit them later in the season.
Stat Leaders
Jamal Murray: Murray came close to a triple-double with his 22 point, 12 rebound and 9 assists. It's just an exhibition but this is only November version of Murray.
Marshon Norfleet: Norfleet went into Rupp Arena with confidence and spent the entire game smiling as he racked up 20 points on 6-12 shooting.
Skal Labissiere: The big main gathered 18 points and five rebounds on 9-12 shooting. Labissiere showed some versatility with where he hit shots on the floor.
Tyler Ulis: Ulis finished with a double-double, a rarity for the 5'9 point guard. Ulis had 17 points and 10 assists on 5-10 shooting, including 4-5 from beyond the arc.