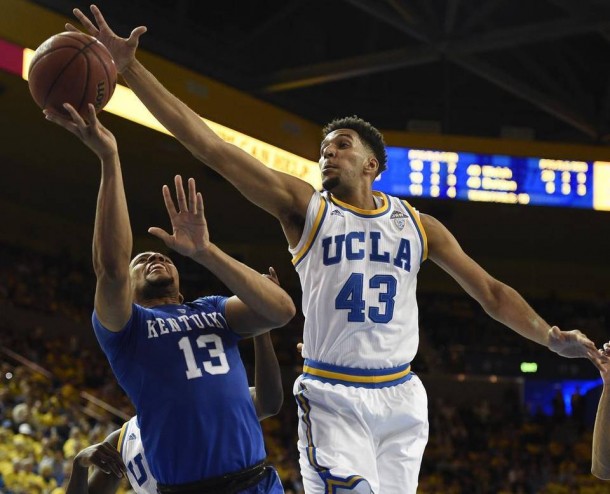 Kentucky did not come ready for a game that was circled as a trap game all season long. Trap the Wildcats UCLA did, as the Bruins put on a show en route to a sound win over the top ranked team.
Kentucky got off to an awful start at went down by as much as 11 points in the first. The Wildcats cut the early Bruins lead to eight at the half, but it would never get any closer than that.
UCLA used easy mid-range shots and a fast paced offense to stun the 'Cats. Kentucky looked dazed trying to get a defensive stop all game long.
The Wildcats allowed 87 points after a team had not scored more than 65 points all season on Kentucky. It was obvious the Wildcats had some problems on defense, and some definite problems on the boards.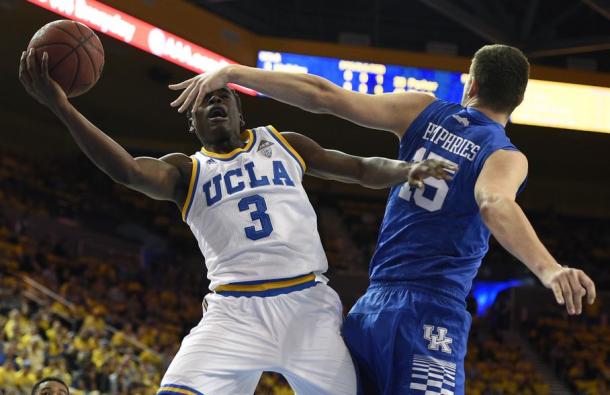 The 'Cats were only out-rebounded 36-35 but the margin seemed much larger. Kentucky looked unable to contest on the boards, with the UCLA big men getting their hands all over the offensive glass.
Kentucky's Skal Labissiere had another game where he seemed lost, only scoring six points and grabbing one board. Multiple games in a row like this from a player that Kentucky needed to make plays in this game causes for concern.
Labissiere's post presence was needed even more after UK junior Marcus Lee left the game in the first half with an apparent head injury. He was ruled out at half time and did not return to the arena.
Lee's absence can explain the lack of rebounds in Kentucky's favor, as the junior became the x-factor in his last game out. Lee grabbed 12 rebounds in a game where Kentucky was missing their point guard, and John Calipari stated without Lee, Kentucky loses that game. That loss showed up here without Lee's presence on the glass.
UCLA had a fantastic first half to attempt to knock off the top team in the country, and the second half became the icing on the cake. Their 50-point second half was a complete defensive breakdown on the part of the Wildcats, as Kentucky could not get a ball to go their way.
Kentucky's little experience was missing in this game as Lee was injured, Tyler Ulis was coming back from an injury and went 2-12 from the field and Alex Poythress was nonexistent fouling out with eight minutes left and shot 1-6.
When a team doesn't come ready for a game, the Wildcats should expect to lose like they did. When you don't play with energy on the road or have the will to win, it will be a long night.
A long night it was, and a long drive home it will be for those Big Blue Nation fans in Los Angeles.
But a what a win at home to get payback for that loss to the 'Cats a year ago.
Player Statistics
Thomas Welsh- Welsh had the best game of everyone on the floor, racking up a double-double with 21 points and 11 rebounds on 8-11 shooting. The Wildcats had difficulty all game long defending UCLA, but this Bruin in particular tore up the Kentucky defense.
Isaiah Briscoe- Briscoe seems to be the only consistent player for the Wildcats in the early season, managing to keep the game from completely getting away from Kentucky in this game. Briscoe had 20 points on 7-10 shooting and looked like the only Wildcat on the floor who actually wanted to win this game.
Jamal Murray- Murray hit some late shots to possibly make it a ball game down the stretch, but his late-game heroics ultimately came up short. The freshmen finished with 17 points and five rebounds on 5-16 shooting in his first true road game.
Bryce Alford- The leader of this Bruins squad did a great job of running the offense against the defense of Tyler Ulis. He did not let Ulis' pressure get to him and scored 15 points with four assists and five rebounds.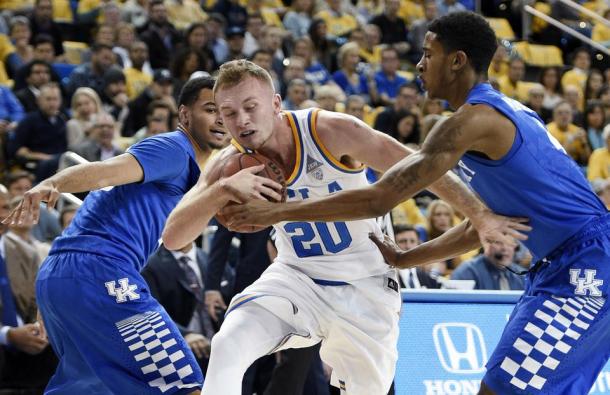 Upcoming Schedule
Eastern Kentucky at #1 Kentucky 12/9/15
Long Beach St. at UCLA 12/6/15