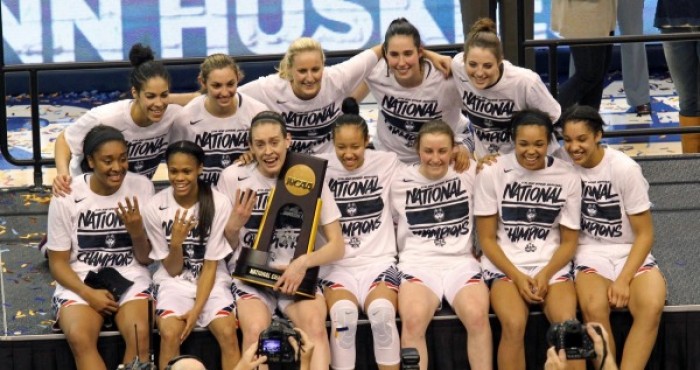 Dominance. There are people that absolutely hate it, and there are people who absolutely love it. However, people seem to be against the UConn Lady Huskies team. They just won their fourth straight National Championship and 11th overall title, this one over the Syracuse Orange. This kind of feat is unprecedented in not just women's basketball, but all of NCAA Basketball itself. No one is going to touch the dominance of UConn for a long time.
Don't Like It? Stop Them
After winning their Elite Eight game by Mississippi State by 60 points, Boston Globe writer Dan Shaughnessy blasted the women's college game with this tweet below.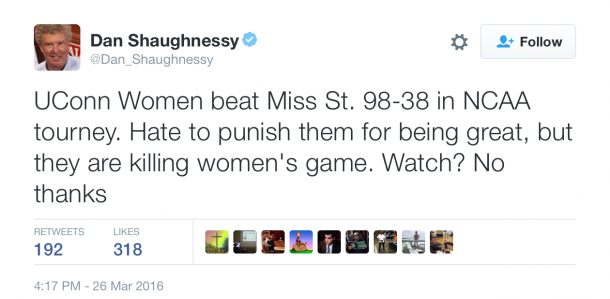 When asked about it, Head Coach Geno Auriemma said, "Don't watch. Don't watch. Nobody's putting a gun to your head to watch. So don't watch, and don't write about it. Spend your time on things you think are important. If you don't think this is important, don't pay any attention to it. The fact you have to comment on it. That says something about you, doesn't it? When Tiger Woods was playing golf nobody said he ruined the game of golf. In fact, Tiger was good for the game. He made everyone else play better. There are a lot better writers than Dan Shaughnessy, but that doesn't mean he's bad for the game."
He's absolutely right. No one ever complained about dominance in other sports, so why complain about it in women's basketball. Roger Federer dominated tennis, did anyone say anything? Nope. His peers pushed to get better, and the likes of Rafael Nadal and Novak Djokovic have all claimed the throne from him and have made the game better.
The UConn Lady Huskies remind this writer of the New England Patriots and the Chicago Bulls of the mid-90s. Why the New England Patriots you ask? Well other than the geographical ties, both have dominated their respective eras and have been highly criticized for it. The Patriots have been "tied" to some different kinds of scandals, but nothing major has been made of them. The Pats are the class of the NFL just like UConn is the class of women's basketball.
You're also probably also asking yourself, why the Chicago Bulls? Well, other than the sport tie, basketball of course, the Bulls are the dominant team that the best of the best are compared to, a la this season's Golden State Warriors who are chasing history by trying to win more 72 games this season. That will be UConn once their dominance ends. When team's are threatening to win three straight championships or winning six titles in eight years or even going three seasons with only one loss on your resume, that's pretty darn special.
The last team to stop UConn was Stanford last year. Before that, Notre Dame had their number back in 2012-13, defeating them three times in the regular season, but the fourth time was the charm as the Lady Huskies dominated the Fighting Irish in their Final Four showdown.
So stop complaining and get to work, despite having the 14th best recruiting class according to ESPN next season, UConn should still be the favorites heading into next season.
Great Players And Great Coaches Help Dominance
The Tiger's, the Jordan's, the Federer's helped reignite their respective sports. Diana Taurasi, Maya Moore, and now Breanna Stewart have helped keep UConn atop the women's game for a long time. The 6'4'' forward has etched herself into UConn folklore being the dominant force that has thrusted the Lady Huskies into four straight National Championships.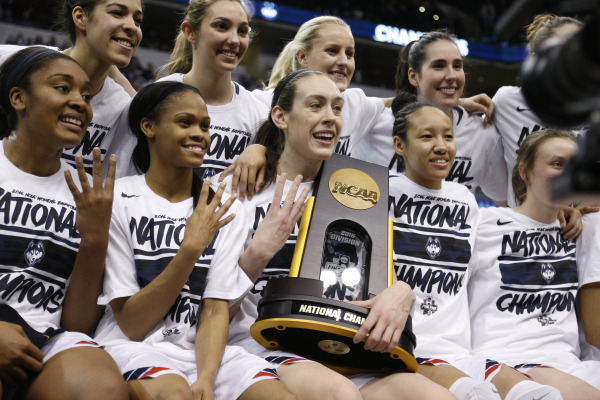 With the two aforementioned names from before, Stewart is now vying with her two other fellow Lady Huskies as one of the best of all-time. Here are Stewart's stats over her four National Championship seasons:
| | | | |
| --- | --- | --- | --- |
| Year: | Points | Rebounds | Blocks |
| 2012-13 | 13.8 | 6.4 | 1.8 |
| 2013-14 | 19.4 | 8.1 | 2.8 |
| 2014-15 | 17.6 | 7.8 | 2.6 |
| 2015-16 | 19.6 | 8.6 | 3.5 |
Looking at these numbers, we know why Stewart will go down as one of the best ever. Her presence and dominance throughout basketball court was unnoticed, but it was with the help of head coach Geno Auriemma that has helped throughout all of this.
In a New York Times article that was released last year, Coach Auriemma has kept his players disciplined from day one until season's end. His players have no major controversies or criminal records. And what's even more astounding, in the last five years, no player has been allowed to tweet from the opening practice until their season is over. It's something small, but it's one less distraction for the players.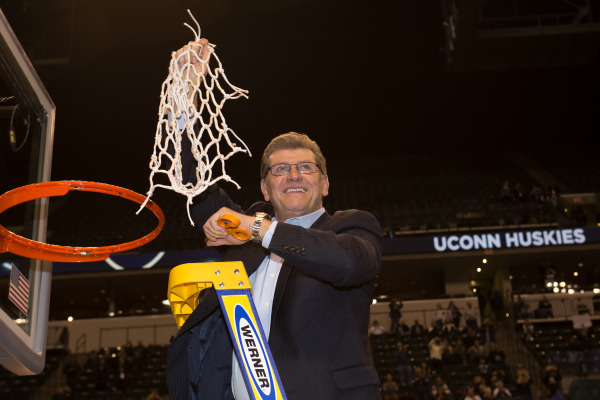 "I put it to them this way: I'm saving them from themselves because there are adults and actors and athletes who at an emotional moment tweet something, and you can never get that back," the associate head coach Chris Dailey said. That's the best way of putting it to be honest.
His record with UConn speaks for itself, 955 wins, 456 conference wins, 22 regular season conference championships, 21 conference tournament championships, and 11 National Championships. A pretty darn good resume.
In the end whether it's in 5 years or 105 years, UConn women's basketball dominance is something that we'll marvel at as we recognize them as a class above the rest for women's college hoops.