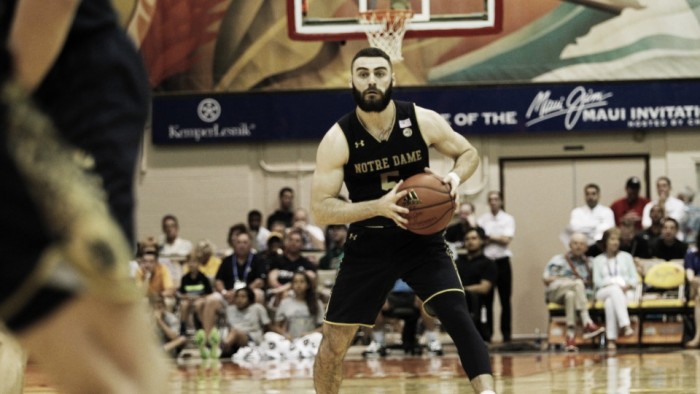 Matt Farrell scored a career-high 27 points and Bonzie Colson added 23 with eight rebounds as 13th-ranked Notre Dame cruised to an 83-56 victory over tournament host Chaminade in the quarterfinals of the Maui Jim Maui Invitational.
Farrell lights it up in the first half
Erik Schieve led the SIlverswords with 17 points and Austin Pope had 11 as they were the only two players in double figures for the Division II school, who fell to 7-79 all-time in the event.
The Fighting Irish led by as many as 14 in the first half, holding Chaminade without a basket for over six minutes during one stretch that saw Notre Dame take a 26-14 lead.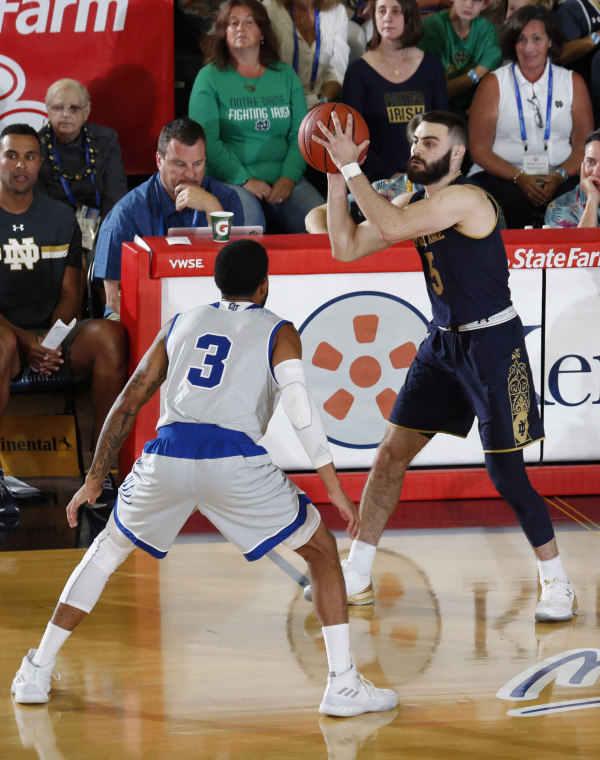 "Our defense was excellent," said Fighting Irish head coach Mike Brey. "This team has wanted to have a defensive identity. We really moved our feet and defended well."
Much of that was due to Farrell, who scored eight points in the first 4:29, then had 12 in the first 5:43 16 in the opening twenty minutes. He needed to be at his best with starters T.J. Gibbs and Rex Pflueger combining for one point.
Farrell, Colson combine to dominate game
With their two leaders combining for 50 points, Brey said "Matty and Bonzie set the tone for us. They're our veteran guys. While some other guys were a little excited in this atmosphere and it was kind of new to them, I thought those two guys really settle".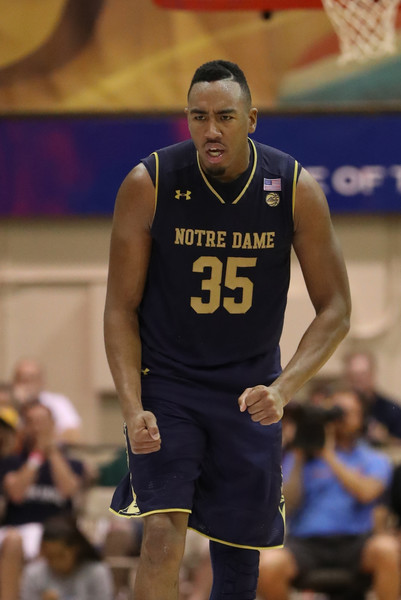 Farrell would add that"we have a lot of confidence in each other. We have fun playing with each other." Colson would say "When we're in good rhythm, we're getting stops defensively. We feel like we can move with rhythm defensively. It's great to get stops and kills and shoot with confidence."
Irish answer Silverswords push
Chaminade scored the final five points of the first half, including a running three-pointer by Brett Reed at the buzzer and another triple to open the second half cut Notre Dame's lead to 38-32.
Farrell scored five quick points to up the lead to 46-34 and a 12-0 run gave them a 65-40 lead with nine minutes to play and they would coast home to a semifinal date with LSU.
Silverswords coach Eric Bovaird assessed his team's performance: "Through stretches of the game, I thought we played really well. Then we had, of course, some bad stretches.Transition defense was not very good tonight. They got a lot of run outs for easy baskets that really hurt us. But overall, we competed through stretches."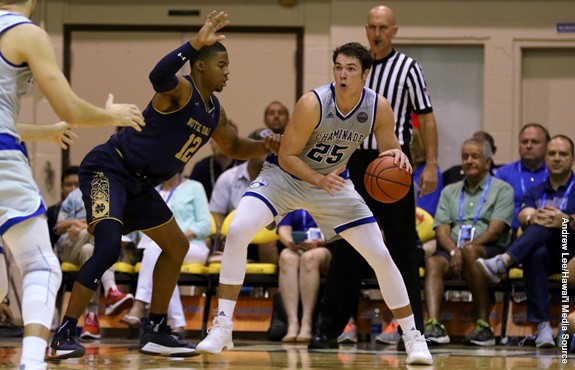 Schieve added that "there is a reason they're on all the preseason lists and everything like that. We just tried to make it as tough as possible. I think in the atmosphere sometimes our concepts, we forgot it."
The SIlverswords, who only shot 35 percent overall and 7 of 29 from long-distance, will face Michigan in a consolation game on Tuesday night.