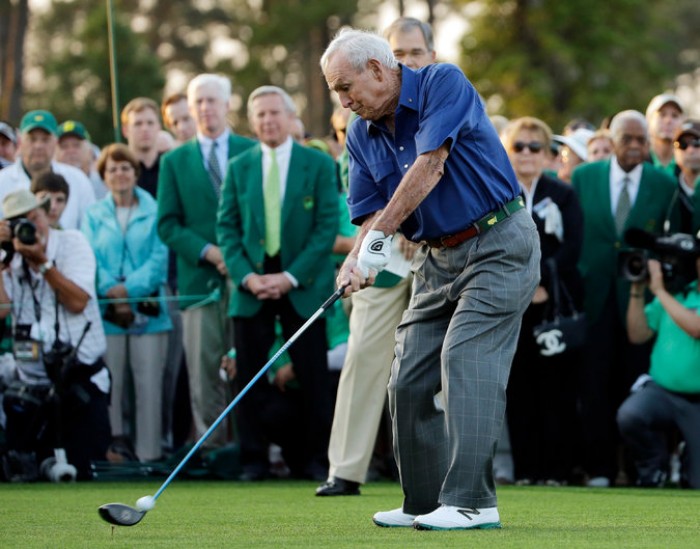 The Masters is going to be strange this year. Not only is it unlikely that four time champion Tiger Woods will be teeing it up, but another four time champion, Arnold Palmer, announced this week that he will not be part of the ceremonial tee shot tradition, the first time since 2004 that The King will not be hitting the first shot of the tournament.
"I spoke with Arnold yesterday and we certainly understand his decision," Chairman Billy Payne said in a statement. "It makes no difference whether he hits a drive. He is a true legend in golf and will be welcomed as usual on the first tee with the other Masters honorary starters. It will be a great day."
Palmer, 86, will still be in attendance and will be at the Champions Dinner. Honestly, Palmer should have a statue of himself erected just off the 18th green so he can see a winner crowned from now until eternity, but that is beside the point.
Palmer's absence means that Jack Nicklaus and Gary Player will have the tee to themselves, leaving a spot open for a third player, if they decide to add one. The list of players who are worthy of such an honor is very small. Here are some potential replacements for The King to tee off next to The Golden Bear and The Black Knight.
Ben Crenshaw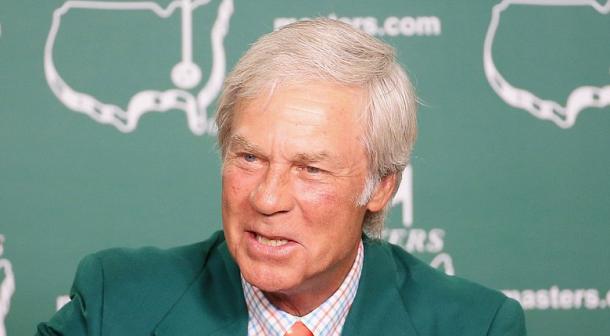 (source: Augusta National)
Ben Crenshaw is the most likely addition to the opening tee shot ceremonies. Crenshaw has served as the Master Of Ceremonies at the Champion's Dinner for many years, and is among the greatest historians of the game of golf. Gentle Ben does not have as long of as resume as "The Big Three", but he is a Hall of Famer and, more importantly, a two time Masters Champion. Crenshaw played alongside Player and Nicklaus in last year's Par 3 Contest in place of Plamer, an addition that seemed like a no brainer. Crenshaw played in his final Masters last year after teeing it up at Augusta for 44 years. Crenshaw has given a lot to Augusta National and is very defensive of the traditions of the game. His transition to being a starter would be seamless.
Tom Watson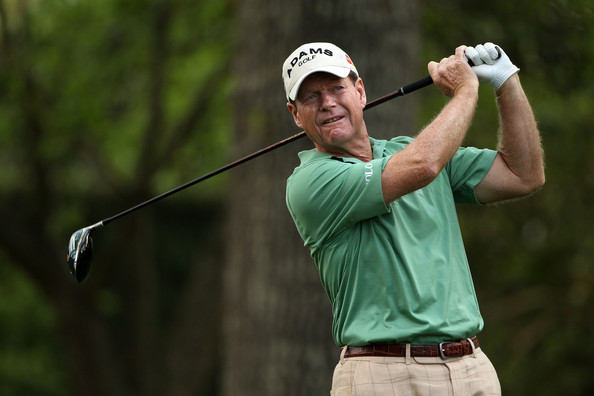 (source: Getty)
The two time Masters champion is more well known for his Open Championship victories, but that doesn't mean Tom Watson hasn't had a storied career at Augusta, as well. Watson outdueled Jack Nicklaus twice at Augusta - in 1977 and 1981 - and came close several times following his second victory. In fact, he finished inside the top 10 for seven straight years between 1982 and 1988, including a runner up finish in 1984. Following his cinderella run at The Open in 2009 at the age of 59, Watson was briefly in contention in 2010, where he eventually finished T18. Watson will be playing in his final Masters this year after saying goodbye at St. Andrews last year. The timeless Tom Watson would fit in perfectly alongside Nicklaus and Player.
Sir Nick Faldo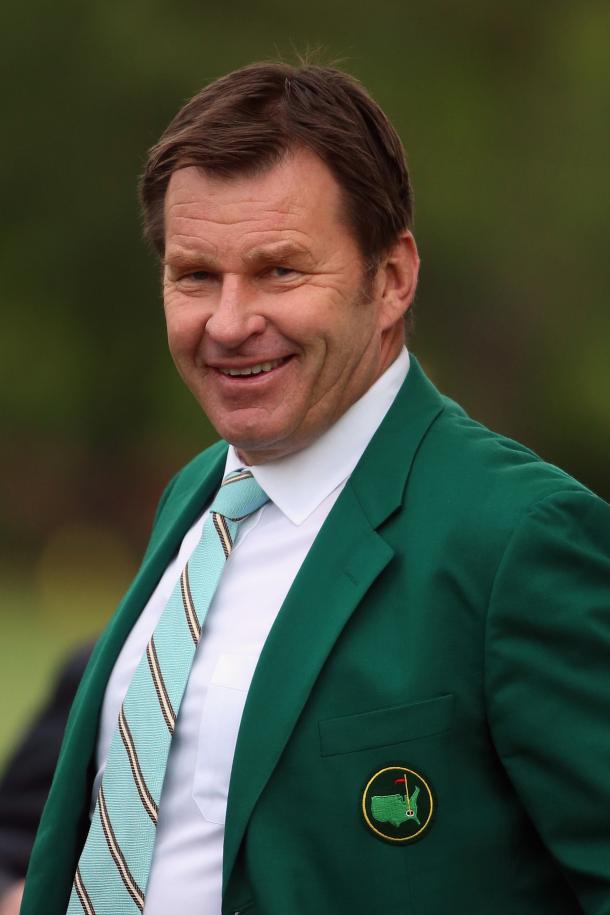 (source: Daily Globe)
An interesting path Augusta National could go down is to put together champions from different eras to hit the ceremonial tee shot. Nick Faldo is a three time Masters champion and was the best player in the world in the early to mid 90's. Faldo is always in attendance at The Masters, playing in the Par 3 Tournament and participating in the Champions Dinner. Of course, it helps that Faldo works for CBS, which is The Masters' television partner. Faldo's resume and history at Augusta would be enough to give him such an honor, but he has one major hurdle - himself. Faldo is a controversial guy. He's the exact opposite of Arnold Palmer - instead of being friends with everyone, he seems to make more enemies the more he speaks. Perhaps time will heal some of those wounds and Faldo will eventually find his way on that first tee. Or, perhaps, Billy Payne just won't care about who Faldo gets along with and puts him in there anyway. If Augusta has taught us anything, it's that they play by their own rules.
Tiger Woods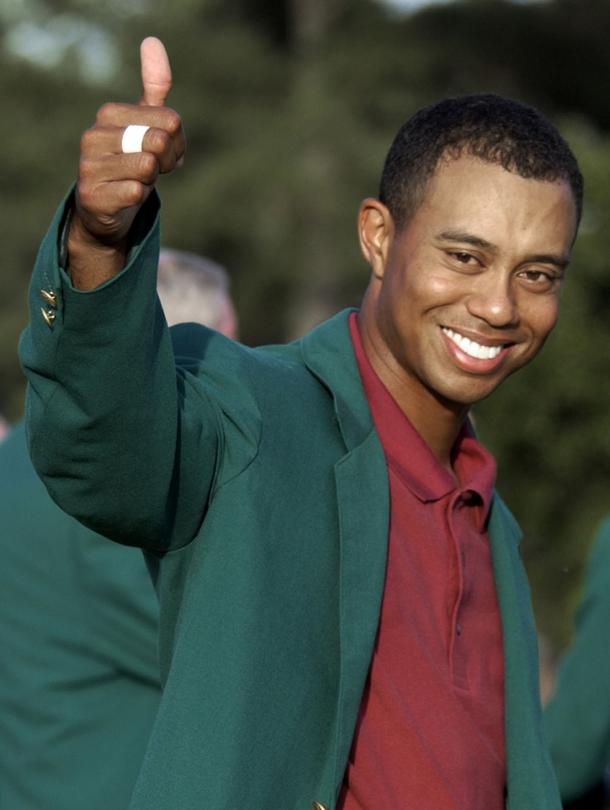 (Source: Augusta National)
Might as well, seeing as he's only a ceremonial golfer at this point, right? In all seriousness, Tiger Woods will eventually be hitting the first tee shot on Thursday morning. If Tiger is unable to heal and play again, why not make it sooner rather than later? Hitting a tee shot next to Jack Nicklaus would mean that the players with the most and second most major victories of all time would be on the tee at the same time. He would bring a lot of buzz and media around the ceremony. Tiger has already said that he may not win again in the future. Why not give him the respect he deserves?
No One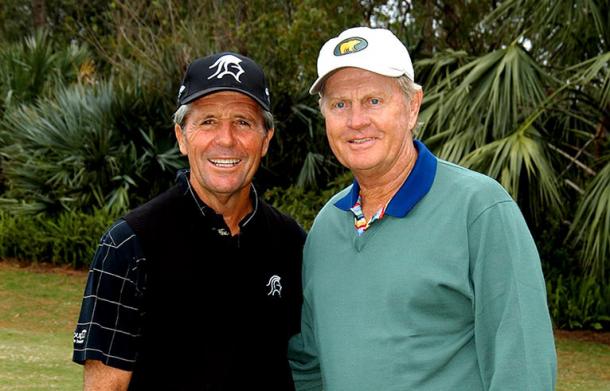 (souce: Nicklaus.com)

Let's be honest - it's going to be next to impossible to fill the shoes of Arnold Palmer. Perhaps the only way to be able to move on from the aura of The King is to let time pass. The last "Big Three" to be the honorary starters at The Masters - Byron Nelson, Gene Sarazen, and Sam Snead - were part of the ceremony together starting in 1984. They did it together for a long time - 15 years the three were together. In 1999, Gene Sarazen died, and instead of replacing him, they let Nelson and Snead hit the shot on their own. Snead did it alone in 2002, and after his death, no one did it until Palmer stepped up in 2007. The Big Three are just that - three. While there are many names who are worthy of the honor of the ceremonial tee shot, none of them are worthy of being part of the Big Three. Palmer and Nicklaus are likely to go alone until they both decide to walk away.