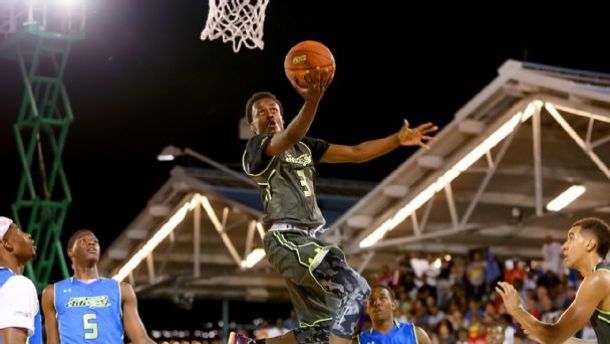 Louisville has maintained its status as a top college basketball program by raking in another top recruit, as Antonio Blakely has agreed to play for the Cardinals next season, according to ESPN Recruiting Nation.
Blakeley is a 6-4 shooting guard out of Oak Ridge High School in Orlando. He is ranked the #13 overall prospect by Rivals.com and comes in a #16 in the ESPN 100. According to several recruiting experts, Blakeley is one of the top scorers in the nation from his position, and he is adept at making shots from anywhere on the court.
"You're getting a kid who can play both (guard) spots, and he puts the ball in the basket probably better than anybody else in the country," said Alex Jackson, his coach at Oak Ridge.
Blakeley made his announcement on Twitter on Thursday night.
"I was very comfortable with the coaching staff, and I know coach [Rick] Pitino will push me to reach my full potential," Blakeney said. "I also feel that I am stepping into a great situation as a freshman."
Blakeley joins a 2015 freshman class at Louisville that includes guard Donovan Mitchell, forward Deng Adel, and power forward Raymond Spalding. After it is all said and done, Blakeley could be the top of what is being touted as a top tier recruiting class.
"I've been wanting to commit," Blakeney said "I knew I was going there for two months. I just wanted to see everything and compare everything. Nothing was better."