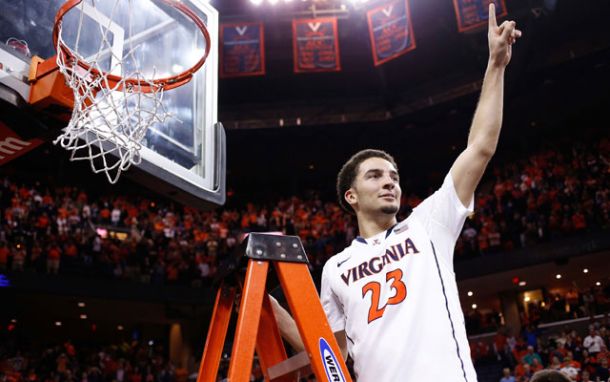 As the 2014-15 college basketball season tips off on Friday, a few major schools will be without key players due to suspensions.
The most noteworthy suspensions have come out of Bloomington where Indiana coach Tom Crean has suspended three players for four games each. Stanford Robinson and Troy Williams will each miss games for reportedly failing drug tests earlier this fall, according to the IU Athletic Department. A third player, Emmitt Holt, will sit out for his role in an auto accident that put teammate Devin Davis in the hospital with a serious head injury. Holt, who is 18-years-old, was cited for illegal possession and consumption of alcohol.
Virginia will open its season on Friday against James Madison without two players, London Perrantes and Evan Nolte. The returning starting point guard for the No. 9 Cavaliers, Perrantes will leave his playmaking abilities on the bench due to a violation of team rules over the summer, according to a statement released by Virginia. Nolte, a reserve forward, will also miss the team's opener after an arrest two months ago for public drunkenness.
James Madison will also take the floor without two players, Andre Nation, the Dukes' leading scorer from last season, and Tom Vodanovich, a back-up forward. Nation will miss five games and Vodanovich two contests after the two teammates engaged in a physical altercation with one another earlier this fall. Nation also served a 15-game hiatus at the beginning of last season for violating school policy.
Meanwhile, Ole Miss will be without the services of Aaron Jones, its top returning rebounder, for the first two games of the season. Jones, who was suspended for a violation of team rules, grabbed nearly 7 rebounds per game for the Rebels last year and was third in the SEC in blocked shots with 69.
Other suspensions come out of Illinois and California. The University of Illinois-Chicago will be without Jay Harris and Lance Whitaker, who have each been served three-game bans for violating team rules. Also, Cal State-Northridge has chosen to sit "several" players for violations of team rules. The school has refused to release the names of the players citing FERPA privacy policies.
In a related note, Kennesaw State head coach Jimmy Lallathin will sit out his team's second game of the year as a result of a self-reported NCAA violation.
While the suspensions have been levied for a variety of reasons, they have become a black mark on the face of college basketball. The hope is that holding players out from competition will result in a greater adherence to NCAA and school rules and policies.
It remains to be seen if the suspensions will have any noticeable effect on the behaviors and attitudes of college basketball specifically and college athletics in general.