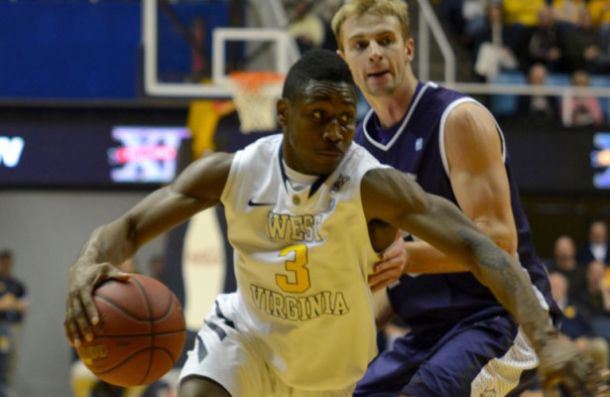 West Virginia was expected to be a top 25 ranked team coming into this season, until the transfers of Eron Harris and Terry Henderson rocked coach Bob Huggins' plans. However, they still had one of the most explosive guards in the nation in Juwan Staten, who is expected to still make WVU into a contender this year.
King Rice's Monmouth Hawks are a team on the rise after recently joining the MAAC. The guard-heavy team meshes well together, with Deon Jones leading the way. However, there would be no way that the Hawks could contend tonight against the Big 12's 'Eers, right?
Wrong.
It was a gutsy, valient performance from the New Jersey school tonight. WVU looked all out of sorts, with their freshmen struggling to find their shots. After the transfers of Harris and Henderson, Bob Huggins had to delve into JUCO's this year, and is also relying on his many freshmen to help out Staten.
Monmouth took the lead after big man Brice Kofane kicked it out to Monmouth's star off of the bench, Andrew Nicholas, for the three to make it 22-20 with 3 minutes left in the first. Monmouth looked like a well-oiled machine at this point, and took a 26-21 lead to halftime over the stunned WVU squad.
After the half, Monmouth came out swinging. Justin Robinson showed his strengths with 6 points in the first 2 minutes, and Deon Harris dished out some impressive assists to the post where Brice Kofane would finish the business. Would the Mountaineers lay down and die?
Never count out Juwan Staten. The senior got fired up, knowing he had to save the day. He got into the paint and got fouled many times, converting 11-12 at the line. His teammate in the paint, Devin Williams, did the same, and Monmouth was biting. Both of Monmouth's centers, Zac Tillman and Chris Brady, fouled out in a poor performances. The flurry culminated into WVU taking the lead with 4:47 left in the game, and they never looked back. The scrambling Hawks team never stopped the bleeding, and fell 64-54.
Monmouth will be able to take a lot from this game. They looked extremely impressive early, and if they can get inside to Kofane, they are exceptionally dangerous. If their centers can improve, and their many guards stay consistent, they can contend for the MAAC title.
WVU has a lot of work to do, and they are banking at this point that their crop of youngsters will improve before Big 12 play. Daxter Miles Jr., Jevon Carter, and Tarik Phillip all struggled in their Mountaineer debuts. Gary Browne, WVU's lead weapon off of the bench, had problems with his shot, going 2-7. The potential of this team is high, but Bob Huggins needs to iron out a lot of kinks before they can be took seriously.
The Hawks now head back home to play Bethune-Cookman next Friday, while the Mountaineers continue their 6 game home stretch vs. an impressive Lafayette Leopards team on Sunday.