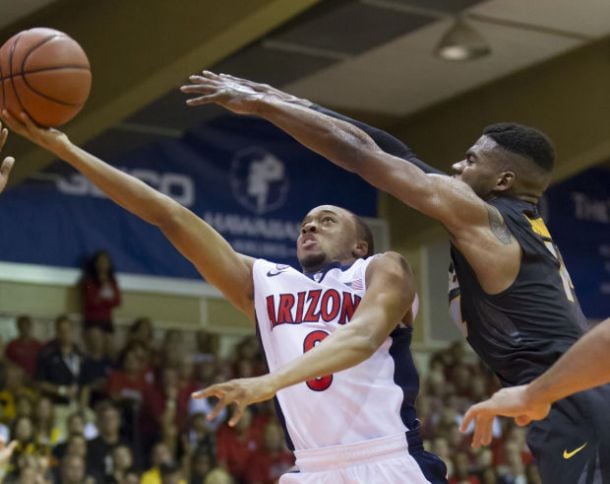 Brandon Ashley and Rondae Hollis-Jefferson scored 15 points apiece and the Arizona defense held Missouri to just 36% shooting as the #2 Wildcats skated by the Tigers 72-53 in the opening round of the 2014 Maui Invitational.
After a close first half between the two teams, Arizona opened up a double digit lead in the second half to win going away. The Wildcats move to 4-0 while the Tigers fall to 2-2 on the season.
Despite the final margin of victory, Arizona coach Sean Miller knows his team has a lot to work on as the march through their early season schedule.
"That initial surge out of the gates of playing well at both ends, I don't know if we've really done that," Miller said. "I can also flip it and make it a positive, because like every team at this time of the year, you're in search of getting better and improving. Today is another step for our team."
Stanley Johnson added 14 points for the Wildcats while Arizona's battery of seven footers, Kaleb Tarczewski and Dusan Ristic, combined to score 14 points. Point guard T.J. McConnell dished out nine assists to help pace his team.
Arizona will face Kansas State in the semifinals of the Maui Invitational in a battle of Wildcats. KSU won its first game in Maui against the Purdue Boilermakers as superstar Marcus Foster poured in 24 points.
The game will tip-off on Tuesday afternoon from the Lahaina Civic Center at 7:30 Eastern Time.
Missouri, which was lead by Montaque Gill-Caesar's 13 points, will face Purdue in the losers bracket tomorrow afternoon.