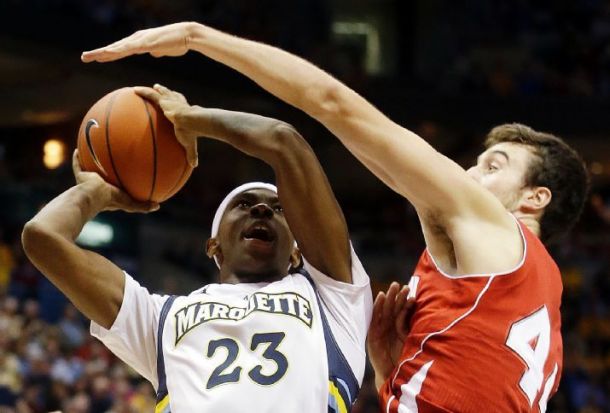 As it was during election season, Wisconsin is red. The Wisconsin Badgers made sure of that fact on Saturday afternoon as they outfought the Marquette Golden Eagles at the BMO Harris Bradley Center, and they walked out of the arena worthy 49-38 winners.
The game was never pretty, and neither team shot over 33% from the field. Every time a shot was missed, and there were plenty of shots missed, a scrum would ensue as players fought for the rebound. Badgers coach Bo Ryan likened it to a game on the playground.
"Playground days. You want to stay on the playground, you gotta figure out a way to beat the other team...I love playing in those sorts of games," said Ryan.
The Badgers are no strangers to these sorts of games; pundits across the country love to criticize their swing offense and slower style of play. Last season, they beat Virginia in a nearly identical game, winning 48-38. They played in a similar fashion this afternoon, and were able to get the win.
Wisconsin came into the game off the back of a difficult home loss to Duke, and many had predicted they might have a hard time getting over the loss. The players didn't think so.
"It's Marquette-Wisconsin. I don't care if we win 1-0 against Marquette, if we win that's all that matters. It's a rivalry game, a tough game, and anything we could do to get the job done we were gonna do," said Josh Gasser.
The combination of a raucous home crowd and a tough Marquette zone promised a difficult game, but the poise of this veteran Badgers team was able to carry them over the line.
"Every time they chipped within two, three, four points we made a shot. We're a veteran club, and we've got some tough guys," said Gasser.
The game truly was no beauty; Wisconsin was 8-30 shooting from beyond the arc and only shot 33% overall while Marquette was 6-14 from distance and only made 29% overall. It was a struggle, the sort often seen in this rivalry.
In the first half, both teams came flying out of the gates. The home crowd was loud, and the obscenities directed at Wisconsin seemed to never stop. It was a fairly even opening to the game, and the Badgers held a two point lead at the first TV timeout.
After that, they proceeded to show why they are the number two team in the nation. They rattled off eight straight points to open up a 17-7 lead. Last season's Marquette team might have folded then and there, but this team did not. They hit back with six straight points of their own, and the crowd roared back to life. But it was then that Wisconsin's veteran poise truly came to the fore. Gasser knocked down three-pointers on back-to-back possessions, instantly opening the gap back to 10 points.
"[Josh's] two staredowns got the other guys moving a little bit. Josh never gets cheated, he never gets cheated," said Ryan.
At that point in time, the Badgers held a 23-13 lead with just two minutes left in the half. It actually grew to 12 points, but Marquette did well to go into the break only down by 10 points. Then, in the second half, they roared back.
In the media room at the break, the consensus was that the second half would get uglier. The Golden Eagles had as many turnovers as they had field goals, and looked nearly incapable of scoring. A Badger blowout seemed the only possible eventuality.
That is not what happened. We will never know what Marquette coach Steve Wojciechowski said to his players at the half, but they came out of the break looking like a completely different team. They had four good defensive possessions in a row, forcing two turnovers and grabbing two rebounds and cut the gap to 25-22.
Suddenly, the crowd that had gone quiet was on their feet, roaring the home team on. Yet again, there was Gasser. The fifth year senior was Johnny on the Spot again, stroking a three to quiet the building.
"I've watched all of their games this year, and Gasser is a winner. Winning players, sometimes it doesn't show up statistically, but coaches know. Whether it's a loose ball or the timing of a made shot, it's those plays that help your team win and every coach can appreciate somebody like that," said Wojciechowski.
The momentum killing shot from Gasser did not put Marquette away, and although it catalyzed a 7-0 spurt from the Badgers the home team fought back yet again. Marquette found themselves trailing by nine points again with 13:32 left on the clock, and Wojciechowski called timeout.
Again, we have no way of knowing what he said during the timeout but Marquette came out looking like a different team. They ripped off a 10-3 run, and it felt like the roof was about to come off the Bradley Center. It was at that moment that Gasser came up trumps again, knocking down a deadly three to stop the momentum.
Wisconsin scored six more points straight, taking their lead to 44-33 with less than four minutes to play. Once again out of a timeout, the Golden Eagles responded. A three pointer and two costless throws from Matt Carlino, who led all scorers with 18 and at times single-handedly kept Marquette in the game, brought it back to a six point game with two minutes to play.
It was at that moment, once again with the crowd on their feet, that Wooden Award candidate Frank Kaminsky showed why this Wisconsin team is a national title favorite. Marquette's zone had limited Kaminsky's shooting opportunities all afternoon, but he made each and every one of them count. Finishing with 15 points on 5-9 shooting and 4-4 from the line, undoubtedly his most important three points of the day came when he hit a clutch three pointer to widen the Badger lead to 47-38.
Marquette were never able to score again, and after some solid costless throw shooting from Wisconsin and further missed Marquette shots, the game petered out to a 49-38 conclusion. Both teams will take positives from this game: Wisconsin will be pleased they were able to respond to their tough loss at the hands of Duke and Marquette will take solace in their fight back. Ryan knows that this Marquette team won't give games away, and will force teams to beat them.
"Here's a young man that gets an opportunity to have a head coaching job, he's embraced it and he's working it. He's right down the road, I remember watching him play, I've got all the respect in the world for him...I think they're in pretty good shape," he said.
Yet for all of the positives that Marquette can take from this one, getting over a loss to your bitter rival is never easy. After his 18 point performance, a downcast Matt Carlino said as much, adding that he took no pleasure in his own performance.
"I don't feel good because we lost. That's what it comes down to, we wanted to win this game and we didn't. None of us feel really good right now," he said.
Marquette will take a break so the players can focus on studying for final exams this week, and return to action on December 16th against Arizona State. Wisconsin is back in action on Wednesday night against UW-Milwaukee in another rivalry game.