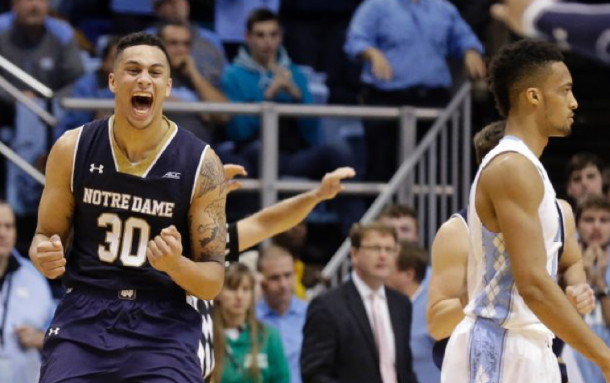 Mike Brey and this Notre Dame men's team is off to its best start in 15 years. Notre Dame came into the season looking like a team that was not going to be this impressive. Now, Notre Dame has a record of 15-1 and they are undefeated at three and zero against ACC opponents.
The 13th ranked Irish traveled to Chapel Hill, North Carolina to take on the emotional and 18th ranked Tar Heels. Prior to the opening tipoff North Carolina honored the late ESPN broadcaster Stuart Scott who was an alumni who died on Sunday. The fans and teams honored him with shirts and the Tar Heels wore a patch on the jersey to honor him.
Zach Auguste was the hero tonight. His basket after a Pat Connaughton miss gave the Irish the win with about a minute remaining in the game. Auguste would go on to score 18 points in the game and Connaughton would score 16 points. With a little over a second remaining Marcus Paige for the Tar Heels missed a three point attempt that would have been the winner.
Jerian Grant did not have a great game with just eight points. However, the Irish found ways to win without their top scorer having a big night. It looked like an upset was going to occur as Notre Dame lead 38 to 34. Notre Dame would go in a drought in the second half and did not look as impressive as in the first. Auguste broke that drought with nine minutes to go in the second half. Paige was the leading scorer for North Carolina with 15. Finally, the Notre Dame had not beaten North Carolina since 1992.
Brey had high praise for his team afterwards.
"We held off a lot of runs and did what we needed to do to escape, but [it was] a tough situation," he said. "I thought we were really poised. Every time they made a run we came out and executed and gave us a little bit of a cushion, and we needed all that cushion down the stretch. I always said my goal was could we create an identity in this league like we had in the Big East. I was very proud of our consistency. We've not yet done that in this league. We're still earning our stripes every day."
Notre Dame and North Carolina take on ACC opponents on Saturday. Notre Dame returns to South Bend to take on third ranked Virginia. North Carolina is at home to face fifth ranked Louisville.