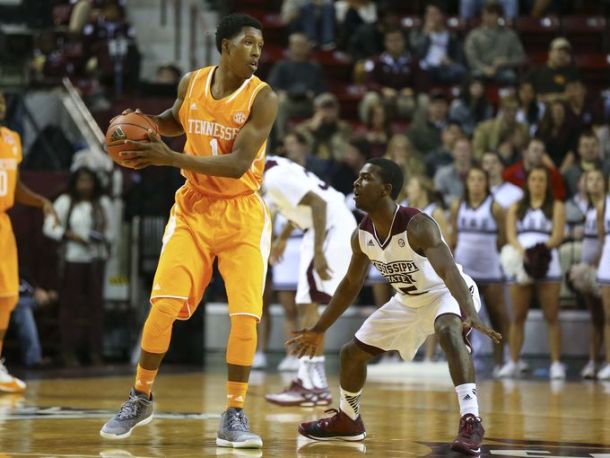 The first year head coach of Tennessee, Donnie Tyndall, will walk away with a win in his SEC debut with the Vols. Tyndall's Vols played outstanding defense against a Mississippi State team that is not off to a good start this year, going (7-7) with this game included. The Vols won 61-47.
The Volunteers were led by guard Kevin Punter who had a team leading 15 points. Punter and 3 other Volunteer starters scored in double digits. Two other starters (Armani Moore and Josh Richardson) both played over twenty minutes without scoring a single point. The Volunteer bench combined for 25 points.
Mississippi State was lead by power forward Gavin Ware who had 12 points and 9 rebounds. There was not a single Bulldog starter that scored in double digits, in fact, Gavin Ware was the only Bulldog player to score in double digits as he came in off the bench.
The two biggest takeaways of this game is that Tennessee can play really good defense, and Mississippi State should give some thought to starting Gavin Ware at power forward.
"It's never going to be pretty offensively," Tyndall said. "We are what we are."
Both teams now have gotten their first taste of conference play. The Volunteers will play the Alabama Crimson Tide next and Mississippi State will play the Florida Gators.
It sure is exiting to know SEC play is underway!