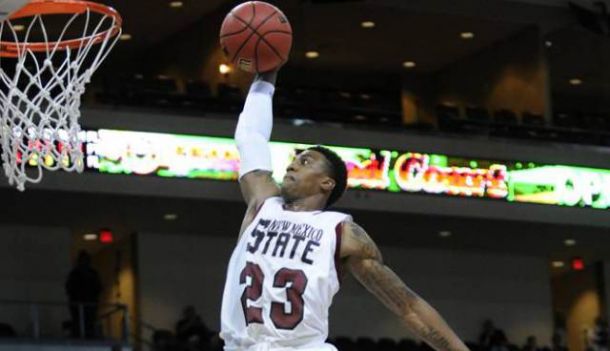 Grand Canyon University (11-9 2-1 WAC) went into New Mexico State (11-10 3-1 WAC) and just couldn't overcome the Aggies' size as they lost 85-63 on Thursday night. The Aggies showed why they are the class of the WAC as they beat up the second year D1 hopeful Antelopes.
The Aggies jumped out to a 30-16 lead with 6:03 left in the first half. The size of New Mexico State was something the Lopes just couldn't match. GCU missed 8 of their 10 shots during that stretch and just couldn't find any kind of rhythm shooting the ball. The Aggies went into the halftime leading 41-27. New Mexico shot 52 percent (17-33) and the Lopes were 45 percent (10-22) from the field.
Second half saw much of the same as the Aggies strong inside play negated any kind of comeback that GCU had. Lopes got as close as 63-49 with 9:11 left in the second half, but New Mexico State didn't let them any closer. The Aggies had a huge lift from senior guard Daniel Mullings who made his presence felt after missing their first 22 games of the season with 17 points. Aggies forward Pascal Siakam led the way with 18 points, and he was one of five players in double figures for New Mexico State. The Aggies out rebounded the Lopes 42-27 and held a 38-20 edge in the paint.
For the game New Mexico State shot 50 percent (29-58) from the field. Grand Canyon shot 41 percent (23-56) for the contest.
Tshilidzi Nephawe had 15 points and 9 boards for the Aggies. Remi Barry added 14 points and Ian Baker had 13 points for New Mexico State.
DeWayne Russell and Joshua Braun scored 18 points each to lead the Lopes.
New Mexico State welcomes Utah Valley University to the Pan American Center on January 24th. Grand Canyon will stay on the road and travel to Texas for match-up against Texas Pan-American also on January 24th.
Notes:
New Mexico State's Tshilidzi Nephawe made his return to the hard court after missing 12 straight games with a foot injury.
Aggies star Daniel Mullings also made his season debut. Mullings was the pre-season WAC player of the Year.
GCU guard DeWayne Russell finally had a turnover after 68 straight minutes of play in the first half of the game. He also continued his run of 11 straight games in double figures scoring.