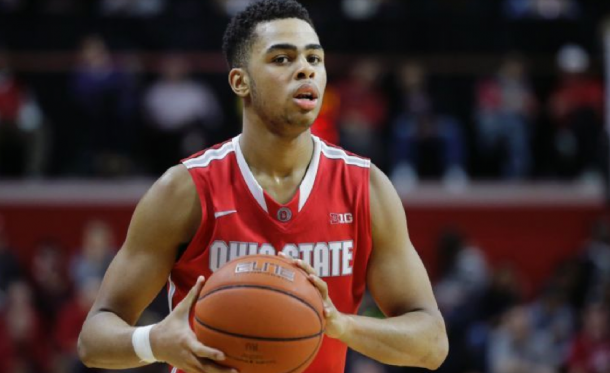 Freshman D'Angelo Russell scored 23 points, grabbed 11 rebounds and dished out 11 assists to register his first career triple-double to lead the #20 Ohio State Buckeyes to an easy Big Ten triumph over the Rutgers Scarlet Knights on Sunday in New Jersey.
"I thought he was really, really good," OSU coach Thad Matta said of his freshman's amazing performance. "Just great command with some of the passes in the second half and he can affect a game so many different ways just in terms of his scoring, his passing. It was honestly one of the better performances I've seen in all my time in coaching."
The Buckeyes, 18-6, 7-4 in Big Ten play, used the win to keep pace with three other teams who are all locked into a three-way tie for second behind conference leader Wisconsin.
Jae'Sean Tate added 20 points and Keita Bates-Diop chipped in 14 points in 19 minutes off the bench on a night that saw the Buckeyes shoot 50% from the field. The Ohio State defense allowed the Knights very few open looks and limited them to just 29% shooting in what has amounted to a rough initial Big Ten campaign.
The Knights fall to 10-15, 2-10 in conference play. Bishop Daniels pumped in 17 points for Rutgers while Junior Etou added 12 of his own in the home loss.
But the night belonged to Russell and his ability to dominate a basketball game.
"It's a great feeling," Russell said about his triple-double. "More importantly, I'm just glad we won. Just to be in the same category as those guys is just a blessing. I feel like I've been flirting with it all year and I finally got the chance to do it and we got the win and that was more important to me."