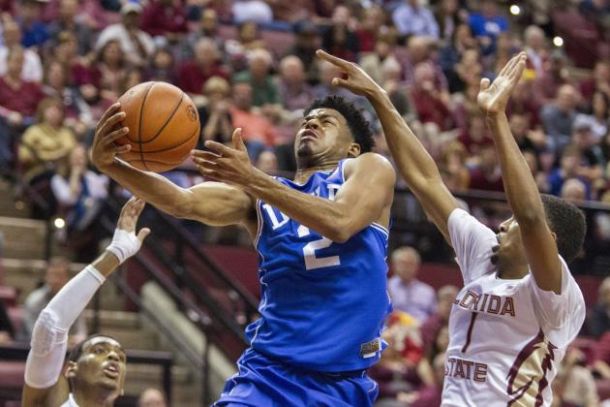 Senior Quinn Cook poured in a season-high 26 points, hitting 8-of-15 from the field and 6-of-7 from the free throw line, while also grabbing four rebounds. Cook's teammate Jahlil Okafor finished 5 of 5 from the floor in the second half and finished with 13 points as No.4 Duke managed to squeak by Florida State 73-70 on Monday night for their fourth consecutive victory.
Both teams got off to a sloppy start in this one as there was no scoring until we were four minutes into the game. Phil Cofer made a jump shot for FSU to finally get points on the board. The Blue Devils wouldn't get on the board until nearly six minutes into the game after Okafor knocked down two free throws. Duke would then turn their slow start around as they made their next six shots and went on a 12-0 run that was led by guards Quinn Cook and Tyus Jones. This game looked like it was a blowout waiting to happen, but the Seminoles refused to quit and went into the break only down 32-24.
After the first half Florida State Head coach Leonard Hamilton had this to say: "We're lucky that we're only down eight points."
Duke controlled most of the 2nd half but FSU managed to make a late comeback attempt. With two minutes remaining in the game Duke realized the game wasn't over and began to slow it down. Quinn Cook then attempted to attack the rim but was denied by Michael Ojo. Duke then managed to hit a jumper to open their lead to six. Florida State's Montay Brandon then came right at big man Jahlil Okafor, and got an and-1 to cut the Duke lead down to just three points.
After a Duke turnover Xavier Rathan-Mayers converted a twisting layup with 11 seconds left to trim the Duke lead down to just one. The Seminoles would then have to foul, and Duke knocked down both free throws to take a three point lead. Duke would the foul FSU on the ensuing possession, and Devin Bookert made the first free throw and intentionally missed the second. The bad news for FSU is Duke got the rebound and the game was over from there.
"Like most great teams, they found a way to counter every surge that we made," Hamilton said.
Devin Bookert scored a career-high 23 points for FSU on 6-of-8 shooting.
Jahlil Okafor has scored in double-figures in 24 straight games, breaking Johnny Dawkins record for the longest scoring streak by a Blue Devils freshman.
Next Games:
Duke will play Syracuse on Saturday.
Florida State will travel to Georgia Tech on Saturday.