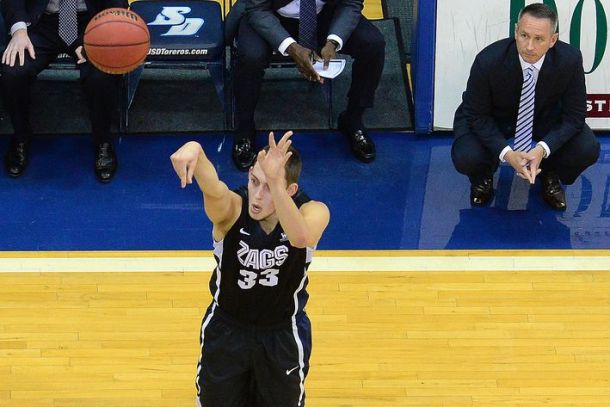 There were many big games last week in College Basketball that lead to some shake up in this week's rankings. Kentucky is still atop of the rankings this week but there are many other teams in the running for the lead ranking. Here are the rest of this week's top 20 college basketball teams and how they stack up.
Kentucky Wildcats (AP #1) - The Wildcats are the only undefeated team in college basketball now after the win against Florida. Karl-Anthony Towns and Devin Booker are playing the best basketball of the season and it couldn't have come at a better time. Kentucky could very well enter the NCAA tournament with no losses. This week at LSU and - South Carolina.

Gonzaga Bulldogs (AP #3) – Who is talking about the Zags right now? Not many people are and they are playing like the best offensive team in the country. Kevin Pangos and Kyle Wiltjer are thrashing teams in conference play as they are undefeated in conference play. Imagine a national title matchup against Wiltjer and his old team Kentucky. This week - Loyola Marymount and - Pepperdine.

Virginia Cavaliers (AP #2) – UVA got another impressive win this weekend with a victory over Louisville. But it came at the price of their star player Justin Anderson who is out for 4-6 weeks with a fractured finger in his shooting hand. Malcolm Brogdon will now become the main option on offense for the Cavaliers. They are still in contention for an ACC title for now though. This week at NC State and - Wake Forest.

Duke Blue Devils (AP #4) – No one would choose Duke by 30 points at home against Notre Dame who already defeated the Blue Devils this season. But, they shot 81% in the first half and didn't look back as they destroyed the Fighting Irish in every way possible. Jahlil Okafor is still the leading contender for the Player of the Year award and the loss of Rasheed Sulamon doesn't seem to be bothering the team like most people thought it would. This week at Florida St and at Syracuse.

Wisconsin Badgers (AP #5) – Frank the Tank is leading the charge for the overwhelming favorites to win the Big Ten title. There has been no team able to contend with the Badgers for the entire course of a game. Sam Dekker is the least talked about star player in the country for no reason at all. Ohio State could challenge Wisconsin for the title but Kaminsky is too much for one team to handle. This week at Nebraska and - Illinois.

Villanova Wildcats (AP #6) – This team is still the front runners for the Big East title despite some recent struggles. There is a huge game this weekend for Nova as they travel to Butler to take on the other ranked team in the Big East. They still have a chance to earn a top seed in the NCAA tournament but the road just gets tougher from here on out. This week at Providence and at Butler.

Arizona Wildcats (AP #7) – The loss to Arizona State was a tough one to swallow for the Wildcats in their quest for a Pac-12 title. They are still the favorite to win it but some of their weaknesses showed during the loss. T.J McConnell attempted a poster dunk but came up short as he got the charge call against him while going up. Utah is the only other team that can possibly contend with Arizona for a conference title. This week at Washington and at Washington State.

Kansas Jayhawks (AP #8) – Kansas supports the toughest schedule in the country this season while also playing in the toughest conference. The loss to Oklahoma State was a surprising one as this time was beginning to play their best of the season. Kelly Oubre is coming on, playing like one of the top recruits in the country that he is. The Jayhawks are poised for another Big 12 title. This week at Texas Tech and - Baylor.

Utah Utes (AP #11) – Utah was no regarded as a top team coming into the season and continue to prove people wrong. Delon Wright is playing at an extremely high level and very possibly is the front runner for Pac-12 POTY when it's all said and done. They will still need to get pass Arizona if they want a shot to do something special. Don't be surprised if this tough defense gets the job done and claims the conference tournament title. This week - Stanford and - California.

Louisville Cardinals (AP #9) – The Cardinals only scored 13 points in the first half against Virginia but made a run in the second half to make it a respectable 5 point loss. The Cards had a chance at the end to win but failed to convert. This team is still offensively challenged but when they are hitting their shots, no other team can keep up. Terry Rozier is only .2 points behind Rakeem Christmas for leading the ACC in points per game. This week - Pittsburgh and - NC State.

Northern Iowa Panthers (AP #13) – This team has been the biggest surprise of the college basketball season so far. The Panthers don't have a very tough schedule but they won their most important game of the season so far in Wichita State. The Panthers were an afterthought coming into the season and have been amazing as of late. They will still have to get through Wichita State again for a conference title but they have what it takes. This week - Illinois State and at Missouri State.

Wichita State Shockers (AP #15) – Ron Baker and Fred VanVleet are the anchors of this year team that are trying to live up to last year's 1 loss team. VanVleet even recorded a triple-double last week for the Shockers. The only problem for Wichita State is they don't have an inside presence like Early was last season. Northern Iowa already defeated Wichita State earlier this season but they still have to play one more time. The conference title game will likely come down between the two. This week - Indiana State and at Illinois State.

Notre Dame Fighting Irish (AP #10) – What has happened to the Irish? They were rolling after defeating Duke but after the Pittsburgh game they don't seem the same. Jerian Grant is arguably the best guard in the nation and is close to Okafor in play of the year rankings. Pat Connaugton has been a fantastic right side man for Jerian Grant. He leads Notre Dame in rebounding despite being a small forward. Notre Dame has to start playing at least decent defense if they want to survive in the ACC. This week at Clemson.

North Carolina Tar Heels (AP #12) – Marcus Paige is leading the surging Tar Heels to a top 4 seed in the ACC tournament so they can get a 2 round bye. He hasn't been as good as he was supposed to be this season but has changed as of late. Kennedy Meeks has been the unsung hero for the Tar Heels, playing as one of the top big men in the ACC. They suffered a tough loss last week - Virginia but there is no reason why they can't bounce back. They have the size, talent, and guards to make a deep run come tournament time. This week at Pittsburgh.

Iowa State Cyclones (AP #14) – The Cyclones might be the only team capable of knocking off Kansas to claim a Big-12 title. They got blown out at Kansas earlier this month but Georges Niang can take this team to the promise land. This week is brutal for Iowa State as they play two very good teams. This week at Oklahoma and - West Virginia.

Baylor Bears (AP #16) – Rico Gathers is the best rebounder in college basketball hands down. No one is able to go up and contend for a rebound with him. Baylor has been an upside for the conference this season as they are better than advertised. If they are legitimate Big-12 contenders is in question still unless they defeat Kansas this weekend. This week - Oklahoma State and at Kansas.

Butler Bulldogs (AP #18) – They are the only other Big East representative on this list since Villanova is ranked in the top 10. Butler is still a force to be reckoned with in the Big East but Nova just seems head and shoulders above the competition. If they want to stand out from the pack then defeating Villanova on their home court this week will surely help dearly in their quest for a conference title. This week - Villanova.

Oklahoma Sooners (AP #17) – The Sooners have more losses than most CBB top 25 teams would have. But their conference is the toughest in the country and they have been playing great recently. Buddy Hield is putting this team on his back and is arguably the best player to come out of Oklahoma since Blake Griffin. Don't sleep on this team as they will challenge Kansas for a title but it won't come to shock if they fall short of their aspirations. This week - Iowa State and at Kansas State. This week - Iowa State and at Kansas State.

VCU Rams (AP #20) – Without their star Graham this team barely looks like a tournament team. They aren't as good on defense and look a step slow on offense. If VCU wants to make a run in March then Shocka Smart will have to come up with something quick to give the team this confidence back to win games. This week - La Salle and at George Washington.

Ohio State Buckeyes (AP #23) – Quietly the 2nd best team in the Big Ten, OSU is on the rise in college basketball. DeAngelo Russell is the best freshman guard in the nation is in contention for one of the All-American slots. They will go as far as Russell leads them in March. He might also beat Frank Kaminsky in the Big 10 POTY race if they continue to play great. A loss last week hurt but they have a huge game against Michigan State should help the team greatly. This week - Penn State and at Michigan State.
Others receiving votes: Maryland, West Virginia, Arkansas, Colorado State, Oklahoma State