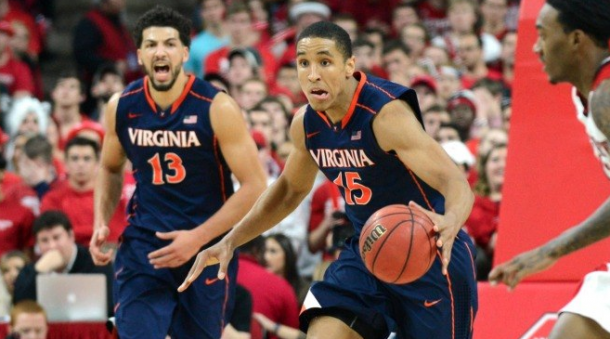 RALEIGH, NC — Virginia struggled mightily on the offensive end in its first game without their star forward, Justin Anderson.
The number two-ranked Cavaliers relied on their defensive prowess and clutch free throws to escape North Carolina State without a loss.
Malcolm Brogden scored 15 points for Virginia, which held the Wolfpack to a mere 33% shooting for the game. Taking blow after blow from NC State, UVA withstood it all for a 51-47 victory Wednesday night.
Virginia seemed to never find an offensive groove, especially in the first half, only scoring 19 points. Fortunate to not be trailing by a larger margin, the Cavs didn't make a free throw until almost 10 minutes to go in the half. They were held to their second lowest scoring first half of the season.
In the second half, NC State kept their cool in front of the packed PNC Arena and showed a consistent effort to get to the paint. Showing that there is weakness on the inside of UVA's pack line defense.
Trevor Lacey scored 14 and Anthony Barber scored 11 for the Wolfpack (14-11, 5-7 ACC). But no one other player scored more than 7 points and they lost, what could have been, a great resume builder for the NCAA Tournament in March. North Carolina State got within 47-45 with 39.3 left in the game, and had a chance to tie it on an open Trevor Lacey layup that rolled off the front of the iron with 7.0 seconds left. After two free throws by Tobey, and another two by Brogden, Virginia sealed the victory.
Mike Tobey added 11 points and 9 rebounds for the Hoos', who needed all the offensive help they could get. Up until this game, Virginia has been led by All-American Candidate Justin Anderson on the offensive side of the ball. In their last game against Louisville, Anderson suffered a broken finger on his left hand. According to Tony Bennett, Anderson will miss four to six weeks with the injury.
The Cavaliers, however, refused to let Anderson's absence be an excuse for almost letting this game slip away.
"We understand that such a great player, such a great leader on our team just went out and that means we all have to step up as a unit. Nobody can let down." said Anthony Gill in regards to his teammate's injury.
Virginia (22-1, 10-1 ACC) just finished a grueling 3 game stretch against #4 Duke, #9 Louisville and #12 North Carolina. Coming out, They only took the one loss to Duke, which is the only loss keeping them from being undefeated. Now the true test begins. How can the Cavaliers finish off the ACC regular season without Anderson, and how will they fair in the tournament until he returns?
UP NEXT
Virginia: Home against Wake Forest on Saturday at 2:30 PM
North Carolina State: Away at #9 Louisville on Saturday at 4:00 PM