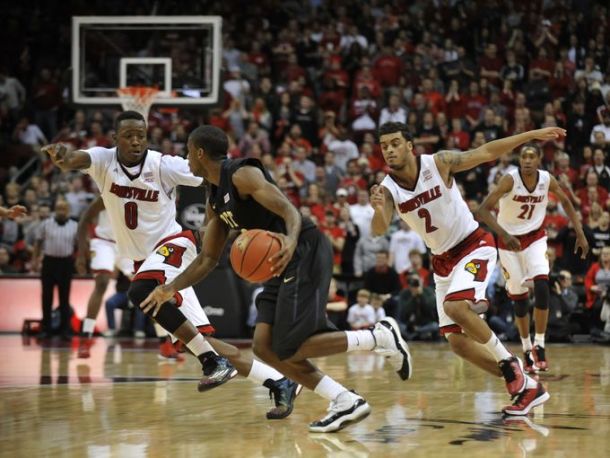 Pittsburgh traveled to the KFC Yum! Center this evening to take on the 9th ranked Cardinals. The game was neck and neck for the entire first half but Louisville eventually made a huge run in the second half to pull away. Here is the game recap and notes for Louisville's 69-56 victory over the Pittsburgh Panthers.
Wayne Blackshear started the game and played the first minute until getting pulled out being forced to sit for the rest of the game because of an unknown injury. Chris Jones sat most of the 2nd half because Quentin Snider was playing so well defensively and looked very comfortable out there. It was an unusual change of pace but it helped the Cardinals out in the long run.
Montrezl Harrell logged 28 points, 12 rebounds, and 5 blocks providing most of the scoring for Louisville. Harrell was knocking down his jump shots tonight, which helped out tremendously in the Cardinal's favor. Terry Rozier also had a very good night with 22 points and 10 rebounds of his own.
Pitt was shooting very well as they controlled a 45-39 lead until UofL punched them in the mouth with a 14-1 run including several easy baskets set up by their aggressive full court defense. Harrell made most of the momentum changing plays as he grabbed rebounds, dunked, and blocked a few shots in the process.
Louisville held Pittsburgh to just two field goals over the final 12 minutes of the game to capture the season sweep. Terry Rozier scored 18 second half points as he found the offensive groove of things late in the game. Michael Young and Jamel Artis combined for 31 points but were shut down late in the game which lead to Pitt shooting 38% for the game.
The great sign for Louisville was that they had 8 bench points tonight compared to none on Saturday at Virginia. Blackshear and Jones were a non-factor in the game but it proved to not matter as much. This was a fantastic game for the Cardinals as they are coming into the home stretch in ACC play.
Louisville 69 Pittsburgh 56
Next games:
Louisville - NC State 1/14/15
Pittsburgh - North Carolina 1/14/15