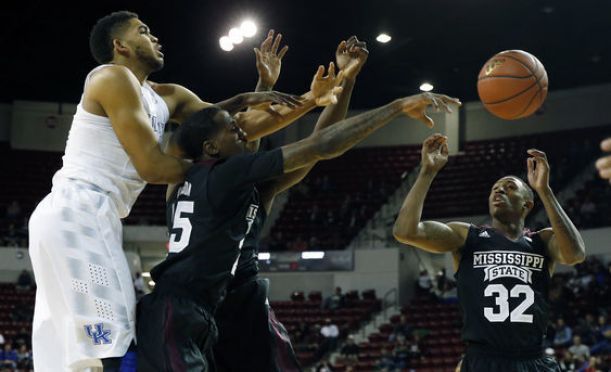 Despite a few stagnant moments, Kentucky's undefeated record never looked to be challenged on Wednesday night against Mississippi St. as the Wildcats rolled to a 74-56 victory.
Trey Lyles had his best game of the season as he scored a career-high 18 points. Aaron Harrison also had an effective offensive game tonight adding 16 points while Kentucky (28-0, 15-0, SEC) extended their winning streak to 28 straight games.
The streak is the second longest in Kentucky's history. Between 1953-55 UK notched 32 straight games without a defeat. The Wildcats can overtake that before the NCAA tournament if they are able to continue their winning ways.
Mississippi State (12-16, 5-10, SEC) came out with a lot of energy and was able to keep the game within arms reach throughout the first half. The Bulldogs did fall to a deficit of 14 but made a late surge to bring it back within 6 with seconds to go in the half. Tyler Ulis answered for the Cats as he buried a 3 with only a few remaining seconds from well past the three point line. UK went into the locker rooms up 36-27.
The Dogs had lost 7 in a row to the Wildcats before tonights matchup and they came out of the locker room doing everything they could to change it. With a huge surge to begin the half, Mississippi State was able to cut the lead to 41-37 with 15:10 remaining.
Behind Fred Thomas, who had a team leading 14 points for the Bulldogs, they looked like they had a chance to stop the undefeated Cats. Karl Anthony-Towns and his teammates had a huge push to extended the lead well into double digits behind highlight reel dunks from Cauley-Stein, Aaron Harrison, Lyles and Towns himself.
Over the last couple games, Kentucky has continued to look better and better. "These kids are getting close to being the best player they can be" said Coach Cal. From the opposition's standpoint, we don't think anyone wants this team to get any better. For the Wildcats, they continue to stay humble and push hard towards the ultimate goal.
While UK used its size advantage, speed and athleticism to attack MSU from all angles, the Bulldogs ultimately had no answer and eventually fell to the Cats 74-56.
Due to the weather, Kentucky will not be able to travel back to Lexington tonight and will be forced to stay in Starkville and practice in their facilities tomorrow. Will this hiccup in preparation be cause for some problems when they face possibly their biggest foe left in the regular season, Arkansas? We will see, but expect a big time game at Rupp Arena on Saturday.
UP NEXT
Kentucky plays at home against #18 Arkansas on Saturday
Mississippi State travels to South Carolina on Saturday