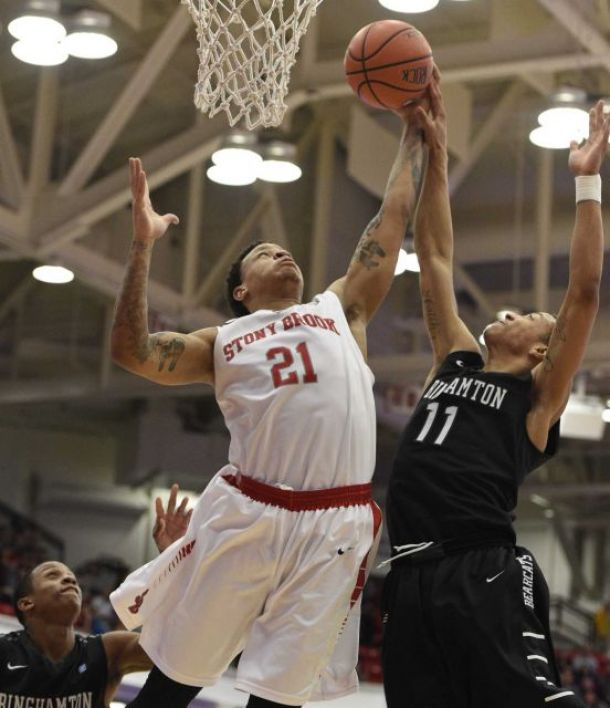 The Binghamton Bearcats have consistently been one of the worst teams in all of Division 1 basketball the past few years. However, they didn't look it today, as behind Willie Rodriguez, they gave the #2 seed Stony Brook everything they could handle, but the Seawolves ended up holding on, 62-57.
Stony Brook utilized their size to keep the pace in the game, as 6'8" junior forward Jameel Warney had a double-double of 11 points and 14 rebounds. Rayshaun McGrew and Carson Puriefoy led the team with 14 points each. The Seawolves didn't get much help from the rest of their team beyond these three, but were able to have a great collective defensive effort, causing 17 turnovers and grabbing 22 defensive rebounds.
Binghamton is a young team with head coach Tommy Dempsey leading a rebuilding effort, and proved today that they are on the right track. Freshman forward Willie Rodriguez scored 19 to lead the Bearcats, while another freshman, Romello Walker, led the backcourt with 10 points and 8 rebounds. The spunky Bearcats kept themselves in the game with attitude, but it wasn't enough against the powerful Seawolves.
While Binghamton's season closes, Stony Brook will need to make some adjustments if they plan on making the NCAA tournament. Steve Pikiell's team has never made the Big Dance, and their guard play will have to spark if they plan on making it this go-around. They get a matchup against perennial AmEast contender #3 Vermont on Sunday on the road.