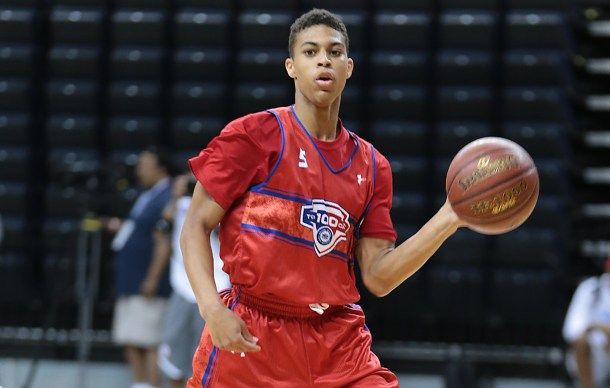 Duke finally has their point guard for next season. Five-Star point guard Derryck Thornton has reclassified and committed to play for Duke next season. Coming into Tuesday, Thornton had several schools recruiting him - Duke, Arizona, California, Kentucky, Louisville, Miami, Michigan, North Carolina State, UNLV, and USC. Louisville was reportedly another school that was trying to convince Thornton to reclassify.
Thornton explained why he chose Duke. "Last night, Coach K [Mike Krzyzewski] and [assistant] Jeff Capel came in for the visit and they told me how much confidence they have in me to be their point guard next year. They were very prepared about my game and their plan for me. They told me they could have went after fifth-year transfers but wanted me instead. I am excited about the opportunity and the challenge."
Standing at 6'1 and 165 pounds, Thornton is rated as the number 11 player in the class of 2016 by ESPN. He's the number one prospect from the state of Nevada, and the number three point guard in his class.
According to Rob Dauster and Scott Phillips of College Basketball Talk, "Thornton is a high IQ floor general who makes a lot of plays for others while also being a decent jump shooter. Defensively, he's also very competitive and should be ready to go on that end of the floor. Thornton was a likely All-American in the Class of 2016, but he's probably ready for big-time college basketball right now. The strength and physicality of the college game will be the big question mark as Thornton enters next season."
This was a commitment that Duke really needed. When point guard Tyus Jones, who earned Final Four Most Outstanding Player in Duke's run to the national title, declared for the draft it left Duke without a point guard. There was even some talk that Duke was going to put shooting guard Luke Kennard at the point. Fortunately for Duke, they were able to land Thornton.
Thornton joins a recruiting class that features All-Americans Luke Kennard and Chase Jeter. Duke is also reportedly in the mix for five-star small forward Brandon Ingram.