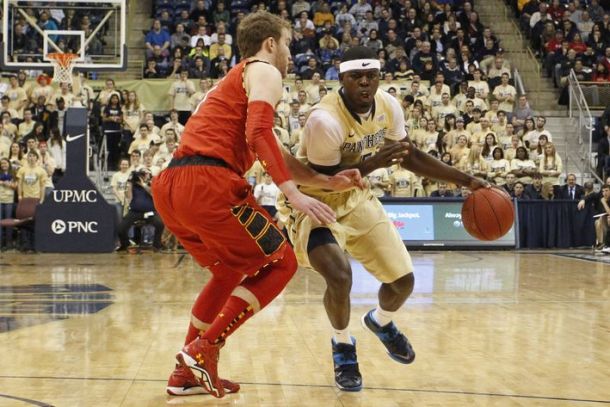 Durand Johnson announced via Instagram yesterday that he has committed to play for St. Johns this upcoming season. Because he graduated from Pittsburgh this year, he will be eligible to play immediately for the Red Storm.
Johnson is a 6'6 wing who can stretch the floor with his shooting ability. He played 16 games at Pittsburgh during the 2013-14 season averaging 8.8 points before tearing his ACL. After sitting out all of last year, Johnson should be ready to go and be 100 percent for this upcoming season.
Jon Rothstein of CBSSports.com interviewed Johnson about his vist to St. Johns.
"The visit was great," Johnson said. "Everything felt right. I just want to be a part of something special. Chris Mullin told me I'm going to play multiple positions."'
This will be Chris Mullin's first year as head coach for St. Johns after the firing of previous head coach Steve Lavin. Mullin has returners from last season, including center Chris Obekpa, who was the only big man last season. In his junior season, Obekpa averaged 5.8 points, 7.0 rebounds, and 3.1 blocks. Sophomore Rysheed Jordan also announced that he would come back to play for Mullin. Jordan was the teams second leading scorer averaging 14.1 points, 3.7 rebounds, and 3.1 assists.
Last season, St. Johns lost in the Round of 64 to San Diego State and finished with a 21-12 record. Hoping for another NCAA Tournament appearance, Mullin will need Johnson to be a versatile scorer as they look to replace the leading scorer from last season, D'Angelo Harrison who was a senior. Signing Johnson was Mullin's first big signing since he accepted the job. In order to bring St. Johns back being the Mecca of college basketball in New York, he will need to continue to bring in talented players such as Johnson.