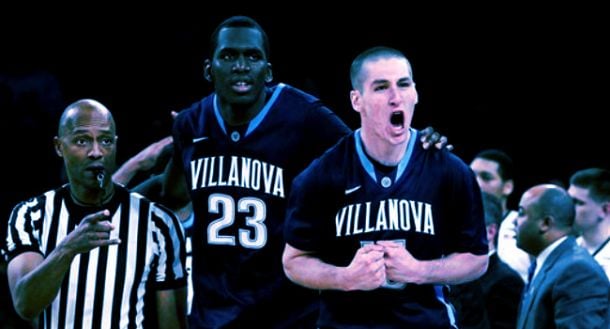 Ryan Arcidiacono and Daniel Ochefu will be the Villanova Wildcats' attendees to Wednesday's Big East Media Day at Madison Square Garden, announced the conference Monday night along with the 24 other representatives.
Arcidiacono, a 6'3" senior combo guard, was the co-Big East Player of the Year in 2014-15, sharing the honor with Kris Dunn of Providence, who will also be at MSG on Wednesday. Averaging 12.9 points and 3.6 rebounds over the course of the season, Arcidiacono was also named to the All-Big 5 First Team and led his team to an NCAA Tournament appearance as a #1 seed.
Unfortunately, the 'Cats were eliminated by NC State in the Round of 32 of the tournament, and come media day, recovering from that devastation and heartbreak is certain to be a key topic of discussion among Ochefu and Arcidiacono, two of the team's veterans and versatile leaders.
Ochefu, 6'11", will be roaming the paint for Nova this season after a successful 2014-15 campaign of 9.2 point and 8.5 rebound per game averages. The 21 year-old has his work cut out for him, especially with the likely three-guard system to be implemented by coach Jay Wright in the wake of the recruitment of Jalen Brunson and Donte DiVincenzo.
Additional big names at media day not named Arcidiacono, Ochefu, or Dunn will be Georgetown's D'Vauntes Smith-Rivera, a scorer who changed his mind about entering the NBA in April, and Kellen Dunham of Butler.
While Villanova may have lost JayVaughn Pinkston, Darrun Hilliard, and Dylan Ennis, coach Wright's recruiting and off-season work by the players will refresh the roster for another run at the top of the Big East and the national polls, which the 'Cats seem to have dominated these last few seasons.
Media day will be a shout Wednesday and should aid in spectators' understanding of where each team is that as they enter the 2015-16 season.