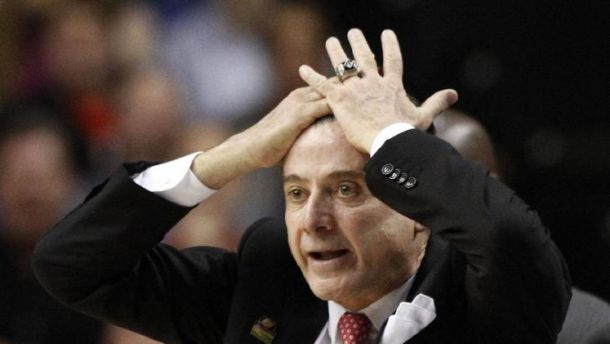 It was another tragic day for the University of Louisville. More details were released today as Katina Powell was on SportsCenter, Good Morning America, and Outside the Lines. OTL did their own investigation into the situation and found some pretty horrible results.
Five players were announced to have had sex with hookers when on their recruiting trips. The players included Montrezl Harrell, Terry Rozier, Jordan Mickey, Antonio Blankney, and JaQuan Lyle. Two of them have already been interviewed by the NCAA and confirmed the allegations. Mickey is a new name in the situation. Rozier and Harrell have not said comments on if what was said about them was true. It's interesting to note that Rozier committed to Louisville before he took his visit that the alleged incident happen.
OTL opened the floodgates for the entire investigation and one recruit that was left unnamed said that it was like a "strip club" when he was there. Former Louisville All-American Russ Smith was even named as one of the players who had sexual intercourse with one of the woman on his recruiting trip despite him being a two-star player. They reviewed Powell's journals, text messages, and phone records and confirmed the text messages between Powell and McGee.
It was also confirmed that once McGee wired money to Powell's account for quite a bit of money. McGee would pay her $300 for just coming into the dorm with hookers, and pay her whatever price that the women wanted when the players picked out who they wanted for the "side jobs". It was usually upwards of $100 per time a hooker was with one of the players.
Billy Minardi Hall also has strict rules involving girls, and what people come in and out of the dorm. It's usually only basketball players that live in the dorm, but there are also a few students that live in there as well. It could be possible that some of the other people that lived in the dorm saw what was going on.
The Louisville dance team was even mentioned to have seen the "strip show" going on. A former Louisville dance team member saw the allegation and said it was not true on Twitter. This is a side note that could come up in the future.
Pitino was even contacted today, and he still holds to the claim that he knew nothing of this situation. He just wants McGee to come out and confirm whatever is true so everyone can begin to move on. AD Tom Jurich also confirmed today that Pitino will not be out as head coach, but it does seem his days could be numbered despite him signing a long-term contract last season. Some people are calling for Pitino's head, and it might not even be the worst situation possible if he was no longer the head coach.
"Four years, a boatload of recruits, a boatload of dancers, loud music, alcohol, security cameras, basketball players who came in at will – how could Rick not know?" Powell told ESPN.
The book speaks about 22 parties with the players and recruits. Some former players and coaches have also come out and said they have never heard of Powell and that they do not believe any of this. A lot has yet to come out on what has happen and the University of Louisville could be in serious trouble.
Rick Pitino could be suspended, scholarships taken away, and the University could self-impose a one year postseason ban. This thing is far from over and today could be the beginning of the end. If the postseason ban does happen, it really is disappointing to players like Trey Lewis and Damion Lee who are fifth-year seniors that came to Louisville to finally have a shot to play in the NCAA Tournament. More news should be coming out in the upcoming weeks on if McGee finally admits and what will eventually happen to the powerhouse program.