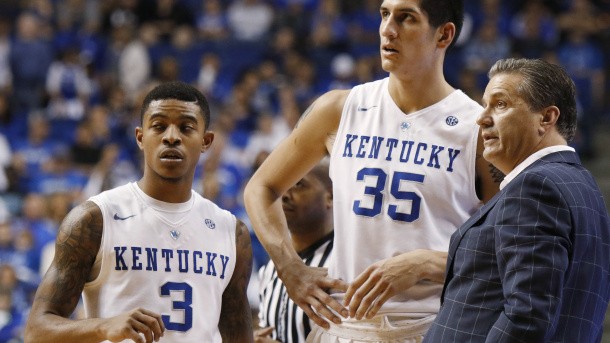 The Kentucky Wildcats open the season playing two games in two days, they will look to finish their back-to-back games with wins.
NJIT is a team that less than a year ago upset a ranked Michigan team in the Wolverines' building. The Highlanders look to pull off an even bigger upset when they go into Rupp Arena on Saturday.
It would take a valiant effort to pull off the win for NJIT, as Kentucky has so many weapons to use early on. The Wildcats will use their fast pace to try to run the Highlanders out of the building early.
The Wildcats may be too tired to run them out early. This is NJIT's first game of the year, while Kentucky is finishing up a back-to-back. The Highlanders should look to press early to tire the Wildcats.
Kentucky hopes to have starting guard Isaiah Briscoe back after missing the season opener with a bruised knee. After only resting for one night it's unlikely the freshman will play. Expect Briscoe to be return when Kentucky battles fifth-ranked Duke next week.
For NJIT, the less guards they have to deal with, the better. Kentucky will still have sophomore point guard Tyler Ulis and freshman phenom Jamal Murray available. Those two alone could have the Highlanders hanging their heads all night.
It likely won't be the guards doing the damage in this game, as NJIT has experience on the perimeter. The big men of Kentucky will need to make their mark on this game as the talent inside for the Highlanders lacks versus Kentucky's high-flying double-double machines.
With the returning top five scorers from last year for NJIT, they have even more reason to believe this upset is possible. That Michigan win will forever be in the back of everyone's mind when facing this team.
Kentucky did piece together a non-conference schedule that doesn't give the 'Cats a break. Even the easier games are against teams that are coming off their best season in school history. It's safe to say these younger players will be ready to go when March rolls around.
Kentucky has a lot going against them in this game, an injury, playing two days in a row and past events of NJIT upsets. Anything can happen when the Highlanders step into Rupp to try to recreate last year's magical game, but to a larger extent.
Players to Watch
Winfield Willis- NJIT returned most of their scoring from the previous year, and Willis is a prime example of that. The 6'0" guard matches up well against the height of Kentucky's guards and will use this to his advantage all game.
Marcus Lee- Lee is usually shown up by the freshmen Skal Labissiere, but this time he'll make himself known. Lee will use his experience and size all game long and dominate inside.