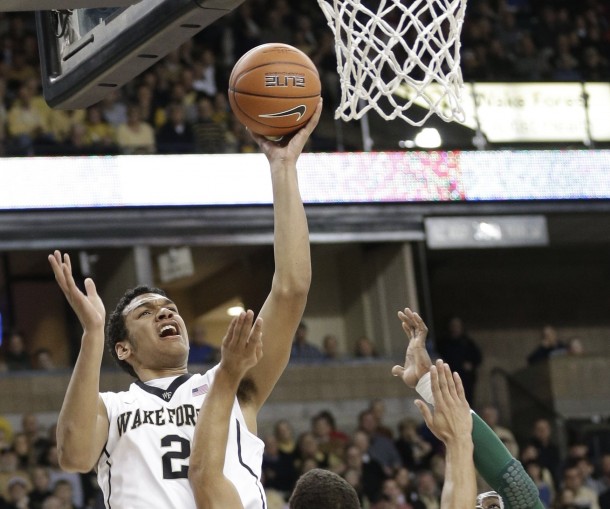 9:08 PM Devin Thomas got another double-double tonight with 12 points and 10 rebounds
9:07 PM T.J Cline led RU with 19 points and 7 rebounds. Wake was led by Bryant Crawford, who had 21 points, 5 rebounds and 6 assists
9:05 PM Wake ended the game with 20 turnovers. That'll usually be enough to lose a game
0:00 That'll do it for this one. Richmond takes it 91-82
0:26 Crawford fouls and RU to the line again. Wood misses the first, but makes the second
0:37 Wilbekin fouls and RU to the line to put the game away. Jones makes the first and the second. RU up 8
1:04 Thomas called for goaltending. RU up six now
1:56 RU called for traveling. WF ball down 4. RU 86 WF 82
2:42 RU gets the basket to fall but misses the foul shot
3:00 Crawford cuts the lead to two with a huge three
3:21 Wake fouls and Taylor is at the line. He misses the first and Wake gets the ball
3:40 Mitoglou makes the first and second. Lead now at 5 for RU
3:40 Mitoglou is fouled going up for the defensive rebound and Allen fouls out. Wake is down by 7 with two shots coming up
4:47 Collins is fouled and will take two more foul shots. He only can make one though
5:22 Crawford responds with a three of his own for Wake
5:40 Cline hits yet another three for Richmond
6:10 Collins is fouled again and makes both
6:26 Allen fouls for his fourth time, Collins at the line for two. Makes just the first, but RU doesn't get the board
6:40 Allen is at the line for a one and one, makes them both
7:20 Wilbekin to the line for a one and one. Makes both
7:37 Richmond gets the rebound and are fouled on the way up. Davis at the line misses the first and makes the second
8:02 Collins gets two back for the Deacs
8:12 Davis scores again for Richmond, every shot seems to fall for them right now. RU 78 WF 66
8:32 Thomas responds for WF
8:51 Davis scores off the turnover for RU
9:24 Thomas misses the first of the one and one
9:33 Wood scores a three for RU and Wake is down 10 now
9:59 Thomas gets the easy two and Wake is down 7
10:14 Cline is fouled and will have two shots. Makes one of two himself
10:27 Mitoglou fouled on the drive. Makes one of two
10:43 Davis gets the and one and makes it count
11:24 Official Timeout after RU fouls Thomas. Richmond 67 Wake Forest 61
11:34 Fore gets another basket for RU
11:55 Thomas responds for WF
12:18 Davis hits the three, RU can't seem to miss
12:48 Crawford hits the three and gets the foul! Misses the foul shot
13:02 Allen scores for RU and they are on fire out of the time out
13:39 Jones scores again and RU is up four
14:10 Wilbekin fouled on the drive, and then scores off the inbound
14:25 Wood gets the three to fall for RU
14:53 Official Timeout Richmond leads 55-54
15:15 Mitoglou gets another three for Wake
15:35 Jones gets another for RU
16:10 Friendshuh scores for RU
16:21 McClinton gets two and the foul. The free throw doesn't fall
16:44 Cline again with two more points
17:32 Mitoglou responds again with another three pointer! 49-49
17:48 Cline hits again from three
18:08 Wake ties it up with a Crawford put back
18:42 Mitoglou right back with a three of his own
19:00 Cline answers with a three for RU
19:16 Wilbekin fouled on Wake's possession. Taylor's fourth foul. Wilbekin makes both for Wake
2nd half 19:35 Two shots for Allen as McClinton fouled him on the dunk attempt. Allen makes both
At the half: Wake is winning the rebounding by a large number, but turnovers have been their problem causing them to trail at the half
0:00 Score at the half after McClinton misses as time expires. RU 41 WF 39
0:41 Foul on RU. Thomas to the line again. Misses the first, and makes the second
1:05 Jones answers back with a three. Spiders up 41-38
1:30 McClinton gets the put back to tie the game at 38
1:55 Fore gets the lead off a nice pass for RU
2:32 Allen will have two shots for RU. Makes both and the game is tied again
2:44 Thomas goes on the fast break and buries a lay up for the Deacons lead
3:06 Taylor fouls again and Thomas is back at the line. Misses both of two
3:07 Cline misses the first of a one and one
3:15 Thomas puts back his own shot to tie the game back up.
3:28 Allen gets the lead back for the Spiders
3:55 Thomas at the line for WF. Makes only the second
4:05 Fore responds for RU and its 32-21 Richmond
4:35 Crawford drives gets the lead for Wake
5:26 Over the top foul on Taylor and WF is back at the line. Crawford sinks both
6:20 Jones gets 2 back for RU
6:34 Crawford answers for WF
6:58 Jones hits another three for RU
7:35 Allen at the line for the Spiders, makes both of the one and one
7:35 Another timeout in the game Wake 24 Richmond 23
7:45 Collins gets a tough lay up to fall and Wake goes up 24-23.
7:55 Cline hits a three to put RU up
8:26 Foul after WF's defensive rebound. Wake to the line for two more. Crawford makes 1 for the Deacs, but a board and put back gives Wake the lead
8:55 Collins is fouled and will go to the line. Makes 1 for the Deacs
9:22 Wood responds again for RU
9:33 Collins gets the game tied with a tough lay up
9:53 Wake is in the bonus and Mitoglou will have a 1 and 1. Makes the first and the second
10:10 Cline gets the rebound and puts it back for RU
11:20 McClinton answers right back for the Deacs
11:34 Jones is fouled by Wilbekin. RU at the line for two. Makes both
11:52 Richmond leads 14-12 at the official timeout
12:04 Moore uses post moves to cut the lead back to two
12:22 Cline gets 2 back for RU
12:51 Wilbekin crosses over and hits the long two
14:36 Taylor is found for a wide open dunk on the give and go for RU
15:09 Davis gets the steal and the lay in for RU
15:43 Another three for Wood to tie the game
16:05 Wood responds with three
16:23 McClinton gets another easy dunk
16:47 Crawford gets the put back for Wake
17:32 McClinton again with a nice finish
18:07 McClinton responds with a lay in
18:58 McClinton is fouled, misses both
19:16 Davis strikes first for RU
1st Half 20:00 Wake wins the tip
7:01 PM Wake starters: Crawford, McClinton, Wilbekin, Mitoglou, and Thomas
6:59 PM Jones, Davis, Cline, Taylor, Allen are Richmond's starters
6:43 PM Devin Thomas had his career high in rebounds against Richmond in December 2013. He had 19 that night
6:35 PM Wake has a plus 18 rebounding margin through two games this season
6:13 PM This is Wake's last game before heading to Hawaii for the Maui Invitational
6:10 PM Two of the last three meetings between Wake and Richmond in Winston-Salem have gone to overtime.
The rivalry between these two basketball schools goes back pretty far and both have been stalwarts in their respective conferences, but have struggled more in recent years. Each is trying to bring back some of that magic they used to have. Something will have to give between the two as Richmond will try to get its first road win and Wake will try to remain undefeated going into the Maui Invitational.
As for Richmond, look for Terry Allen, who will need to have a big game to stop the rebounding force of Devin Thomas and the Demon Deacons. He will probably need to have a double double with rebounds for the Spiders to have a chance in this one. Allen will most likely be matched up against Thomas.
The key for Wake Forest besides controlling the glass is the play of freshman guard Bryant Crawford. Crawford has averaged 30 minutes a night thus far and in averaging 15 points a game. He was much more involved offensively against Bucknell than he was in his debut against UMBC, but he will get another chance to impress his home fans tonight.
These two teams also know each other pretty well. They have played each other 52 times, but more bad news for Richmond, Wake has won 40 of those 52 games. Just last season, Wake Forest won the matchup on a Devin Thomas tip in as the buzzer went off. The dramatic win was a result of a put back basket from Thomas, something that will continue if Richmond cannot fix its rebounding woes.
Both teams are coming off wins and will meet in Winston-Salem Wednesday night at 7 PM ET. Richmond needs to be more aggressive on the boards if they are to have any chance at winning this game. The Spiders are tied for 265th in the country in rebounds per game thus far and that lack of rebounding has led to more points for their opponents. The Spiders are tied for 275th in points allowed per game giving up on average 86 points. Comparing Richmond's 34 rebounds a game to Wake's 52, it could be a long night for the Spiders.
The next game the Spiders played ended in a much better way. They were able to score at will against the Stetson Hatters. Richmond exploded out of the gate and opened up a 57-33 lead at the half and cruised in the second half to a 108-85 victory. This time, it was forward T.J. Cline who contributed the most for the Spiders with 27 points. They also got 17 points off the bench from Marshall Wood.
Wake Forest's next opponent, the Richmond Spiders, struggled in their opener against the James Madison Dukes. The Spiders lost 87-75, and were outrebounded 40-23 in the game. This does not bode well for Richmond when they go up against the Deacons. The bright side in the game against the Dukes for Richmond was the performance of forward Terry Allen. Allen had 27 points and seven rebounds in the contest.
Wake Forest had a quick turnaround from that game as they moved on and had a road test against the Bucknell Bison. Wake Forest started this matinee affair flat and found themselves down at the half 48-37. The Bison found consistent scoring from guard Chris Hass, who led all scorers in the game with 26 points. Even with Hass' tremendous performance, the Deacons rebounding and resolve proved to be too much for the Bison in the second half. Devin Thomas got his second straight double double to start the season with 18 points and 12 rebounds in this contest to lead Wake again to victory. Wake Forest controlled the boards again which bodes well for them as they continue through their season.
In their first game against UMBC, Wake dominated the rebounds to hold off the Retrievers, who shot an impressive 36 percent from the three point line. Senior Devin Thomas was the hero in the game with 21 points and 17 rebounds, seven of which were offensive. Wake has been a great rebounding team for the past few years and Thomas is a big reason why. UMBC didn't help themselves with a free throw percentage that was less than 50 percent.
The Wake Forest Demon Deacons started their season with two straight victories through some pretty big adversity. The Deacons have been without Codi Miller-McIntyre for both of their opening games as well as a few other players, but have dealt with the losses well and managed to find ways to win without those players.
Hello and welcome to VAVEL USA's LIVE Coverage of the Richmond Spiders - Wake Forest Demon Deacons in College Basketball. Tip-off for this game is at 7 PM ET, at which I, Jordan Hansgen, will bring you LIVE commentary from the game.