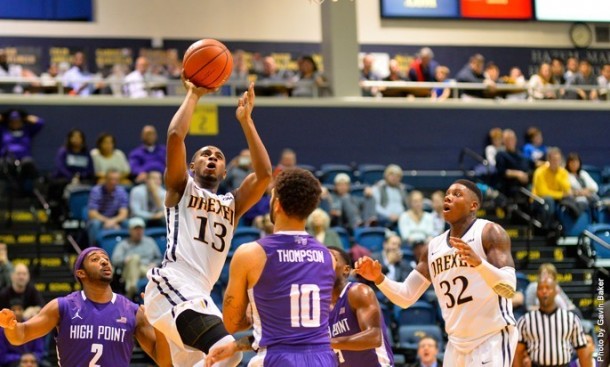 PHILADELPHIA, Pa. -- It was another comeback fallen short for the Drexel Dragons (0-2) Wednesday night, as Tavon Allen's 21 points were not enough to power Drexel past the High Point Panthers (2-1) in the home opener at the Daskalakis Athletic Center.
Allen led the Dragons' four double-digit scorers, hitting six of his eight shots from long range in the losing effort. The rest of Drexel's players combined to go 0-9 on three-point attempts. Rashann London had 11 points for Drexel.
John Brown led High Point with a game-high 23 points, 15 in the first half alone, along with nine boards to lead the Panthers. Adam Weary added 18 and Lorenzo Cugini had 12 for coach Scott Cherry's side.
This contest was certainly a sloppy affair, with the two sides combining for 50 fouls and 41 free throw attempts over the full 40. Terrell Allen of Drexel scored 11 points, making only one field goal and going 9-15 from the line. The Dragons finished just 14-28 from the line, a stat that easily could be blamed for the home loss. High Point finished 15-23 from the charity stripe.
While Drexel outshot their opponents Wednesday night with a sky-high field goal percentage of 54.8 percent, the team turned the ball over 17 times to the Panthers' nine and as a result put up just 42 shots. High Point, on the other hand, shot a reasonable 46.7 percent on their 60 attempts from the floor.
Kazembe Abif struggled mightily containing Brown inside on the defensive end for Drexel, but he did some damage of his own on offense, hitting all five of his field goal attempts in a 10-point, eight-rebound output. Abif did, however, go 0-3 from the foul line.
After going down 10 early at the start of the second half, Drexel fought back to tie on multiple occasions, latest at the 4:12 mark, 64-64, on a Tavon Allen three. That came just after a stretch of eight straight misses for High Point.
Cugini hit a clutch three to make it 71-66 High Point with 59 ticks left and from then on, it was just a closing effort to be executed by the Panthers, who were indeed able to finish off the Dragons, 75-66.
Drexel once again found themselves in a hole at halftime, and while they mounted a decent comeback, it was again not enough to flip the momentum and gain victory number one of their 2015-16 season. This contest saw just one lead change and four ties.
High Point will take on Mike Brown and Western Carolina (1-1) this Saturday coming off their second straight win. Drexel returns to the DAC on Saturday afternoon to take on Justin Robinson and Monmouth (1-1).