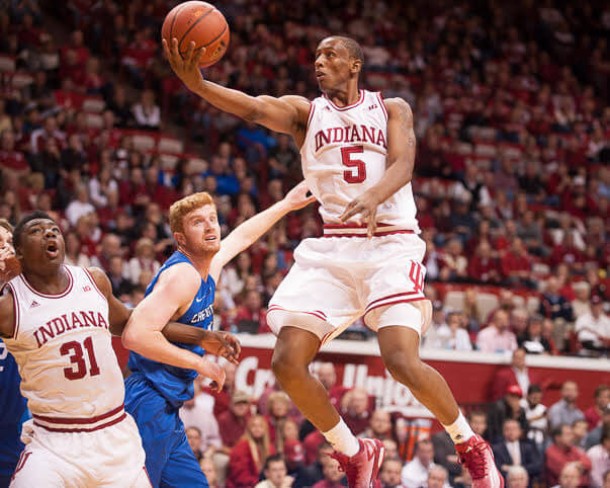 The Indiana Hoosiers came into Thursday night's game against the Creighton Blue Jays with their first big test of the season staring them in the face. In the end though, it didn't seem like much of a test as the Hoosiers trounced the Blue Jays by a final score of 86-65.
The Hoosiers had it going from the get-go and once they took the lead in the early going, they didn't look back.
Indiana dominated Creighton throughout this game despite the Blue Jays shooting a solid 45 percent from the field. The Hoosiers were on fire, however, as they shot 50 percent from the field and that was just too much for Creighton to handle on this night.
The Hoosiers had five players in double figures including James Blackmon Jr. who led Indiana with 19 points. Nick Zeisloft, Yogi Ferrell, Thomas Bryant and Troy Williams were the other Hoosiers in double figures. To go along with the high scoring, the team as a whole hit ten three-pointers, led by Zeisloft and Blackmon Jr. who were both 4-for-6 from beyond the arc. The Blue Jays just couldn't stop all of the weapons the Hoosiers possess.
"I just feel like everyone on our team can bring scoring and shooting," Blackmon Jr. said. "I don't think there is one guy on our team that can't shoot. So that spreads the floor and having guys in there on the inside who can go with the other big men, that helps us."
The shooting will be there it looks like for this Hoosiers team, but a new dimension to Indiana this season is post presence that hasn't been there in past years.
"They've got to get used to it," Tom Crean said. "James [Blackmon Jr.] and Rob [Johnson] didn't play with the post up last year. We tried a little bit tonight."
As for Creighton, they had a tough time of things. Indiana had a big 12-0 run in the first half and they had no answer to that. The only thing going for the Blue Jays in Assembly Hall, was the play of point guard Maurice Watson Jr. He finished with a game high 21 points on 9-for-15 shooting and without him, Creighton would have lost by a whole lot more.
"We knew and they learned quickly that we were playing a very, very tough, physical opponent," Crean said. "Obviously the respect for the Big East is high."
Creighton has shot the ball very well and have lit up scoreboards so far this season, but Thursday, they could not get it going from beyond the arc shooting just 17 percent and that right there might have ultimately did them in.
"We were going to have to come in here and play really well in order to win tonight," Creighton coach Doug McDermott said. "Obviously we did not shoot the ball very well. We did not shoot it well from the three-point line; we could not make a free throw."
On a night where many stars shined bright for Indiana, one guy who may have played his best game yet was freshman center Thomas Bryant. Bryant finished with 17 points and seven rebounds, but the way he protected the rim and battled against a big, physical Creighton front line was impressive to see. After getting tangled up with a loose ball in the second half, Bryant let loose a little bit and got the crowd fired up showing that passion he possesses.
"The lion came out of me [tonight]," Bryant said of his performance. "I've always had that passion in me, ever since I started playing in grade school."
Now after Indiana's first big test of the season against a Power-5 opponent, they shift their attention to the Maui Invitational and Wake Forest who they will play on Monday.
These tournaments are tough and grueling as Indiana will play three games in three days, but how the depth of this Indiana team plays in Hawaii will be a big factor. Consistency seemed to be the word Tom Crean used, but having depth will be "paramount."
"There will be all kinds of unknown things," Crean said. "You've just got to control what you can control. We'll have time over the weekend to clean up some of the stuff we've got to get better at while we're preparing, and it will be huge."