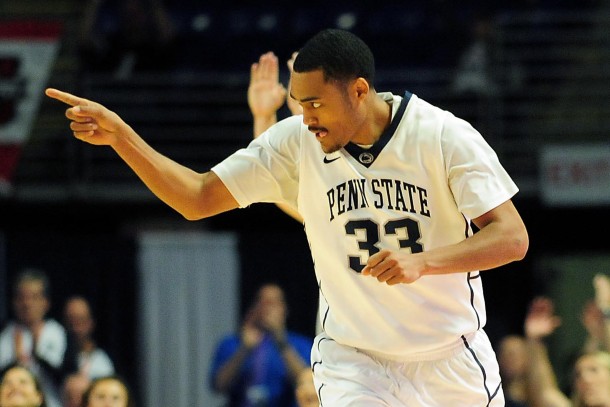 The Penn State Nittany Lions men's basketball team will look for it's first 3-0 start since 2011-12 tonight when they take on the Duquesne Dukes at the Consol Energy Center in Pittsburgh.
The Nittany Lions are coming off a 68-62 win over DePaul, a game where Penn State looked as they knew where they belong as they led from wire-to-wire.
Duquesne will also be looking to extend their record to 3-0 as they are coming off back-to-back 20+ point victories as they defeated Seton Hill (D2) 96-71 and the New Orleans Pioneers 95-75.
It will be the 47th meeting between the two programs, and the sixth consecutive season the two have met. Penn State is 4-1 over the last five years against the Dukes.
If Penn State wants to make that 5-1 over the last six, they'll have to stop the hot shooting hand of Micah Mason who is averaging 21.5 points per game while shooting at 66.7 percent over the first two contests. Mason will also be a threat from beyond the arch, as he's averaging four three-pointers per game so far.
Penn State will hope that forward Brandon Taylor can stay hot as he's averaging 17 points through the Nittany Lions first two games. Penn State will also try to get their true star-freshman guard, Josh Reaves rolling on Friday night after posting 10 points against DePaul.
So far this season, Penn State's defense has looked stellar at times, averaging five blocks a game as well as six and half steals per game.
The projected lineup for Penn State's game Friday night is the following
G: #33 Shep Gardner (So.) - 15.5 ppg, 2.5 rpg, 34 mpg
G: #23 Josh Reaves (Fr.) - 8.0 ppg, 4.0 rpg, 30 mpg
F: #0 Payton Banks (So.) - 11.0 ppg, 4.0 rpg, 31.5 mpg
F: #10 Brandon Taylor (Sr.) - 17.5 ppg, 4.0 rpg, 28 mpg
C: #32 Jordan Dickerson (Sr.) - 1.0 ppg, 5.0 rpg, 20.5 mpg
Expect to see a ton of senior guard Devin Foster, senior forward Donovan Jack, and sophomore forward Julian Moore tonight as they will be coming off the bench. All three are averaging more than 15 minutes off the bench. However, don't expect them to contribute much offensive as Jack and Moore are the bench's leading scores with just four points per game.
Notes:
Brandon Taylor will be making his 76th start tonight for Penn State, which leads the team. Donovan Jack is the next closest with 39 career starts.
According to Penn State's game notes, this year's team features three players in Penn State's top ten all-time in blocks, Jordan Dickerson comes in at seventh with 87 followed by Donovan Jack with 83 and Brandon Taylor at the ten spot with 75. However, without some sort of once-in-a-million-years type season, none of them will ever sniff the Penn State all-time career record of 428 blocks, owned by Calvin Booth.