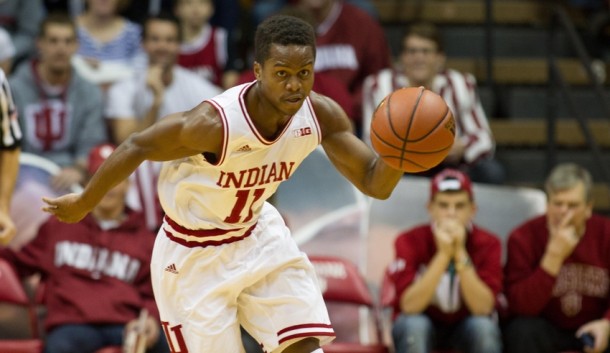 Coming off one of their most impressive wins of this young season, the Indiana Hoosiers come into Monday's game against the Wake Forest Demon Deacons ready to go.
After beating up on Creighton on Thursday night at Assembly Hall, the Hoosiers flew all the way out to Maui on Friday to get ready for one of the premier preseason tournaments in college basketball in the Maui Invitational.
Indiana is coming in to this game red hot from the field as they have scored over 86 points in each of their three games so far this season and have shot 50 percent or better in each game as well.
Wake Forest on the other hand is coming off a loss on Wednesday at the hands of Richmond in which five Demon Deacons scored in double figures, but it still wasn't enough to get it done.
The Hoosiers are no stranger to Maui as they are making their sixth appearance and first since 2008. They ended up winning the whole thing in 2002 and you have to think they have a legit shot at a championship once again this go around,
Indiana coach Tom Crean has been experimenting trying to go two deep in his rotation this season and now with coming to Maui and playing three games in three days, he calls it "paramount."
"There will be all kinds of unknown things," Crean said. "You've just got to control what you can control. Be ready to go in, get into the flow of the game, talk on defense, run the court on offense and clean up."
With these tournament games, there is so much unknown especially because the turnaround between games is so quick.
"You try to get them to understand to go in and have a positive impact in the game," Crean said. "It's not about going in and making great plays or a bunch of plays, it's about going in and playing right."
If there are any two Hoosiers that have gone in and played right thus far this season, those two would have to be Yogi Ferrell and James Blackmon Jr. who have run out of the gate in the early going. The Demon Deacons will definitely have their hands full with these two along with the many other weapons the Hoosiers possess.
As for the Demon Deacons, if there is one player to watch, it has to be Bryant Crawford who is coming off a 21 point performance in their loss to Richmond.
"He's a competitor, he's a fighter and he's only going to get better," coach Danny Manning said following Wednesday's loss. "We still know he's a freshman, but we expect a lot from him, and we're going to continue to coach him and try to make him better."
One matchup to watch in this one will be inside with Thomas Bryant for Indiana going up against Konstantinos Mitoglou for the Demon Deacons. Bryant is coming off one of his best performances as a Hoosier and this Indiana team is leaning on the freshman quite a bit for rebounding and as a source of some passion and energy.
It will be interesting to see how these teams settle in to this first game in Maui. The Lahaina Civic Center is no more than a big high school gym and it is an environment that neither team has probably ever played in. The winner of this game will move on to play the winner of St. John's-Vanderbilt on the winners side of the bracket, while the loser will play the loser of that game and will be eliminated from championship contention.