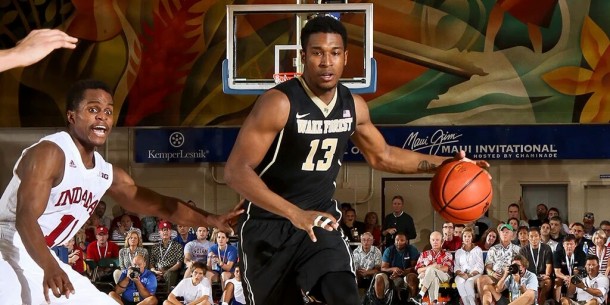 The 13th ranked Indiana Hoosiers Maui Invitational and Thanksgiving week did not go as they had planned, mainly because of the Wake Forest Demon Deacons. The Deacons showed their resolve in the game and ended it on a 9-2 run to pull off the upset in Hawaii 82-78. The game was huge, but Wake will have a quick turnaround and will play another ranked team the 19th ranked Vanderbilt tonight at 4:30 on ESPN, but this win over Indiana cannot be ignored as it could mean the start of the revival of the Wake Forest program.
The Demon Deacons have a storied history with players like Tim Duncan, Chris Paul, and Jeff Teague once wearing the old gold and black, but in recent years the program has struggled in the ACC and missed out on postseason play. Now the Deacons under Coach Danny Manning have made some noise in the NCAA, enough to get an invite to the Maui Jim Maui Invitational.
The Deacons came into the Indiana game and were expected to lose. They were still without star guard Codi Miller-McIntyre, but quickly showed the Hoosiers they were not going down easy. The Deacons went into the half with a 50-45 lead. The second half was close, but clutch scores proved to be enough for the Demon Deacons to hold on and win. The biggest basket came from Bryant Crawford with less than five seconds to play to break the tie.
Wake Forest has every intention to be a tournament team this year. It is the senior year of both Devin Thomas and Miller-McIntyre. Both have carried the Deacons throughout their college careers. They deserve a chance to be in the national spotlight in March and the team will do everything they can to get them there.
Another win in Maui would be huge for the Demon Deacons resume. The Invitational is a showcase that will alert a lot of voters to remember the small school from Winston-Salem, NC. Only time will tell how this season pans out, but the Deacons have an early, resume-building victory that can set the tone for the rest of their season.