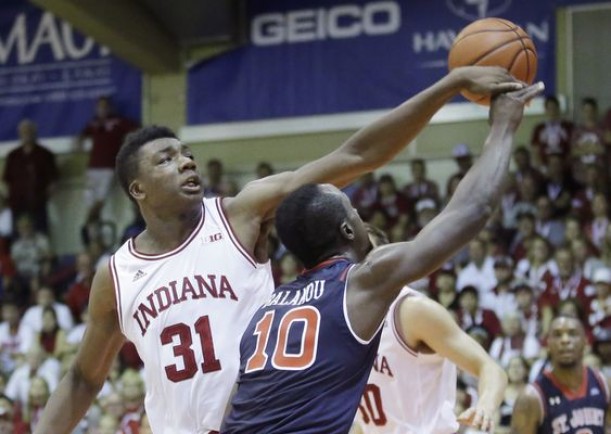 After dropping their opening round matchup of the Maui Invitational to Wake Forest Monday, the Indiana Hoosiers needed a bounce back game and they got that against the St. John's Red Storm on Tuesday.
It may not have been the prettiest or the best game the Hoosiers have played all season, but it was enough to get the job done.
"We didn't play great, it wasn't always pretty, and they made baskets," Indiana coach Tom Crean said. "But it's not going to be when you're playing against other competitive teams when you're in this environment, but we played with great purpose."
After a game on Monday where the Hoosiers just didn't have it for 40 minutes, Crean switched up the lineup to get some different groups out there on the floor together.
"We need to change the dynamic based on the way the game was yesterday," Crean said. "So the bottom line becomes we're going to change the dynamic a little bit and make sure that we understand that there's got to be certain standards that have to be met, especially in the hustle game... That's why we made the changes."
The Hoosiers were led by freshman big man Thomas Bryant who finished the game with 19 points on 7-for-9 shooting. He was the go-to guy for Indiana Tuesday and it was a much needed bounce back game for Bryant, who made nice adjustments just 18 hours following their loss.
"The type of adjustments I made was just staying on the attack," Bryant said. "Just let the process go through and just play with my teammates and trust Coach and all my teammates out there. Luckily, I made some moves and got some buckets in there and just took it from there."
Indiana got up big in this one as they opened up a 15 point lead in the first half, but what we didn't see from this team was that killer instinct to put the Red Storm away, and eventually St. John's got back in it and made it a four point game in the second half.
The Red Storm started the second half on a 14-3 run and at that point it was danger time for the Hoosiers. St. John's were led by Federico Mussini and Ron Mvoika who both finished with 17 points, but it just wasn't enough to fend off this determined Hoosiers team.
"It's a matter of us getting up and staying up," Yogi Ferrell said. "Just kind of finding a way to keep that lead playing against such great competition in this tournament. Teams can make runs, and when they make runs, you've got to find a way to stop the bleeding."
Ferrell finished the game as the leading scorer with 22 points and was the leader for this Hoosiers team on a day when they needed to find someone to lead. He also scored 15 of his 22 points in the second half of play.
The Hoosiers had plenty of chances to run away with things, but they turned the ball over 16 times and St. John's did a good job of capitalizing off of those turnovers as they scored 25 points off of turnovers compared to Indiana's nine.
"They scored too many points off the turnovers," Crean said. "But today, if it was going to be a 15-round fight, we wanted to make sure we could be in it all 15 rounds, and I think that ended up happening that way. It's not easy to win."
Now the Hoosiers will have a bit more of a break than they did between games one and two as they will take on UNLV, who beat Chaminade, at 5:00 p.m. EST from the Lahaina Civic Center in the fifth place game.