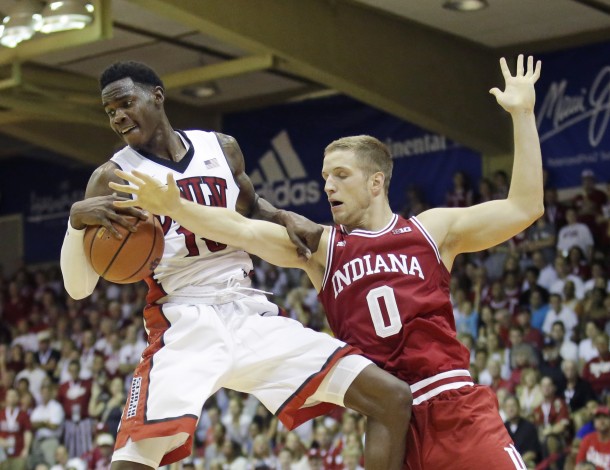 The Maui Invitational didn't necessarily start as planned for the Indiana Hoosiers, but they had a chance to right their wrongs against the UNLV Runnin' Rebels, but once again, the Hoosiers couldn't get it done.
The two main storylines in this one have to be the turnovers for the Hoosiers, as they committed 21 which turned into 22 points off of turnovers for the Rebels, along with the Hoosiers shooting just 10-for-19 from the free throw line.
The Hoosiers made a lot of mistakes in this one, and coach Tom Crean pointed to his players trying for the "home run" and making "plays that weren't there."
"We knew we were going to deal with speed and pressure and we just have to keep the game simple," said Crean following the loss. "The hardest thing to learn is you look really good when you keep it simple. When you're not really good or you don't have a lot of talent is when you have to try to manufacture a lot of things at times that aren't there."
UNLV came out of the gate humming as they opened up a 27-12 lead. At that point it turned into a danger zone for the Hoosiers as they didn't want to get too far behind. Indiana did answer the call as they then went on a 12-0 run and just like that, the Hoosiers were in this ballgame.
If there was one bright spot to pull from this game, it was the three-point shooting. Nick Zeisloft time and time again hit clutch three's to keep the Hoosiers close. Zeisloft finished with 17 points and was 5-for-7 from three-point range. Along with Zeisloft, James Blackmon Jr. was the only other Hoosier in double-digits with 13 points.
Whenever the Runnin' Rebels needed a bucket, they turned to one of four guys in Patrick McCaw, Ike Nwamu, Jerome Seagears and Ben Carter, who all finished in double figures and were all on top of their games against the hapless Hoosiers defense.
After a Blackmon Jr. three with 15:03 to go in the second half, the Hoosiers tied it up at 46 and had all of the momentum. Following that, however, UNLV went on a 21-6 run and the Hoosiers just couldn't quite keep up. What they didn't do though was give up, as they had two good chances on inbounds plays to tie the game up when they were down three with just seconds to go.
With seven seconds left, Yogi Ferrell couldn't inbound the ball and there was a five-second call. UNLV then threw the ball out of bounds giving the Hoosiers another chance. With three seconds left, Nick Zeisloft had his shot deflected off of an inbounds pass and that sealed the game for the Rebels.
"Yeah, that was the set that we have," said Zeisloft. "There are several different options on that play, and it just came to me. I wish I might have shot faked or something better, but that play's over. There are other plays and another game that we have to worry about to get better."
One astounding stat for this Hoosiers team is their productivity from the free throw line. In a game in which they only lost by four, free throws were a big key, and shooting 67 percent so far on the season for an offensive focused team isn't going to cut it.
"We've just got to make free throws, that would be the most important thing," Crean said. "I wouldn't change a lot about the free-throw shooters that are up there, so we've just got to make free throws."
In terms of the tournament as a whole, the Hoosiers had higher expectations than finishing sixth and going 1-2, but these are tournaments where you learn a lot about your team, and it's safe to say Indiana learned the hard way.
"We're a growing team right now in a lot of ways," Crean said. "The most important thing that we could grow into is understanding where our responsibilities lie as individuals and improvement, and as a team for how we can be collectively better."
"There are just things that we need to improve on, that's how I look at it," said Blackmon Jr. "Like Coach said, we're going to go look at the film, and guys like us just want to get better from it."
The Hoosiers now depart Maui and will return back to Bloomington as they will get set to take on Alcorn State on Monday before their showdown with Duke on Wednesday.
"This tournament has been awesome," said Crean. "Our atmosphere out there for the games, it's always phenomenal and it keeps getting better and better all the time. The atmosphere here is unreal, I wish we could bottle it up. We really appreciate being here, Indiana really appreciates being here."