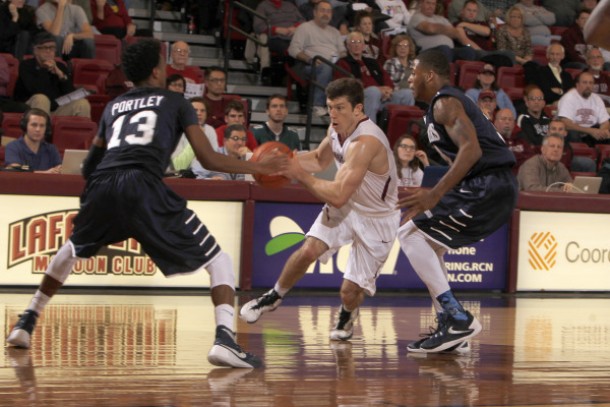 EASTON, Pa. -- In a game featuring ten double-digit scorers Sunday, the Lafayette Leopards (2-4) were able to stick it out late and take down the Penn Quakers (4-2) by a score of 92-86. After holding a lengthy lead for the majority of the game, Lafayette faced a resilient Penn attack at the tail end of this one.
After a pair of made free throws by Nick Lindner with 1:15 remaining, the Leopards saw themselves up 87-73 on the Quakers. But this one was certainly not over, as Antonio Woods scored on five of Penn's next six possessions (Darien Nelson-Henry added a tip-in on the other) in rapid fashion to cut the lead to four with a three-pointer to make it 90-86 with 0:09 left on the clock.
Anticlimactically, Lindner sunk two free throws on the ensuing possession, and that would ice the game at its six-point final in Lafayette's favor. Lindner and Bryce Scott led the Leopards with game-highs of 22 points and just one turnover each. Scott hit four of nine threes on the afternoon. Matt Klinewski added 15 and nine rebounds.
Nelson-Henry led Penn with 20 points and nine rebounds, helping the Quakers stick around and keep the deficit at a low double-digit number throughout. Woods added 17 and Matt Howard had 15 and five boards. Sam Jones and Jamal Lewis each had 10.
Lafayette worked to build a substantial lead early, building off buckets by Lindner, Scott, and Paulius Zalys, who finished with 11 points and seven rebounds, to gain an early 22-9 lead. The Leopards went four minutes without a score after Monty Boykins' jumper made it 24-13, and Penn crept back to make it 24-19.
But the Leopards pounced right back on the Quakers, going on an astounding 22-8 run to go up 44-27 with 1:48 left in the half. The halftime scoreboard showed 46-31 Lafayette. Boykins electrified the team at moments throughout, finishing with 15 on 7-14 shooting despite going 0-5 from beyond the arc.
Penn tagged along for the large part of the second half, closing the lead back to eight at 14:03 before Lafayette stretched it back out to 17 four minutes later. The margin of advantage swayed around the 12-point mark until the final two minutes, and the Quakers fell just short on their late cascade.
The Quakers tried late in the first half to go to a 1-3-1 to counter the strong offensive success for Lafayette, but the Leopards continued to push and assert their dominance. Steve Donahue's defense didn't have enough stability to defend against the plethora of options deployed by Fran O'Hanlon.
UPenn is now 4-2 after losing two of its last three, while Lafayette improves to 2-4, 2-0 in Easton and 0-4 elsewhere.
Penn takes on 6-2 Navy next, Wednesday at the Palestra. Lafayette faces 1-4 St. Francis (Brooklyn) the same night.