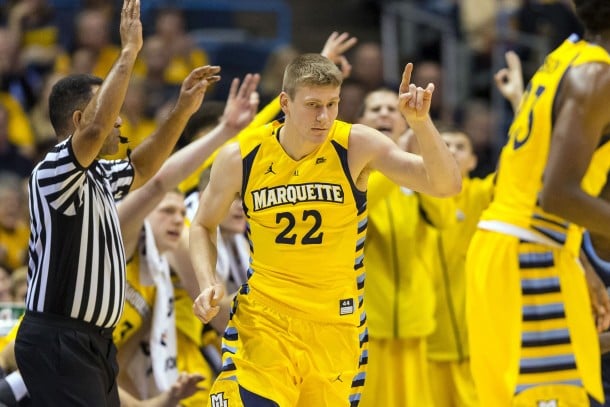 Milwaukee—Fans, journalists and general viewers alike could be forgiven for thinking that the Marquette Golden Eagles' Saturday victory over the Maine Black Bears was a repeat of Wednesday night's victory over Grambling State. Although the early scores were nearly identical, Marquette actually began better on Saturday, starting the game on a 22-0 run in which they made their first eight shots and saw Henry Ellenson score nine straight points.
When asked about the hot start after the game by VAVEL, Marquette head coach Steve Wojciechowski said "Over the last two games, we said 'you know what, we want to start really well.' [Laughter]. We always want to start well, the group that's starting has been the catalysts to that. Those guys played with amazing energy, and maturity. They follow through on things that we talk about in the game plan, execution-wise, but even more than that they're really in tune mentally, physically, emotionally to the game and their energy got us off to really a terrific start."
Although Maine managed to get on the board and Marquette couldn't continue shooting at their incredible clip for the rest of the game, the flow of play didn't change at all. The Golden Eagles continued to play suffocating defense for the remainder of the half and dominated on the offensive end of the floor.
In spite of a notably slack period towards the end of the first half which was characterized by poor defense and some sloppy turnovers, the Golden Eagles headed down the tunnel with a 61-29 lead. Their terrific first half display was due to their ball movement and hot shooting. Marquette, who entered the game 13th in the nation in assist percentage, moved the ball very well. Luke Fischer had 20 points in the first half alone on 10-11 shooting and Henry Ellenson had 16 on 5-7 shooting. As a team, the Golden Eagles shot 65.8% in the first half, a far cry from the pitiful numbers in the infamous 89-61 loss to Iowa. Since that fateful night in November, this has been a completely different Marquette team, and it's hard to quantify just how much they've grown over this five game winning streak.
After the game, VAVEL spoke to Marquette forward Wally Ellenson, who finished with six points and six rebounds, about how noticeable the change has been. "I mean, it's big time. After our last loss, our team really got together and we just fought. We came out of it and we're going to keep fighting. We're going to have some tougher games coming up, and then it's going to be right into the [Big East] season and it's just going to keep rolling."
The second period was much of the same; the Golden Eagles moved the ball well, got easy baskets and played strong defense. So definitive was the advantage that Wojciechowski pulled the majority of his starting five with 10 minutes on the clock. Fischer, Henry Ellenson, Haanif Cheatham and Traci Carter, who all scored in double figures, were rested for the last quarter of the game.
Although the team as a whole has really evolved since the start of the season, the evolution of Carter really has been something to behold. He has blossomed into a high-caliber starting point guard, who on Saturday posted 10 points on 4-4 shooting, seven assists, seven rebounds and four steals.
"We recruited him because we thought he'd be really good. A lot of times with freshman point guards they can go through some ups and downs, and I think we're all seeing his maturation before our eyes. I think he's gotten more confident, and the guys around him have gotten more confident. He's keeping things really simple, he's playing really hard, and obviously he's a huge key to our team," said Wojciechowski in his postgame press conference.
The Golden Eagles broke the 100-point threshold with just over four minutes to play in the game when Duane Wilson picked out Wally Ellenson for a flying alley-oop dunk. It was almost as if this was the play that the crowd had been waiting for, and after it they began to make their way to the exits.
Following the loss, Maine drops to 2-5 and will have to try and regroup before hosting Dartmouth on Wednesday night. Meanwhile, with the victory Marquette improves to 6-2 on the season. They'll look to keep their win streak rolling on Tuesday night against San Jose State before traveling west on I-94 to take on the Wisconsin Badgers next Saturday.