There wasn't much doubt in the two-thirds full Assembly Hall that the Indiana Hoosiers would come away with a win over the McNeese State Cowboys. Indiana came into this game versus McNeese State undefeated at home, while beating opponents at Assembly Hall by no less than 21 points. They were never in much danger Saturday night of winning by less than that mark, as the Hoosiers won by 45.
Cracking Down on Defense
Ever since the game at Duke where the defense was about as bad as you can get, the Hoosiers have had a renewed focus on the defensive end of the floor. It has definitely showed in the past three games.
"I feel like (the homestand) was a spark to what we want to do," sophomore guard James Blackmon Jr. said. "We wanted to come out and make a statement a little bit."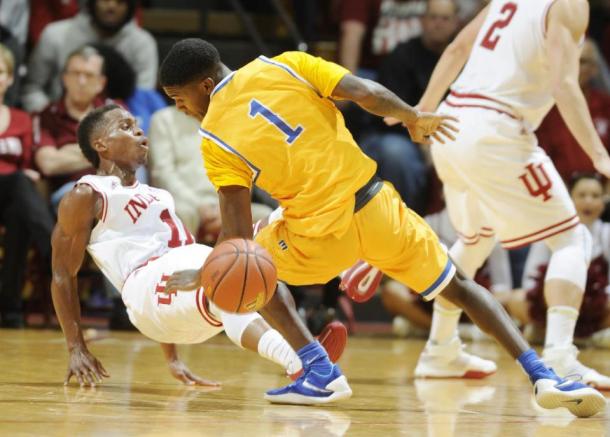 Photo: Chris Howell/The Herald-Times
Indiana held McNeese State to just 32 percent shooting, which followed the previous two games where Indian held IPFW to just 35 percent on Wednesday and Morehead State to 33 percent last Saturday. Saturday night against the Cowboys, the Hoosiers only turned it over nine times. That is also an improvement and another point of emphasis for this Hoosiers team early in the season.
The Offense Doesn't Stop
The Hoosiers only let the Cowboys stay around in this game for about seven minutes, before going on an 11-0 run from the 12:30 mark to the 10:54 mark in the first half. That run was highlighted by two three pointers, one by Yogi Ferrell and the other by Collin Hartman on back to back possessions. After that, the Cowboys got to within nine with 10:36 to go in the first half, but there was no doubt that Indiana was in complete control in this game.
"I thought our guys played an impressive game from start to finish," head coach Tom Crean said. "We did a lot of good things tonight. Really good effort and I thought everyone contributed."
James Blackmon Jr. had another fantastic game for the Hoosiers, finishing with a game high 24 points. He hit five three pointers on the night. Including Blackmon Jr., Indiana had five players in double figures. That included Thomas Bryant, who finished with 18 points on 7-of-7 shooting and nine rebounds. It was a nice bounce back from a four point performance on Wednesday.
Another guy who continues to impress is fifth-year senior forward and Michigan transfer Max Bielfeldt. Bielfeldt followed up a strong performance Wednesday night with another great performance against McNeese State. He finished with 11 points, while collecting six boards on the night.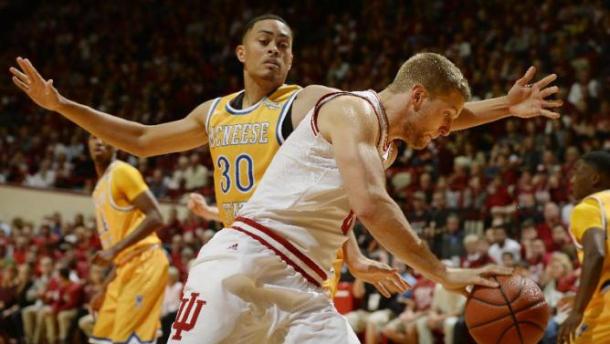 Photo: Chris Howell/The Herald-Times
As for McNeese State, they were outmatched in this one, but still had three players in double figures. They were led by Tevin Jackson with 13, while Jamaya Burr and Craig McFerrin both had 12. The night was summed up fairly well as the Cowboys were 2-for-19 to finish the night.
What's Next?
The Hoosiers have a week off from games with finals taking place in Bloomington before they take on Notre Dame in the Crossroads Classic next Saturday at Bankers Life Fieldhouse in Indianapolis. Indian will continue to practice with an eye on improvement as the Big Ten conference schedule starts soon.
"Everything. We've got to get better at everything," Crean said. "There's really not any one thing that I would say that we hang our hat on. You want to work on everything offense, defense, rebounding, special situations, individual improvement, team breakdowns, all those types of things."
This is Indiana's last chance to get a big win on their non-conference resume. It is the last big game for Indiana before they move on to the Big Ten slate.