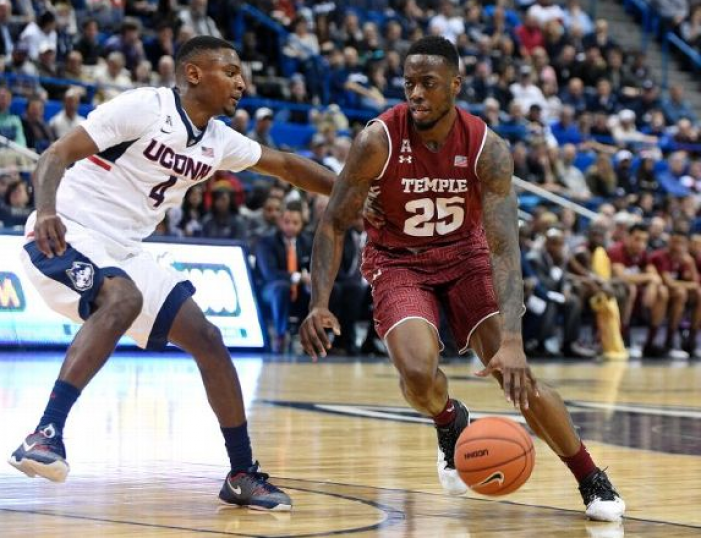 The twenty-third ranked Connecticut Huskies hosted the Temple Owls in an American Athletic Conference matchup and looked for a different result from last years' clash which saw Temple knock off UConn in the last game before the conference tournament. However, that was not to be the case as the Owls outlasted Connecticut, winning by two points.
UConn has had a strong start to the year with wins over Michigan, Ohio State, and Texas to get off to a 10-3 start. All three of their losses have been against strong opponents, and two of their losses were by three points.
Action packed first half provides great excitement
Inconsistent is the best way to describe Temple's season so far. They knocked off a ranked Cincinnati two games ago but followed it up with a 27 point loss to Houston. Currently, they sit at 6-6 with two losses of six points or less against two ranked teams.
The first half saw a lot of back and forth action between the Huskies and the Owls. The Huskies got off to a hot start, but Temple pulled it back close. Every time UConn looked to be pulling away, Temple was able to claw back into it. Strong defensive play from Jaylen Bond helped Temple contain a red hot Shonn Miller who was leading the scoring for UConn.
Temple went into the half with a 30-27 lead over UConn to the surprise of most fans at the XL Center. Josh Brown and Quenton DeCosey combined for a total of 17 points at the half to get the Owls on top, along with five rebounds, two assists, and two steals.
UConn had some urgency going into the locker room at the half, as all six of Temple's wins have come when they have a lead at the half.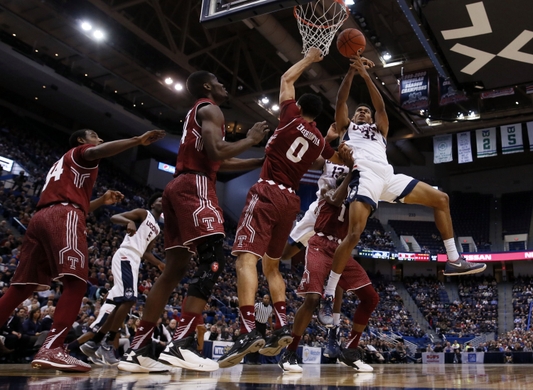 Temple continued tp increase their lead into the second half, leading by as many as eight. However, halfway through the half, UConn started to pull back into the game. With eight minutes left in the half, Temple had a mere one point lead but got called for a five second violation on an inbound pass. This acted as a shift in momentum for the home school.
The ninth lead change occurred with 7:58 left in the game as UConn went up one following a set of free throws. Temple and UConn continued to trade baskets as the game wound down and neither side could edge the other.
With the game tied at 53 with fourteen seconds left, Temple had the ball off an inbound and got it into Brown. He drove in the paint and made an inside shot with 2.5 seconds left to give them a 55-53 lead. UConn could not make a half court shot at the buzzer and Temple pulled off their second upset win of the year.
Three Temple players had double digit point totals in route to their win. Brown dropped 11, including the game winner, DeCosey had 15, and Bond had 11. Bond also had a double-double, also recording 10 rebounds.
Temple head coach Fran Dunphy recorded his 200th win with Temple, being one of only five Division I coaches to record 200+ wins with two school. Dunphy also had 200 wins Penn.