 If you were unaware of the 11th-ranked Michigan State Spartans' (17-4) three-game losing streak while watching them battle the seventh-ranked Maryland Terrapins (17-3), you could have made the assertion that they were riding a wave of victories rather than undergoing a period of strife.
Fueled by the emotion of senior leaders Denzel Valentine and Matt Costello, the Spartans put their struggles to rest against the Terrapins at the Breslin Center, surging in the second half towards a convincing 74-65 win that could potentially rocket themselves back into the top ten of the polls.
Costello was originally questionable for the contest after suffering an ankle injury in the Spartans loss to the Nebraska Huskers earlier in the week, however, he overcame the ailment in admirable fashion, grabbing 12 rebounds, six of which came on the offensive glass, and 15 points to pace Michigan State.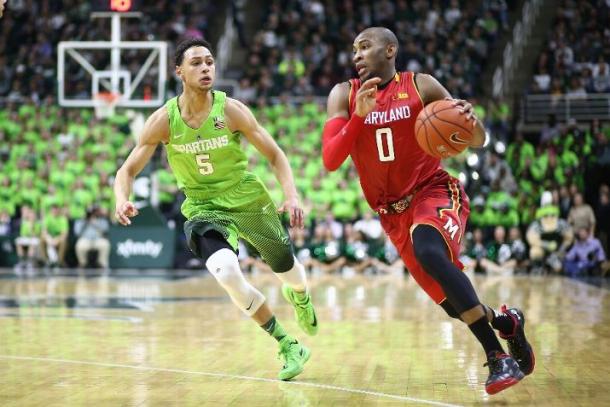 Valentine, who also sustained an ankle injury in the latter stages of the win, was crucial to the Spartans performance as well, garnering a triple-double of 19 points, 14 rebounds, and 10 assists while playing all but one minute in the contest.
Despite shooting just 36% from the field and 30% from three-point range, Michigan State received an valuable shooting effort from guard Bryn Forbes, who converted on four of his eight three-point attempts en route to a 25-point effort.
Terrapins guard Melo Trimble lead his squad with 24 points and seven rebounds while recording an array of jaw-dropping highlights, however, his showing was not enough to propel Maryland to a road win.
Trimble was joined by only one teammate in the category of double-digit scoring (forward Robert Carter had 13 points), and the Terrapins struggled to collect the critical stop or bucket when needed.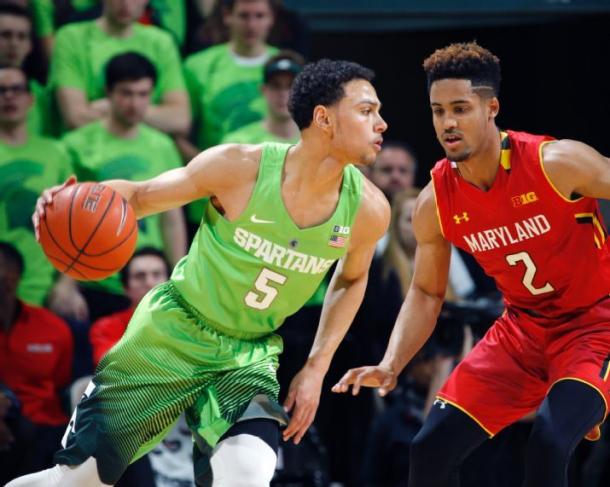 However, after heading to the halftime break trailing, 35-29, Maryland opened up the second half with a run that appeared to bury the reeling Spartans.
After a Trimble assist freed up forward Jake Layman for a three to tie the ballgame at 42, Trimble grabbed a defensive rebound, penetrated through the Michigan State defense and dropped a dime to Carter to give his team a 44-42 lead.
Then, Carter grabbed a steal and drove through the lane for a layup, putting Maryland up 46-42 with 16 minutes remaining.
Despite the deficit, the Spartans did not falter, boosting themselves to a 50-46 advantage after an 8-0 run spurred by a Forbes three-pointer.
Maryland fought back to tie the game at 53 with 10 minutes remaining, however, Michigan State ripped the momentum away from the Terrapins in captivating fashion, riding a 9-0 surge to a 62-53 lead with 6:32 left, an outpouring which concluded with a Forbes jumper.
A clutch three-pointer by Trimble off of a crossover sliced the Maryland deficit to 62-59 with five minutes remaining, however, Costello responded with four consecutive foul shots to push the gap up to 66-59 one minute later.
The Terrapins trailed 68-65 with 53 seconds remaining after a pair of free throws from freshman center Diamond Stone and proceeded to pitch an excellent effort on their ensuing defensive possession, forcing a deep corner three by forward Alvin Ellis III with 30 seconds left.
However, Costello skied above the Maryland masses for a pivotal offensive board, sending the Michigan State fanbase into a frenzy and Forbes to the line after a Layman foul, where he made both foul shots.
Costello then made a resounding impact on the other end, swatting a driving layup attempt by forward Rasheed Sulaimon with 18 seconds remaining, springing off of the floor with joy after sealing the victory for the Spartans.