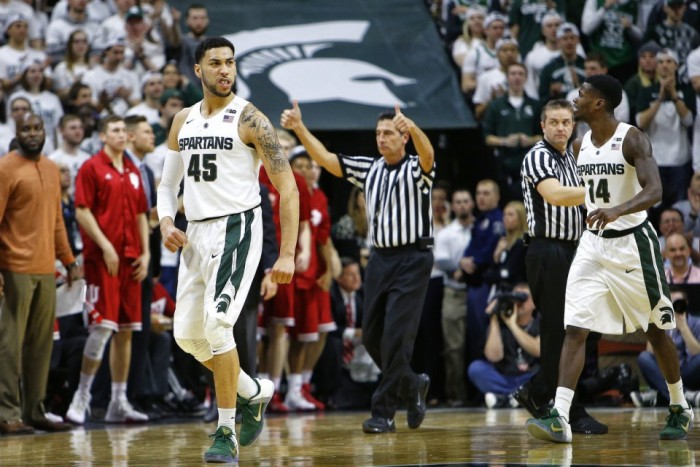 The Indiana Hoosiers knew they would be in for a battle in East Lansing against the Michigan State Spartans, and they didn't have much of an answer for Michigan State's Valentine.
Denzel Valentine is one of the best players in the country, and he again showed why as he proved that Valentine's Day sure is his day to shine.
Indiana's Hot Start
The Hoosiers came out fast in this game and were as sharp on offense as they had been all season long. They were assisting on made shots, attacking the rim, and were shooting at a high percentage.
One of the highlights of the half came at the 11:46 mark when OG Anunoby flew down the lane and threw down a ferocious one handed slam that provided a bit of a jolt for the Hoosiers.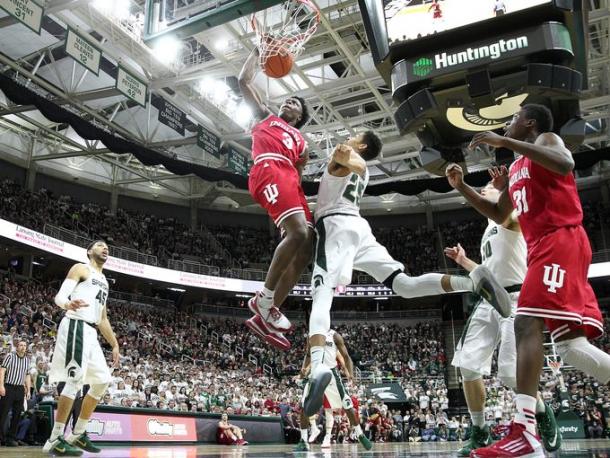 Their lead got up to 10 points at the 7:58 mark of the first half as Max Bielfeldt layed it in as apart of his team high 15 points and 10 rebounds with his insertion into the starting five.
Indiana looked like they meant business riding high after a big win over Iowa, but just like Michigan State usually does at home, they made a big move and Indiana fell flat.
Michigan State Second Half Takeover
Once Michigan State took the lead at the half by just one, they never gave it up and a big reason for that was the play of Denzel Valentine. Last year on Valentine's Day he hit a game winner, and this year, he made it nearly equally as he had a game high 30 points and a career high 13 assists. He was doing it all for the Spartans.
There wasn't much more to it other than the Spartans going on a 27-7 run and the Hoosiers just not hitting their shots. The stat that tells all is the 58 percent field goal percentage for Michigan State, and the 38 percent field goal percentage for Indiana.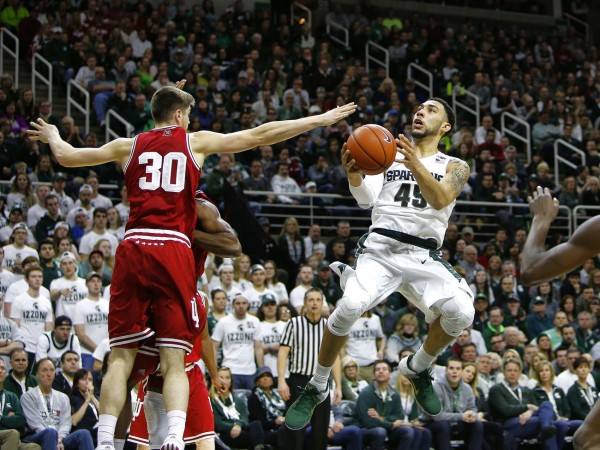 Michigan State was out in transition whenever they had the chance and they made the Hoosiers pay for their poor transition defense outscoring Indiana 22-9 in fast break points. Ball rotation was a big factor as well with Michigan State as they collected 27 assists on 34 made baskets.
With Indiana not getting nearly any offense in the second half with just 29 points, the Spartans just kept extending their lead at a fast rate and the Hoosiers could do nearly nothing to stop them.
What Went Wrong for Indiana?
After a first half that the Hoosiers dominated for most of the time, they let the lead slip down the stretch as the Spartans closed the half on a 9-0 run in the last 3:56. It seemed like Indiana should have been up by much more, but the role players for Michigan State were giving the Hoosiers a lot of trouble.
Matt Costello finished with 22 points and 11 rebounds while Bryn Forbes did a lot of damage in first half, but ultimately finished with 14 points. With Valentine, Costello and Forbes accounting for 66 points, they nearly outscored the Hoosiers by themselves.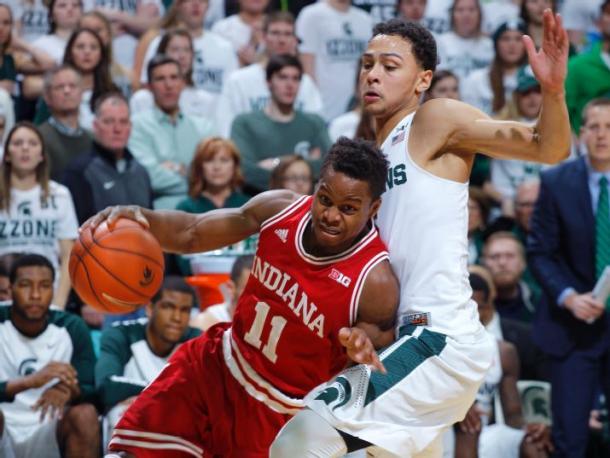 With Yogi Ferrell scoring just nine points and Troy Williams going scoreless, the Hoosiers never had a chance when Michigan State started to heat up in the second half.
What's Next?
The Hoosiers return home on Wednesday to host Nebraska while the Spartans host Wisconsin on Thursday.